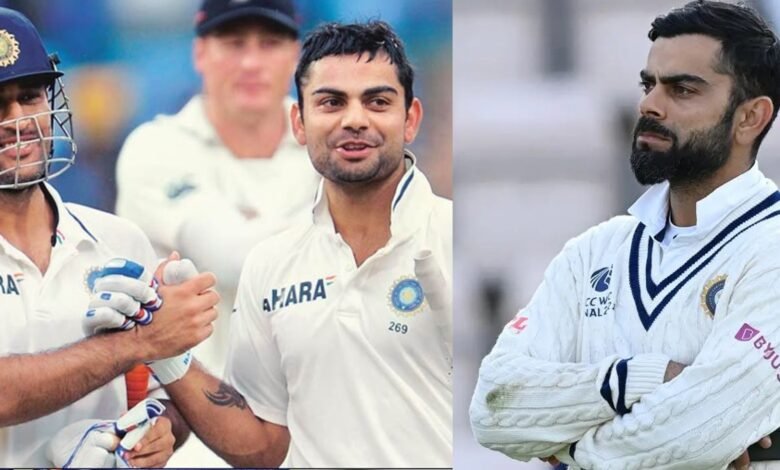 After a close loss against Pakistan in the Super 4 round of Asia Cup 2022, the former Indian captain Virat Kohli made a sensational revelation yesterday that when he resigned as the Indian test captain in the aftermath of the defeat against South Africa, no Indian player texted him apart from the former Indian captain MS Dhoni.
Kohli scored 60 off 44 against Pakistan in last night's game and was addressing the press conference after the game concluded. When he was asked how he coped through one of the worst phases of his career in the last year and who were the people helped him through, Kohli said that there was only one person who personally texted him after he relinquished all format captaincy and that was his former captain, MS Dhoni.
According to Virat Kohli, his phone number is accessible to many people and he saw many people making comments in the media, but nobody bothered to talk to him personally. It was Dhoni who sent him a text and had a conversation with him. Kohli insisted that these things matter to him a lot because he believes in honesty.
"With some people, you develop a genuine connection," Virat Kohli on MS Dhoni
Talking further about Dhoni, Kohli said that with some people, the connection that you develop is genuine and with Dhoni, he has developed that kind of connection because there is no insecurity between the two. Dhoni doesn't need anything from him and he doesn't need anything from Dhoni. It's just the mutual respect and trust that is there between the two which make their relationship a genuine one.
Some of the Kohli fans on Twitter were left disappointed to know that nobody apart from MS Dhoni bothered to check on Kohli personally when he was not in a great frame of mind after leaving captaincy. Here are some of the Twitter reactions –
The Virat Kohli and MS Dhoni bond is of different level! pic.twitter.com/iLohIQQ3qv

— Mufaddal Vohra (@mufaddal_vohra) September 5, 2022
Suddenly I am miss watching Virat Kohli and Mahendra Singh Dhoni play together 💔 pic.twitter.com/Caz2Mmnb2L

— 𝓙. (@ektara03) September 4, 2022
"Only Dhoni texted me after I left Test captaincy": Kohli

Lekin idhar Twitter pe Dhoni post nahi karta toh logo ko lagta hai he doesn't reciprocates Kohli's admiration.

— Silly Point (@FarziCricketer) September 4, 2022
16 years ago Dhoni in interview said " I want people to remember me as a good human being more than a Good cricketer" .

In 2022 virat kohli proving right his statement .

— MAHIYANK™ (@Mahiyank_78) September 4, 2022
My best Cricketing phase was when Dhoni was the Captain & Kohli was the Vice-captain to be honest.

— Jay. (@peak_Ability14) September 4, 2022
"When I left test captaincy, Dhoni was the only one who texted me. These things matter a lot for me."

No wonder Kohli never wanted MS to retire and tried to bring him into the team even after retirement. Kohli felt safe with him around. Some crazy bonding this is.

— Heisenberg ☢ (@internetumpire) September 5, 2022
Virat Kohli in yesterday's press:-

•He speak about his genuine & pure bond with MS Dhoni.
•He praised Rohit Sharma's captaincy.
•He supported Arshdeep Singh.
•He praised Hardik & Surya.
•He should say everything from his heart.

What a guy, King Kohli. pic.twitter.com/2WfQlmqpuY

— CricketMAN2 (@ImTanujSingh) September 5, 2022
It's been years since Dhoni stopped reacting to stuff on social media. Just because he doesn't react, it doesn't mean he isn't responding. Kohli isn't Gopi bahu that he will keep praising someone who isn't reciprocating 😭

— TakeADeepBreath (@DeepTake) September 4, 2022
MS Dhoni has backed Virat Kohli when he (kohli) needed the most and Kohli has won matches for team India single handely and saved dhoni, the captain from trolls.

That's how they have so much respect for each other. ❤️ pic.twitter.com/QNk8n2nwbg

— Akshat (@AkshatOM10) September 5, 2022
A few weeks back Gavaskar offered Kohli batting help via the media. Today Kohli says among people who have his phone number, only Dhoni called him when he quit Test captaincy. Said he's able to see through people. Can't help but side with Kohli 100%.

— Rahul Fernandes (@newspaperwallah) September 4, 2022