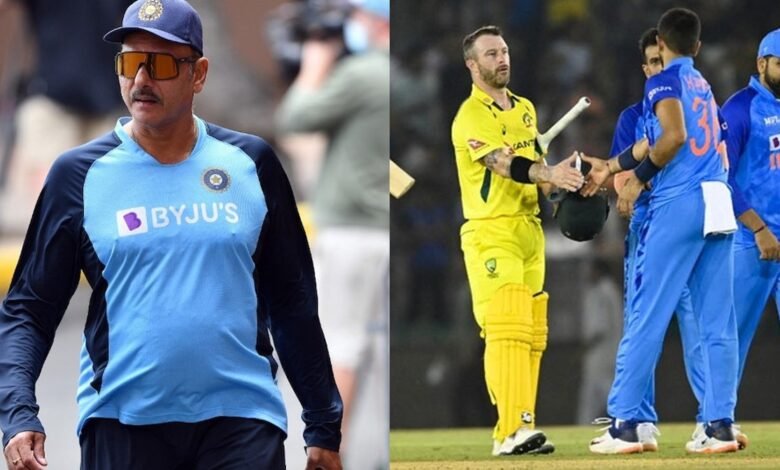 The former Indian head coach Ravi Shastri is of the opinion that when it comes to fielding, India's current T20I team is not on level terms with the other top T20I teams in the world.
According to Shastri, who was commentating for Star Sports during the first India Vs Australia T20I game yesterday, Ravindra Jadeja was the only world-class fielder India had in their current white ball set-up. With him being ruled out of the side for some time now, India has no world-class fielders at all.
Indian fielders dropped a couple of catches yesterday, one of Cameron Green and the other one of Steve Smith, and both catches were quite straightforward. Shastri was very miffed with the standard of Indian fielding.
Shastri also insisted that because the fact that Indian fielding is sub-par, India always needs to score 10-15 runs above par for the conditions on offer on the day, because the fielders won't be able to save extra runs for the bowlers to play with.
Ravi Shastri was not happy with India's fielding standards at all
Indian fielders were not the only ones who dropped catches last night in Mohali. The Aussies dropped a couple too, one at the very start in the second over of the game when Josh Hazlewood couldn't hold onto a lofted flick from the Indian captain Rohit Sharma.
One of the reasons why Mohali is one of the most difficult grounds in India to take catches is because the floodlights are really low at this venue and when the ball goes up in the air high in the night sky, the fielders sometimes lose sight of the ball for a split second, which causes the catching errors.
Indian Cricket is going back to old days. When virat and ravi shastri started the trend of yo-yo test as criteria to be selected in the team which paid us in the field as fielding unit , players were active , energetic on the field and were ready to fight against every odd (1/2)

— Sports Tantra (@pspaltyal1) September 21, 2022
Ravi Shastri was, however, having none of it, as he had a go at India's fielding standards on air and said that he was really disappointed with the fielding standards on show in the first T20I.