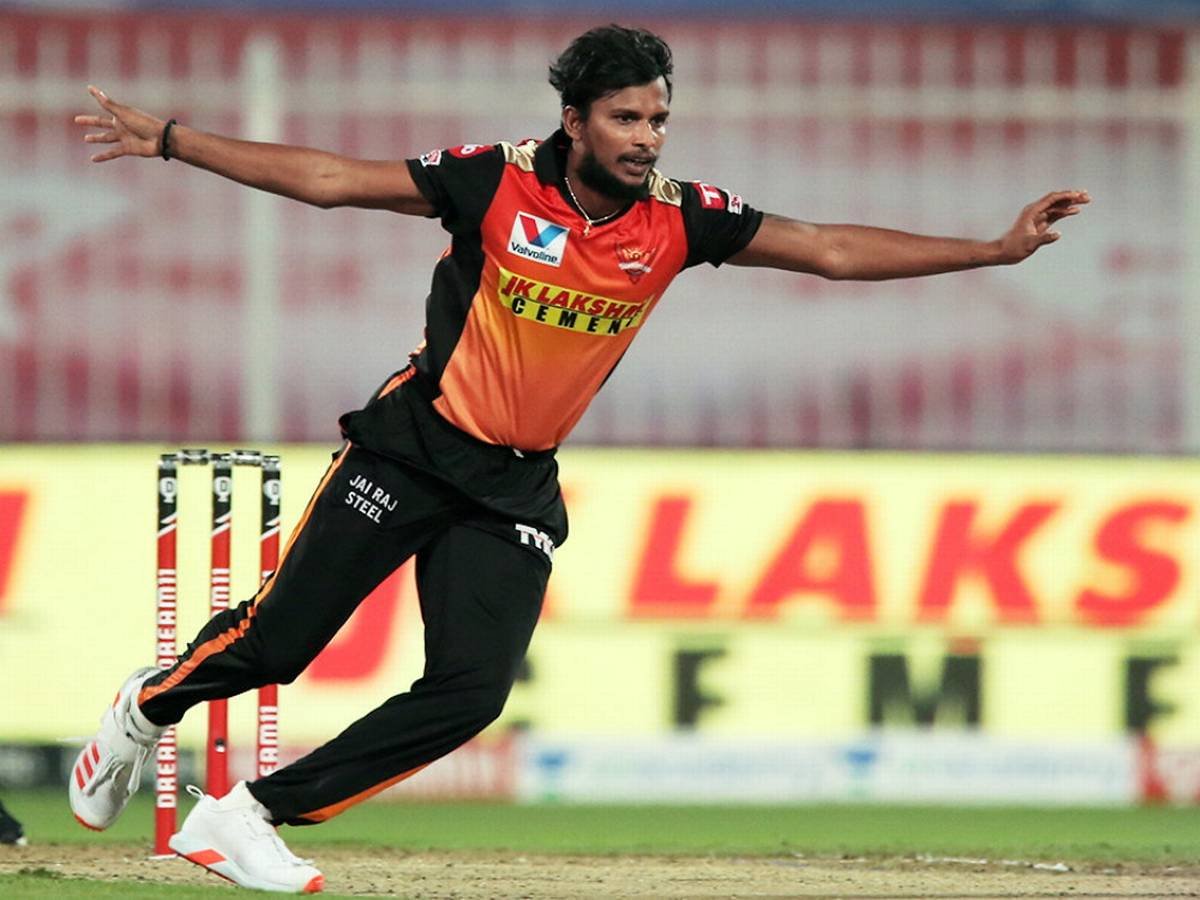 Sunrisers Hyderabad has been jolted to an exceptionally tragic and rude awakening as their primary fast bowler, T Natarajan has been ruled out of Indian Premier League 2021 with a knee injury.
After a phenomenal start for Sunrisers Hyderabad in the preceding edition of the tournament that saw him whipping out 71 toe-crushing yorkers, the Indian team management summoned him to the national squad for the Australia tour.
When he was handed the opportunity to play against the formidable Aussies Down Under, he came up with a rippling performance to make the selectors consider him for further opportunities. Given his wondrous showdown in Australia, he was also called for the forthcoming English series and was once established himself as a leading moniker in the shorter formats of the game.
After successful display in the national colours, he became a primary weapon in the Hyderabad echelons for the fourteenth edition of the domestic cricketing extravaganza. Unfortunately, after pulling off a decent showdown in the first game, he was rested for the next couple of encounters. Questions and speculations started brewing and finally, after some serious consideration, came the communiqué that he has been ruled out of the tournament with an injured knee.
Importance of T Natarajan to Sunrisers Hyderabad
The young fast bowler has left a salient impact on the Sunrisers with his menacing brand of fast bowling. It was always a question on the preceding edition of the tournament that why exactly were fast bowlers not belting out those vicious yorkers in 2020.
However, the man who proved everyone wrong was this passionate fast bowler who rocked and rolled the opposition with a captivating display of fast bowling against any counterpart. Not only was he producing picture-perfect yorkers that would rekindle the memories of a young Bumrah but he mixed up his variations with some clinical accuracy that dampened the spirits of the opposition even in the best of shapes.
His absence will ring a loud bell in the ranks of Sunrisers Hyderabad as they are finding it hard to manifest a menacing fast bowling combination that can actually pull off something decent in their favour.