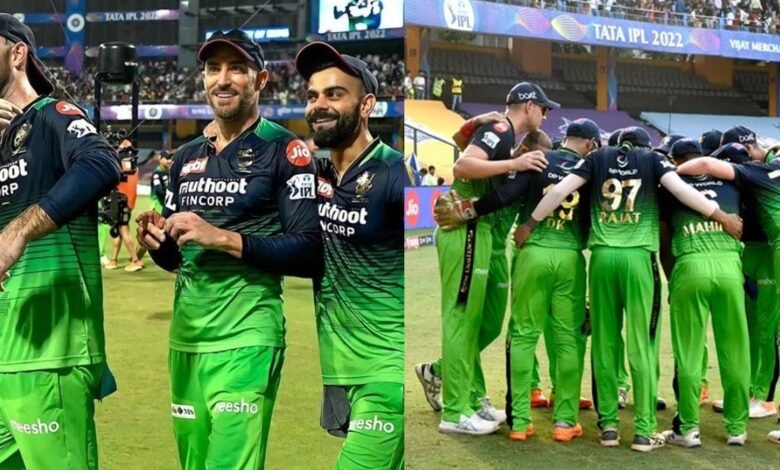 The Royal Challengers Bangalore took the yard with the Sunrisers Hyderabad on a crackling Sunday afternoon as the two Southern forces locked horns to settle the scores. At the first outing vs SRH in IPL 2022, RCB got intertwined into a mess of batting failures from the entire side and what unfolded thereafter was sheer humiliation. The Latest outing saw RCB victorious owing to DK's finish,and Hasaranga's heroics
Keeping cricket aside, the Challengers will be sporting green jerseys for the game against the Sunrisers Hyderabad, a pledge to save the world against the rising temperatures. Well, despite the cricketing upshots going against them in this flamboyant livery, yet, the gesture is strong enough to make the world take notice.
This is what the RCB players said in the video
The official Twitter handle of RCB would put forth a video where the players would talk about the climate changes and also the tribulations that the world has been facing together. The cricketers would also talk about what should be done and what not to save the planet.
Well, the facts are alarmingly stacking up against the world with a steep rise in the temperatures and the increase of cataclysmic events that have been claiming lives all across the world. Despite the best of efforts from a lot of people all around, very limited changes are happening.
For an IPL franchise like RCB whose fan base is massive, it is indeed a platform that they put to good use to ensure that the world is listening. They put together call-outs that would be read by their players, showing the planet a path to a better future.
Maybe very few people would actually know about it but even if at least 10 people out of the million want to act, it would be nothing short of a wonder for the world. After all, it is droplets that make the ocean while RCB will be hoping to turn around their misfortunes in the greens into a winning outcome.
India is experiencing Heatwaves and it's only getting worse. Ahead of our #GoGreen game, watch our stars talk about the impact of climate change and how we can all play a small role by being smarter and more careful.#PlayBold #IPL2022 #RCB #ನಮ್ಮRCB #ForPlanetEarth #SRHvRCB pic.twitter.com/l2gJLTgCNn

— Royal Challengers Bangalore (@RCBTweets) May 8, 2022