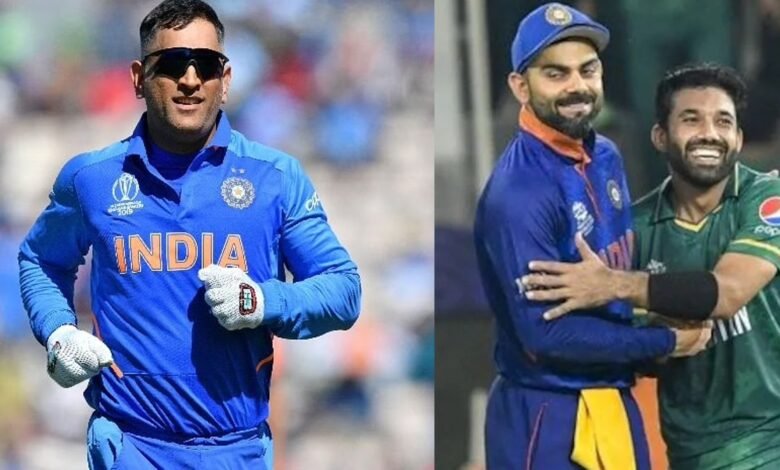 IND vs PAK: Mohammad Rizwan, who plays wicketkeeper and bats for Pakistan, has heaped praise on Virat Kohli and also spoken about how he felt while interacting with the former Indian skipper during the India-Pakistan match that took place during the T20 World Cup in the United Arab Emirates a year ago. Rizwan's comments can be found on multiple news outlets. After Pakistan's convincing victory by 10 wickets, Kohli continued to have a small talk with Rizwan and Babar Azam before hugging both of them.
Rizwan recalled his very first conversation with MS Dhoni, which took place on that occasion, and went on to talk about his encounter with Kohli. Dhoni served as the Indian national team's coach at the Twenty20 World Cup. At the same time, the batting star from Pakistan said that he was genuinely overawed by the love and devotion that he got from the players from India. Specifically, he was referring to the Indian cricketers.
IND vs PAK: Mohammad Rizwan remembers his first encounter with Virat Kohli and says, "It was the first time I met him."
"This was the very first time that I had the pleasure of meeting Kohli. The kinds of things I had heard about him, such as other players telling me that Virat is aggressive and whatnot. However, it was incredible how he interacted with me both before and after the contest. If I mentioned that "he is our Virat Kohli," it's because I consider all of us to be members of the same family. When we enter the pitch, no one is a celebrity," Rizwan said during an appearance on Waheed Khan's program on YouTube titled Cricket Baaz.
"There is no such thing as brotherhood or anything of the kind on the pitch. However, off the field, when we met Kohli and some of our players also met MS Dhoni, we were greeted with a great deal of love and affection by both of them. There was no discernible change," Rizwan said.
The T20 format will be used for this year's Asia Cup competition, which will include head-to-head matchups between the bitter rivals. The highly anticipated Twenty20 World Cup match that will take place at the historic Melbourne Cricket Ground on October 23 will be the primary focus of everyone's attention. The Men in Green would be keen to produce a performance at the MCG that is comparable to what they displayed last year in Dubai, while the Men in Blue would be looking forward to getting revenge for their humiliating defeat there the previous year.