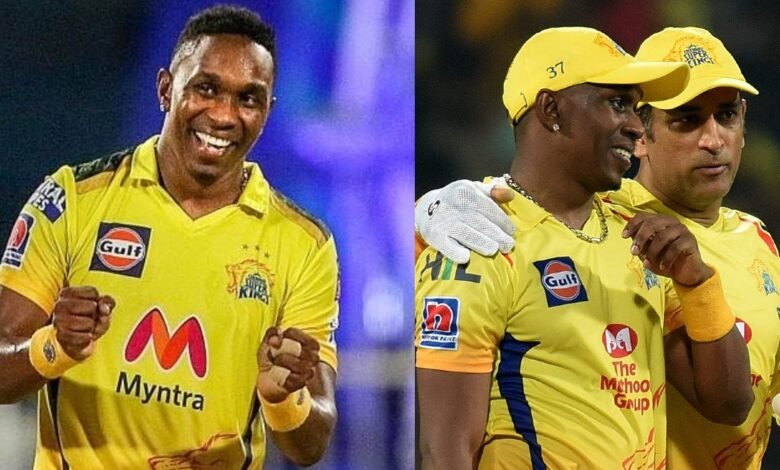 Fans on Twitter reacted hilariously after Dwayne Bravo becomes the bowling coach of the franchise after announcing his retirement from the Indian Premier League (IPL). They said that by this pattern MS Dhoni will become head coach of the franchise next season.
Dwayne Bravo retires from IPL; becomes CSK's bowling coach 
In what has been the latest development, Chennai Super Kings (CSK) all-rounder Dwayne Bravo called time on his IPL career. The West Indies player, after playing for 15 years in the league, announced social media posts. However, this isn't the end of the road for him as he will now handle the coaching duties. He will replace L. Balaji, who will miss the upcoming edition due to personal reasons.
Bravo is arguably one of the finest players to have played in the IPL. The all-rounder made his debut for Mumbai Indians in 2008 and after plying his skills for three years, he became a part of Chennai Super Kings ahead of the IPL 2011.
He won his first IPL title in the same year with the team and then also was part of victories in 2018, and 2021 along with the Champions League T20 victory in 2014. Bravo was also part of the now-defunct Gujarat Lions when CSK was banned from the league.
Bravo is the leading wicket-taker in the history of IPL with 183 wickets from 161 matches. He is also the first player to win the Purple Cap twice when he achieved the feat in 2013 and 2015. The Caribbean player this year surpassed Lasith Malinga's tally of 170 wickets in the IPL to become the leading wicket-taker.
Posting on his Instagram, he said; "I'm looking forward to this new journey because it's something I see myself doing after my playing days is fully over. I enjoy working with bowlers and it's a role I'm excited about. From player to coach, I don't think I have to adjust much because while I'm playing, I always work with bowlers and try to come up with plans and ideas on how to have that one step ahead of the batsmen. 
"The only difference is I will no longer be standing at mid-on or mid-off. I never thought I would be the leading wicket-taker in the history of IPL. But I'm just happy to be a part of IPL history!"
Fans on Twitter react as Dwayne Bravo retires from IPL and becomes bowling coach 
As Dwayne Bravo retires from IPL and becomes the bowling coach of the CSK, fans on Twitter reacted to it. They congratulated the pacer for his great career and also gave hilarious reactions, saying that by this pattern MS Dhoni will become head coach of the franchise next season. Here are some of the reactions:
Dwayne Bravo will be the bowling coach of CSK.

He ends his IPL career as the leading wicket taker in history, a true champion!

— Mufaddal Vohra (@mufaddal_vohra) December 2, 2022
Thank you, DJ Bravo for all the memories, an incredible IPL career, leading wicket taker in the history of the league, value contribution always with the bat.

All the best for the second innings as the bowling coach. pic.twitter.com/BPOc16gIAM

— Johns. (@CricCrazyJohns) December 2, 2022
I miss his champion dance on field 🥺 https://t.co/UyXdggrRxF

— k (@khyathiiiiii) December 2, 2022
Thank you #Champion #DJBravo #Yellove #WhistlePodu 💛 https://t.co/8PtLFNN2Gv

— Nitin Sen🦁 (@MSDianCSKian) December 2, 2022
End of era @KieronPollard55 @DJBravo47 https://t.co/X1o8Dw3yOs

— Name cannot be blank (@anonymous_11212) December 2, 2022
This was my favourite moment of Bravo🔥 Chokli's reaction to this🤣🤣🤣🤣 pic.twitter.com/ccysGbFUKO

— Venky. (@kvcharan14) December 2, 2022
Carried Dhoni's Lagacy of captaincy in IPL

— 𝚃𝙰𝚁𝚄𝙽  (@Rofied7) December 2, 2022
Thanku for saving us so many times thanku you legend #djbravo

— Saksham Kumar Singh (@Saksham_ksingh) December 2, 2022
GOAT overseas player of IPL.

In the same league of Gayle,ABD,Malinga if we be honest.

— zigor_ (@sirzigor) December 2, 2022
Started as MI player then became a CSK stalwart

— Ravi Kiran (@crravikiran) December 2, 2022
Thank you bravo 💛💛 pic.twitter.com/4jkwTB3SvS

— DhoniFanRoshan🦁 (@ItsRoshan1234) December 2, 2022
In 2024

Dhoni appointed as the Head Coach of CSK https://t.co/avU7EQnBPl

— Rhythm NHR18 #BringBackATK (@RhythmNhr18) December 2, 2022
Champion champion everybody say yea bravo a champion 🔥💛⚡ https://t.co/H2E60wDe6R

— cricketoverse (DK⚡fan and MSD fan 🔥forever) (@MKOWSHIK7) December 2, 2022
— Alone. (@psvardhan77) December 2, 2022
Something like Malinga loading? This year coaching staff next year playing again 👀

— Anubhav.. (@Awwnoob) December 2, 2022
It's sad to see childhood stars becoming coach now

— Chitvan Sawhney🇫🇷 (@sawhney_chitvan) December 2, 2022
Good decision 🙂

— shrey❤️ 41 (@iyershreyas41) December 2, 2022