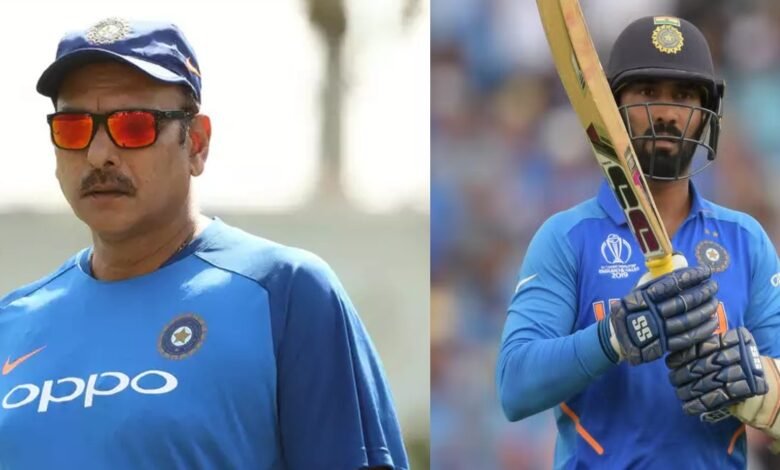 ICC World T20 2022: Ravi Shastri believes that Dinesh Karthik is capable of playing a role comparable to that of MS Dhoni for Team India in the Twenty20 World Cup later this year.
As a result of his outstanding play for the Royal Challengers Bangalore (RCB) in the Indian Premier League 2022, Karthik has been allowed to represent India in the next Twenty20 International series against South Africa.
The seasoned wicketkeeper has accumulated 330 runs throughout the competition at an extraordinary average of 55.00 and a strike rate of 183.33. These are remarkable statistics.
During an appearance on the Star Sports program Game Plan, Ravi Shastri was asked whether he would consider including Dinesh Karthik in Team India's World Cup roster. In response, he said:
"You have to look at the situation from the perspective of the team. What are they trying to find? Do they want a keeper who will bat high in the order or a keeper who will finish out the innings? I'm going to go with the second option. To put it another way, you need a keeper who can take over for MS Dhoni in his responsibilities."
In addition, the previous head coach of India discussed the reasoning behind his decision to include Karthik in the team's roster as the second wicketkeeper. Shastri elaborated as follows:
"There is already Rishabh Pant, who can bat in the top four or five in Twenty20 cricket. But, you want someone who can keep and finish a game since there aren't too many finishers now that MS (Dhoni) has left the team. As a result, I believe that it is where he has the best possible chance."
Since Dhoni's retirement, the finisher's position has been Team India's Achilles heel
The majority of India's notable batsmen are playing in the top order for their various clubs in the Indian Premier League. As a result, the Men in Blue have had a difficult time finding a finisher who can be relied upon, particularly with the injury worries surrounding Hardik Pandya.
Ravi Shastri believes that the next series against South Africa would be extremely important for Dinesh Karthik. "He needs to do it with India colors on," Shastri said.
Dinesh Karthik has to perform in the IND vs SA series to get a chance in the ICC World T20 2022
Ravi Shastri said, however, that for Karthik to compete for the position, he would need to demonstrate his capabilities in the Twenty20 Internationals that India plays against South Africa. He said:
"This presents him with a chance. He must play in India colors at all times throughout these matches, regardless of whether or not he has a chance to. Since we are aware that he has the necessary expertise, this becomes an enormously important factor."
In the next five-game series against the Proteas, it would be fascinating to see the number of opportunities that Dinesh Karthik is given.
Given that Rishabh Pant and Ishan Kishan are both members of the squad and play the role of wicketkeeper-batsman, the 37-year-old will need to make the most of the few chances that may be presented to him.