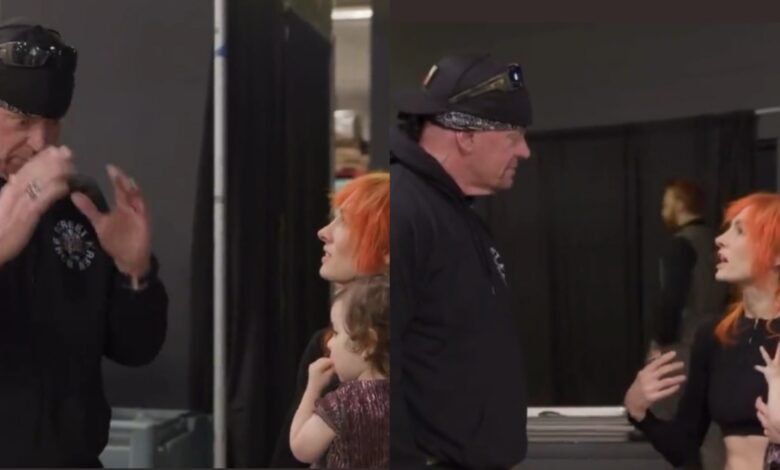 Becky Lynch is seen interacting with many WWE legends in the latest footage released by WWE, including The Undertaker. She faced Bianca Belair on Night 1 of WrestleMania 38 last year and lost her RAW Women's title that night. Before the mega show started, Lynch was recorded speaking to The Undertaker backstage, holding her child, Roux, by her side.
In the latest WWE 24 documentary, we found out what she had told the Hall Of Famer.  According to her, she had felt nervous since returning to the ring eight months earlier. Her words, "I've found that ever since I've come back, I feel like I'm so nervous that I don't know how I put one foot in front of the other."
The Phenom tried to calm her down by saying that he used to feel nervous before big WrestleMania matches too. He said, "At 'Mania especially there was never a time where I wasn't just like, you know, just completely zoned in. I always took them like they were my first and I wasn't gonna get another one."
becky lynch and the undertaker at wrestlemania 38. pic.twitter.com/1YiMfs5uQ8

— mia (@beckyonIy) March 27, 2023
What did Stephanie McMahon tell Becky Lynch before her WrestleMania 38 match?
Stephanie McMahon. then WWE Chief Brand Officer, offered some advice to Becky just minutes before her WrestleMania match.
She told Becky to own her golden opportunity saying, "Not everybody gets this opportunity. It's yours Take it. Own it." Lynch also met her childhood hero, Stone Cold Steve Austin, after her match. Austin only had praises for her, "Ripped it up," Austin said. "Goddam, you could not have done better. Awesome, awesome". This was towards the end of the documentary, and she excitedly says "I Love Him" as it end. In the documentary, The Undertaker later roasts Vince McMahon after the chairman botches Stone Cold's stunner.
Becky Lynch will be teaming with two of the most popular all time talents, Lita and Trish Stratus. They intend to end their feud with Damage CTRL this Saturday at WrestleMania 39.