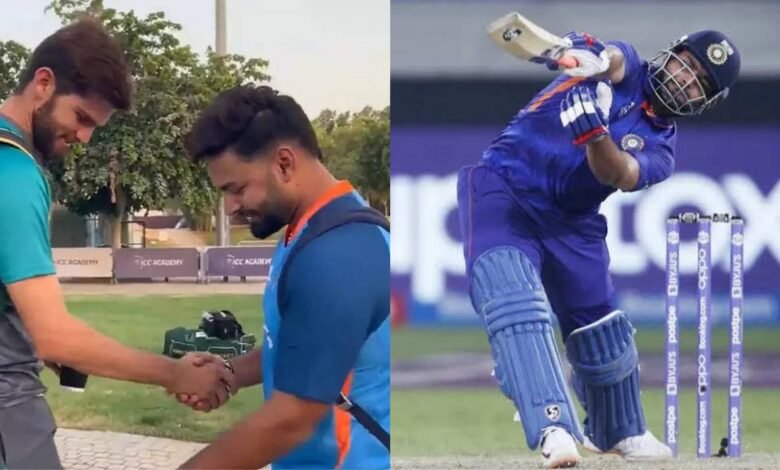 Yesterday when the Indian and the Pakistani cricketers met each other after their practice sessions in Dubai, there was a hilarious exchange of words between the Pakistan fast bowler Shaheen Afridi and India's wicketkeeper batsman Rishabh Pant.
Shaheen won't participate in Asia Cup 2022, but he is still with the Pakistan squad as the physios of the Pakistan national team are working with him everyday to help him recover fast and smooth. Shaheen was there at the ICC Academy where both Indian and Pakistan players were practising. When Rishabh Pant saw Shaheen, he asked him about his injury and how long it would take him to recover.
Shaheen told Rishabh that it would take him roughly 5 weeks to get back on the park again. The southpaw then added jokingly that he is now thinking about trying to hit sixes with one hand. "Soch raha hu ab aap ki tarah ek haath se chhakke lagau", Shaheen told Rishabh.
Stars align ahead of the #AsiaCup2022 🤩

A high-profile meet and greet on the sidelines 👏 pic.twitter.com/c5vsNCi6xw

— Pakistan Cricket (@TheRealPCB) August 25, 2022
Rishabh Pant has been regularly setting new benchmark with his innovative strokeplay
Rishabh Pant is someone who has been regularly settting new benchmark in world cricket in terms of innovative strokeplay. Rishabh's one-handed sixes are among the most eye-catching shots going around in the game at the moment and he manages to play that shot against some of the quickest bowlers in the game.
It's not that Rishabh bats one handed to play those shots, he just takes one hand off at the time the ball leaves his bat, but the most important and noticeable fact in that shot is that Rishabh doesn't take his hand off before the connection. It's immediately after making the connection with the ball that he takes his hand off and he does that to make sure he gets nice extension and follow-through of the the other hand.
David Warner said "I want to see how I can learn to play those one handed sixes from Rishabh Pant".

— Johns. (@CricCrazyJohns) April 6, 2022
The former Australian opener Matthew Hayden was also famous for hitting similar type of sixes back in 2000s.