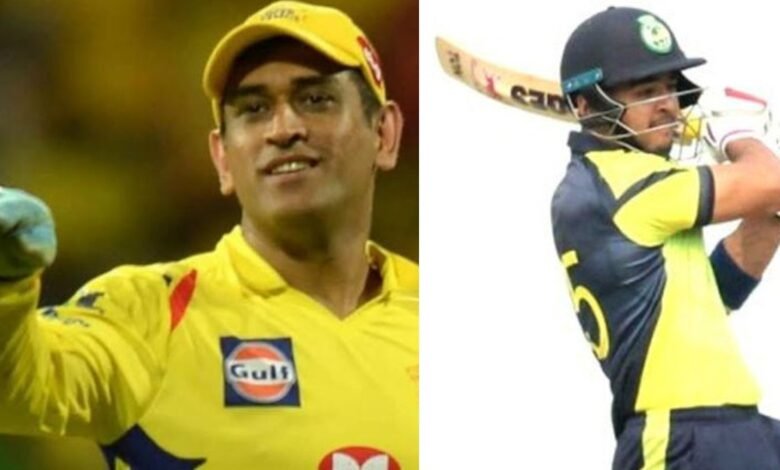 Fans on Twitter lashed out at Indian Premier League (IPL) franchise Rajasthan Royals (RR) for comparing Riyan Parag with MS Dhoni for the finisher's role. They questioned the team for the comparison and said highlighted the record of both the batters to slam the franchise.
Riyan Parag calls No.6 and No.7 positions in T20I the hardest; calls MS Dhoni the master of it; Rajasthan Royals compare both batters
Ms Dhoni arguably has been one of the best cricketers and finishers in the history of the game. Being among one of the few batsmen who have massed over 10,000 runs in ODI, the 41-year is often credited for taking Indian cricket to new heights.
Not only in international cricket, but he also showed his mettle in IPL as well. Apart from scoring truckloads of runs in the league, Dhoni-led Chennai Super Kings (CSK) to four IPL titles. He's the main reason behind Men in Yellow being the second most successful franchise.
Dhoni has many times won the match for his side in crunch situations with his ability to finish the games. The wicketkeeper batter has scored 4978 runs in 235 matches at a strike rate of over 135.
On the other hand, Riyan Parag has been in exceptional form in the ongoing Vijay Hazare Trophy 2022 with 537 runs in 8 innings at an average and strike rate of 76.71 and 123.44 respectively to go with three hundreds and one fifty as well to his name.
While he has been in staggering form, it's fair to say that he has struggled to get going in IPL. The all-rounder bats at No.6 and No.7 for his franchise but haven't found his mojo. He called the batting position the hardest and said that only Dhoni has mastered the art of batting lower down the order.
As he said that, Rajasthan Royals compared Parag with Dhoni. They posted pictures of both batters on their Twitter account and asked fans to pick their favourite finisher from the two batters.
Here's the tweet:
your favourite finisher in T20s? 👇 pic.twitter.com/Pa541dQQRR

— Rajasthan Royals (@rajasthanroyals) November 29, 2022
Fans on Twitter react as Rajasthan Royals as they compare Riyan Parag with MS Dhoni for the finisher's role
As Rajasthan Royals compared Riyan Parag with MS Dhoni for the finisher's role, fans on Twitter slammed them. They lashed out at them for the comparison and questioned their post. Here are some of the reactions:
How this comparison is justified ?

— Ankit Jit Singh (@JitAnkit) November 29, 2022
Kya mast joke maara re https://t.co/i7gwonobIA

— hmmmmm (@gupshup__) November 29, 2022
Hello @rajasthanroyals admin, you are funny. But it's not funny to not give statutory attribution 🙂 #CreditWhereItsDue https://t.co/vefL8h4G9C

— Srinjoy Sanyal (@srinjoysanyal07) November 29, 2022
Trolling Dhoni Seriously! 🤣🤣🤣🤣🤣🤣😭😭😭😭 https://t.co/c33TpmiYhZ

— AD (@AbhiGoudVK18) November 29, 2022
What the hell comparison

— Naresh Aravindh (@naresh_aravindh) November 29, 2022
rajasthan royals should be banned from ipl once again

— Marwadi (@gaitonde07) November 29, 2022
Are you guys hurt in the head to compare Parag to MSD? Seriously?

— MrMcAdams (@adenois) November 29, 2022
RR admin subtly trying to tell Riyan Parag is no less than Dhoni. Yahi din dekhna baaki rah gaya tha. 😂😂

— TvvitterWala  (@TvvitterWala) November 29, 2022
Don't champaran between kid and legend 🤟🤟#MSDhoni #RohitSharma

— official_Haru_choidhary (@Rohit2090284) November 29, 2022
R you mad to put these two in a single frame ? BS

— मुमुक्षु (@mumukshu62) November 29, 2022
Who is this Riyan Parag guy btw? And why you are comparing him with the legend Dhoni.

— Mathsnscience (@mathsnscience) November 29, 2022
No one can beat MSD

— AVI.29 🇮🇳 (@CricketLover015) November 29, 2022
Unreal comparison, please don't do this

— Mayank2.0 (@mayank_ar) November 29, 2022
No comparison!🤏

— Abhishek Kumar (@Abbhishek22) November 29, 2022
Wt the 🤦🤦🤦

— Madhu Ram🇮🇳 (@madhuram95) November 29, 2022
Why are you comparing Riyan with MSD

— Gagandeep Singh (@IamGaganBadwal) November 29, 2022
This is an insult to MSD.

— Sanjeev Shanmugam (@sanjivshanmugam) November 29, 2022
Dhoni × 100
Parag × 001

— kikrate (@kikrate) November 29, 2022
Please don't again comparison between waterfall and nightfall🙏#MSDhoni𓃵 Forever🇮🇳❤️🔥🙏

— Momin Moyal (@momin4moyal) November 29, 2022
You compare ms dhoni and riyan parag
You need some mental checkup

— Manish Roy Atri (@ManishRoyAtri) November 29, 2022