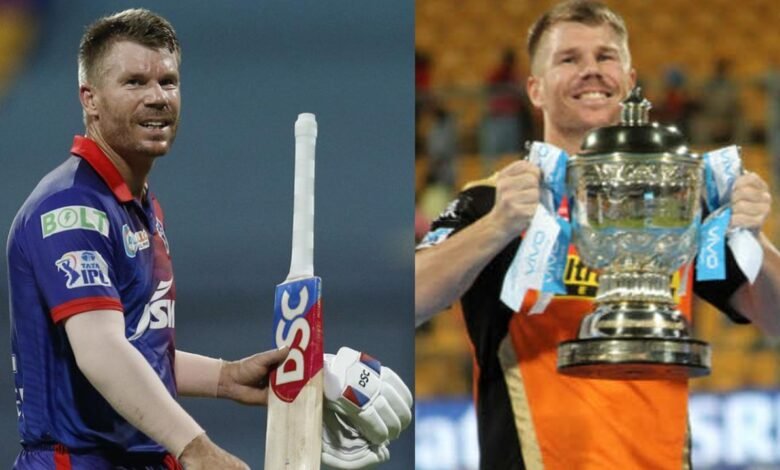 Fans on Twitter react as IPL legends pick the all-time IPL XI. They were not happy with the team and lashed out at them for leaving out Australian opener David Warner from the side.
IPL legends pick the all-time IPL XI
In an interaction on Jio Cinema, IPL legends have picked the all-time playing XI. The legendary duo of Chris Gayle and Virat Kohli, who shattered almost every record playing for RCB, will open the batting.
Mr IPL Suresh Raina was slotted by IPL legends at No.3 in the all-time IPL XI. They have drafted Rohit Sharma at No.4. Notably, the Mumbai Indians skipper has batted in the middle order for most of his career.
AB de Villiers will bat at No.5 in the IPL all-time playing XI whereas MS Dhoni will captain the team and also will keep the wickets in the team picked up IPL legends. Hardik Pandya and Sunil Narine will be the two all-rounders in the team.
Yuzvendra Chahal is the spinner alongside Narine while Jasprit Bumrah and Lasith Malinga will be the two frontline pacers in the team.
Here's the IPL legends' pick for the all-time IPL X1 in Jio Cinema:
Chris Gayle, Virat Kohli, Suresh Raina, Rohit Sharma, AB Devilliers, MS Dhoni (C), Hardik Pandya, Sunil Narine, Yuzvendra Chahal, Jasprit Bumrah, Lasith Malinga.
Fans on Twitter react as IPL legends pick the all-time IPL XI
As IPL legends pick the all-time IPL XI, fans on Twitter reacted to it. They were not happy with the legends not picking David Warner in the team. Notably, the Australian opener is the highest overseas run scorer in the tournament. Here are some of the reactions:
played 135 matches, and scored 5014 runs at an average of 43.17 and strike rate of 142.39.

Had 4 centuries nd 44 fifties 🫡

Intha pedda player ni all time playing 11 lo pettaledu chudu siggundali ra miku 😤

Eppatikina #davidwarner gurtundipotadu IPL fans gundello ❤️ https://t.co/pobUTJ7fo5

— MK (@MK99086) January 24, 2023
Incomplete without bravo https://t.co/2JLx1n2RA3

— Punit Prasad (@PunitPrasad11) January 24, 2023
Without Warner 🤮 https://t.co/ho1FzHpgRm

— Mr. Rager (@Dexmamaa) January 24, 2023
IPL legends disrespecting IPL legend. https://t.co/wF60Ul0Ctq pic.twitter.com/bkUWEqKypk

— Rampy (@CricTweexRampy) January 24, 2023
David Warner? 😒 https://t.co/2XUeJTHrKC

— Aᴘᴜʀᴠᴀ 🎸 (@rkv_slays) January 24, 2023
How is David Warner not on this list lmao https://t.co/zmjg542Efs

— hmmmmm (@gupshup__) January 24, 2023
IPL 11 without David Warner ? 🤣🤣 https://t.co/kwjL75N3Oy

— Shikhar (@VamosFedee) January 24, 2023
Rohit out Warner in. https://t.co/SmQVFQRmek

— Smooth Operator 🥂 (@abdkohlifan) January 24, 2023
Rohit Sharma place to warner
Pandya Place to pollard
Chahal to Rashid https://t.co/rjN1y5N1ZI

— Harvey Specter (@aanando_brahma) January 24, 2023
X1 Without ipl goat @davidwarner31 🤣 https://t.co/N0GXiRBbXS

— Vikramaditya 🏹 (@Darling73892608) January 24, 2023
No bhuvi and Warner 😑 https://t.co/kwM3fuavwk

— Srinivas (@Srinivas_255) January 24, 2023
Chris Gayle
David Warner
Virat Kohli
Suresh Raina
AB Devilliers (WK)
MS Dhoni (C)
Hardik Pandya
Bhuvneshwar Kumar
Yuzvendra Chahal
Jasprit Bumrah
Lasith Malinga https://t.co/V0Dvv2eZy4

— Bharat (@BharatChopraa) January 24, 2023
No Bravo, Pollard & David Warner seriously 😳 https://t.co/rsiRkfTlbF

— Akash patel (@Akashpatel233) January 24, 2023
Warner,Bhuvi,Bravo😔 https://t.co/nPSvT0fSSD

— Rahul Reddy (@Sodaisgreat) January 24, 2023
All time IPL XI without Warner is just a joke for me 😂 https://t.co/6rRTPPCCFT

— HARDY🎭 (@Cricsomaniac) January 24, 2023
I don't see Warner in the XI. Immediately, the team makes zero sense. https://t.co/D3ViTyWFzH

— Ayan Banerjee (@_ronty_) January 24, 2023
No Warner, LOL https://t.co/bMWOihHKAw

— Hit Wicket (@babusathishs) January 24, 2023