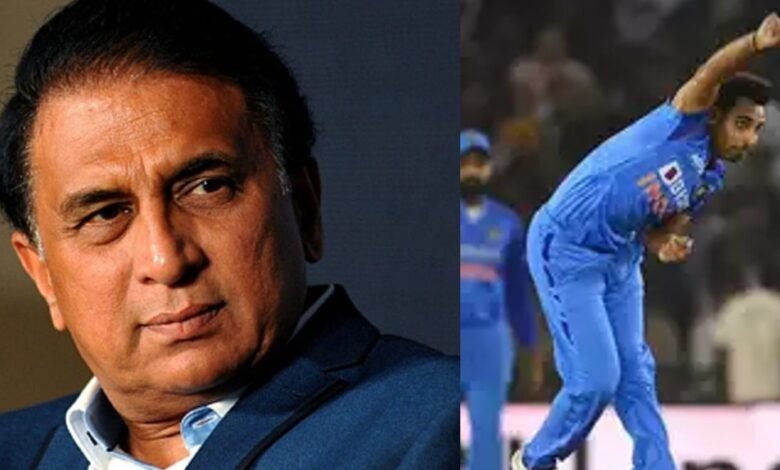 The former Indian captain Sunil Gavaskar is quite surprised about the fact that India's most experienced fast bowler Bhuvneshwar Kumar is going for runs again and again in the death overs. Gavaskar called it a huge concern for the Indian team ahead of the T20 World Cup.
Because of the fact that two of India's designated death bowlers Jasprit Bumrah and Harshal Patel have not played together for a long time, the Indian captain Rohit Sharma has to rely on Bhuvneshwar Kumar for death bowling.
Generally, Bhuvneshwar is the specialist new ball bowler for India because he can swing the ball both ways. However, in the Asia Cup, he was the death bowler alongside Arshdeep Singh, and yesterday also, he had to bowl the 19th over of the innings in the first T20I against Australia, as Harshal Patel was the only other death bowler playing.
Harshal also proved to be very expensive, but he was playing his first match after injury and the fans could understand that he was a bit out of rhythm. But, with Bhuvneshwar Kumar, it happened third game in a row that he leaked too many runs in the 19th over and the game was almost over even before the 20th over started.
You don't expect your experienced bowler to go for so many runs: Sunil Gavaskar
Sunil Gavaskar was analyzing the first T20I between India and Australia on Sports Today and he said that Bhuvneshwar Kumar is so experienced now that one doesn't expect him to not be able to do the job in the 19th over for three games in a row.
"When somebody like Bhuvneshwar Kumar is going for so many runs every single time. That really is an area of concern":Sunil Gavaskar #cricketnews #CricketTwitter #INDvsAUS #bhuvneshwarkumar

— CricInformer(Cricket News & Fantasy Tips) (@CricInformer) September 21, 2022
According to Sunil Gavaskar, the experienced bowler of the team can go for 35-36 runs in an odd game or two in his 4-over quota, but for an experienced bowler to concede so many runs in the death overs of important games back to back, it has now put question marks on Indian bowling altogether and the team management will have to look into it.