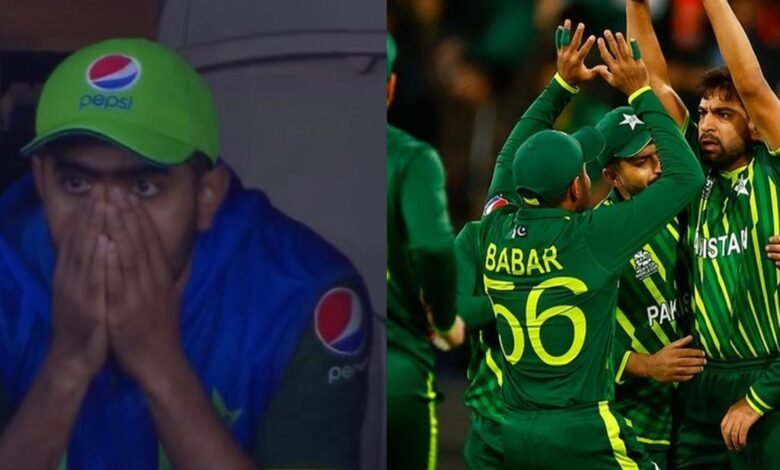 Pakistan lost to Zimbabwe by just one run in their second game of the 2022 T20 World Cup. Having lost the first game too, Pakistan finds itself in a difficult spot in the ongoing campaign. On that note, here, we take a look at how Pakistan can still Qualify for the 2022 T20 World Cup Semi Finals.
Pakistan can still Qualify for the 2022 T20 World Cup Semi Finals?
The ongoing T20 WC is becoming a tournament of upsets. The latest in this list is Zimbabwe handing a difficult loss to Asian giants Pakistan. The men in green lost their first game to India and that was also a close encounter. It is now looking difficult for them. That said, it is still an early part of the tournament and the Babar Azam-led squad still has a chance to make it to the semi-finals of the event.
Pakistan has a pretty straightforward equation for the 2022 T20 WC. They would want just one favour and it could be from any team that will face South Africa from now on. Essentially, Pakistan will have to win their remaining games and will also want the Proteas to lose four points. If Pakistan wins over South Africa, two points are gone from their bank and they would then need India or the Netherlands to beat the Proteas.
Pakistan can still qualify for the semifinals if they win all their upcoming matches and South Africa lose to both Pakistan and India. #T20WorldCup

— Farid Khan (@_FaridKhan) October 27, 2022
A tough challenge for Pakistan
In the current form that they are in, Pakistan will be expected to have a tough time. While they can still manage to win their remaining games, they would somehow want India to defeat South Africa.
India defeating South Africa is actually a possibility. The men in blue are in red-hot form and recently, they defeated South Africa in a T20I series. Pakistan would hope that the likes of Virat Kohli are in good form so that South Africa loses the encounter.