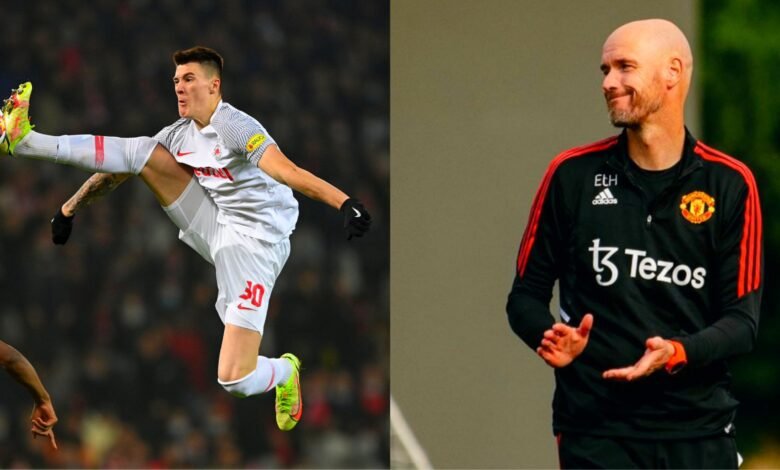 Benjamin Sesko can be the key to Manchester's attacking conundrum. As the Premier League kicks in less than a day from now, it seems that Manchester United is already pressing hard for another last-moment signing that can provide the club a massive impetus for the upcoming days, especially with the entire team hoping to build around young guns for a promising future, a formula that Sir Alex Ferguson turned into an ingredient for a hit unfolding at the Old Trafford during his stay at the club.
As far as the reports of Sky Sports go, Manchester United have held initial talks with Red Bull Salzburg over the signing of their young striker, Benjamin Sesko. However, there are major discrepancies that have so far been doing the rounds with the valuation of the deal.
The deal considering Benjamin Sesko may fall through
The urgency is in the United camp considering the fact that Salzburg is in no hurry whatsoever in signing the Slovenian wunderkind, as he still has a staggering 4 years left on his contract. The 19-year-old marksman has already appeared for his country a staggering 13 times and has been rocking the Austrian Bundesliga with 11 goals and six assists from 12 games.
His heroics weren't just confined to the Austrian Bundesliga as he hammered home the solitary strike of the night against Liverpool in a preseason friendly. In the meanwhile, Ten Hag made it clear that despite he was not happy with the development that unfolded in their last preseason friendly, he also made it clear that he was okay with the way how Manchester United performed.
ETH was heard quoting, "First of all, we have a squad and we have already made progress. We are more proactive than we were at the start. The second is the players who we have now signed. We are really happy with them. You can already see that they can contribute to the squad."
He also emphasized how it is about signing the right players and not just signing the players. The Dutchman wanted to bring together important squad members who can string crucial components of a bigger puzzle and win games for the Devils.