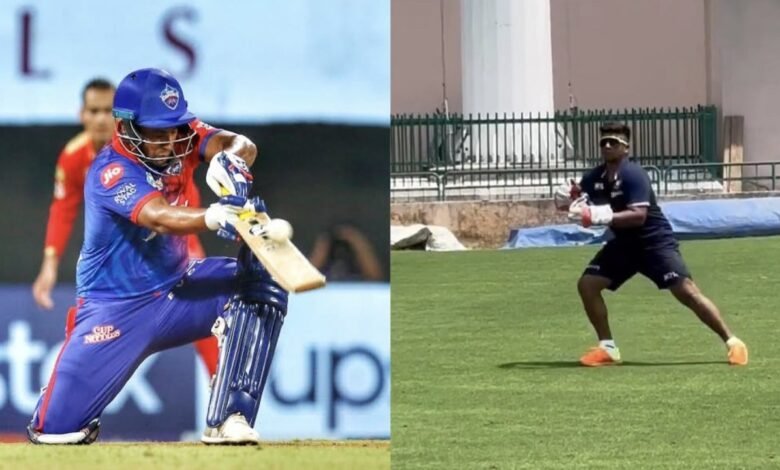 Fans on Twitter speculated that Delhi Capitals might as Sarfaraz Khan to do wicketkeeping in the Indian Premier League (IPL) 2023 as the picture of him doing keeping practice goes viral. They were happy with the development and said that the batter is heading towards the big season.
Picture of Sarfaraz Khan doing keeping practice ahead of IPL 2023 goes viral 
After the tragic accident few months ago, Rishabh Pant is all set to miss the IPL 2023. In his absence the franchise has named David Warner as the skipper but the franchise hasn't named any replacement player yet.
Not only does DC will miss the services of Pant as a skipper, but a quality batter and a keeper as well. There are many speculations about who will keep wickets for the team this year. They have an option in Philip Salt and also Sarfaraz Khan, who is a part-time keeper as well.
Many reports have suggested that the franchise might opt for Sarfaraz Khan as he's an Indian player and the team already has four overseas slots locked in. Recently a picture of the Mumbai batter doing the keeping practice went viral on social media. In the picture, he can be seen taking catches with gloves in his hands.
Here's the picture:
Sarfaraz Khan doing wicket-keeping practice.

He might be the keeper for Delhi in IPL 2023. pic.twitter.com/5ncM5drf2F

— Johns. (@CricCrazyJohns) March 20, 2023
The Indian Premier League (IPL) 2023 will kick start from 31st March. Delhi Capitals will begin their campaign against Lucknow Super Giants (LSG) on 1st April.
Fans on Twitter reacted as picture of Sarfaraz Khan doing keeping practice ahead of IPL 2023 goes viral 
As a Picture of Sarfaraz Khan doing keeping practice ahead of IPL 2023 goes viral, fans on Twitter reacted to it. They speculated that the batter might don gloves for the upcoming season and said that is heading towards the big season. Here are some of the reactions:
Hopefully he plays everygame. Wanted to see this fraud exposed badly this season. https://t.co/jGiDmJTL4g

— No country. (@NoCountry11) March 20, 2023
Good sign for @BCCI Test 🏏 future https://t.co/uUrFsY8Lqa

— Naatu (@KGFRockyBhai) March 20, 2023
Sarfraz Khan heading towards BIG SEASON
Finally he will get long rope to showcase Power hitting Ability 🔥 https://t.co/7wBwOV4xHF

— Jeevan (@JeevanSRH) March 20, 2023
Guy understood abt dual role importance to get place in team😂 https://t.co/iVSoIdyski

— Cricman (@KL444444) March 20, 2023
Want this guy to do really well in IPL too , he has not only been knocking selector doors for debut in test but also has destroyed it but still no place for him, never seen any guy consistently scoring runs like him ❤️

— ً (@SarcasticCowboy) March 20, 2023
Obviously it'll be him. Let's see how he handles Nortje & Kuldeep.

— Saresh 🇮🇳 (@CricSar) March 20, 2023
No other choice as there ain't many Indian options available and if we play salt, means either Marsh or Powell have to sit, which would be a bad move. If Saifu keeps, not just he'll become a regular member of playing XI but our balance also won't get disrupted

— 🎯DEVI CAPITAL🎯 (@DS_790) March 20, 2023
ye IPL uske life ka best IPL hoga

— Swapnil Sagvekar (@SwapnilPackers) March 20, 2023
It's good if he can get used to the wicketkeeping job as well , that would break open the doors for him in Test XI

— Dhruv (@being_ingenious) March 20, 2023
Dada is team director and his experiments with keepers have always paid off . Hoping this one too will benefit the team.

— Skrai (@skrai2506) March 20, 2023
Seems like being a WK is best chance of getting into India XI 😀

— Vipul Shah (@vips1031) March 20, 2023
He is looking more fit 👍good for him

— Ajjjuuuu (@AjjjjCricc) March 20, 2023
Master stroke by dc

— ಲೇಖಕ ✍󠁩󠁮󠁫󠁡󠁿🇮🇳 (@SCRIPTMACHER) March 20, 2023
That could be the only way he can come into the radar of the Indian white ball selection system.

— Chetan Bhat (@chetdb) March 20, 2023
DC will lift trophy

— Mallu_Ganju (@CricCraxyJohnz) March 20, 2023