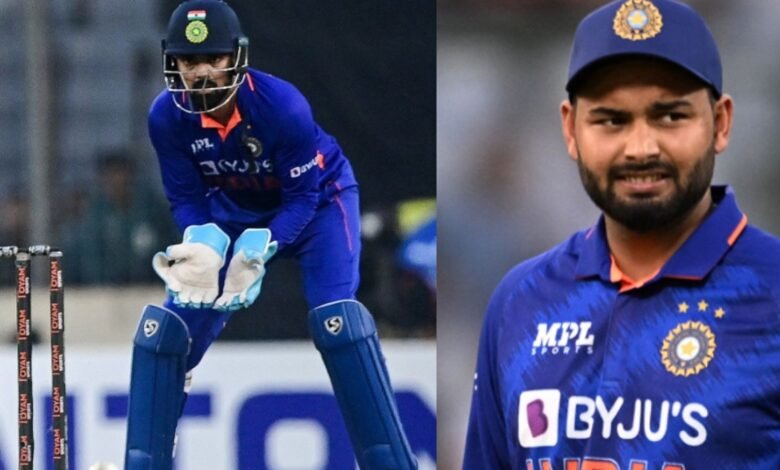 Fans on Twitter were confused after KL Rahul said that team has asked him to be ready for the wicketkeeper's role in ODIs. They expressed their concerns over the place of Rishabh Pant in the team and questioned the management, saying that have they dropped the left-hander after a couple of failures.
KL Rahul keeps wickets in the first ODI against Bangladesh 
The first ODI between Bangladesh and India was a nail bitter and it saw the hosts clinching the match by just 1 wicket. There were few causes of concern for the visitors as they batted extremely poorly and also their team combination wasn't up to mark.
One more thing that caught the attention of many was KL Rahul was given the role of the wicketkeeper. Ahead of the first game, India was jolted with the big blow as Rishabh Pant was ruled out of the series.
With him being out of the series, India was left only with two choices for the keeper's role in the XI in Ishan Kishan and KL Rahul. But the team went with the latter as the first-choice keeper in the side whereas the southpaw, who is the specialist keeper was not preferred.
This decision of India to go with Rahul as a keeper in the side made many confused especially with Sanju Samson who has been rested for this tour, Rishabh Pant and Ishan Kishan are all in the mix for the role.
KL Rahul said "I have kept wickets & played in the middle order in ODI in 2020-21, this is the role team has asked me to be ready for".

— Johns. (@CricCrazyJohns) December 4, 2022
It's fair to say that the decision to go with Rahul as the keeper has increased the competition for the keeper's role in the side. It remains to be seen who among them will be a regular keeper heading into the World Cup.
After the game KL Rahul was asked about the role, replying to which he said; "I have kept wickets & played in the middle order in ODI in 2020-21, this is the role team has asked me to be ready for" 
Fans on Twitter react as KL Rahul reveals that the team has told him to be ready for the wicketkeeper's role
As KL Rahul reveals that the team has told him to be ready for the wicketkeeper role, fans on Twitter reacted to it. They were left amazed by his statement, especially with Rishabh Pant, Sanju Samson and Ishan Kishan all on the bench. They expressed concerns over the place of Pant in the side and give some reactions. Here are some of them:
#ThankYouRishabPant. https://t.co/PQlgJkMpQR

— FaziL KL 🇵🇹 (@Dark_Fz7) December 4, 2022
Have they decided to drop Rishabh after 2 failures? https://t.co/Xos2uVENZU

— Halsey🇦🇷🇪🇸 (@meandmyself017) December 4, 2022
Everyone thought it would be Rishabh Pant to finish Sanju Samson's career but it turns out it's KL Rahul to finish them both.#CricketTwitter #indvsbang https://t.co/0DS75uvuuM

— Himanshu Pareek (@Sports_Himanshu) December 4, 2022
Then y statpad as opener vs SA

And blocked YOUNGSTER chance
🙂 @klrahul https://t.co/0aKpU1etey

— MSD SUDHAR😻❤ (@mersal_sudhar) December 4, 2022
If this is true

I believe #IndianCricketTeam & #RohitSharma will use #RishabhPant like they did in #T20WC2022

In that case #Dhawan #Rohit#Virat#ShreyasIyer#KLRahul #HardikPandya #Jadeja / #Washington #Bhuvi / #Deepakchahar #Bumrah#Siraj / #Shami #Chahal #INDvBAN https://t.co/cQjaLfHBaH

— Ram ராபர்ட் रहीम (@itsme_rrr9438) December 4, 2022
He just gave away that Pant's injury is tactical https://t.co/hBHQlSAYfb

— Rohan 🏏 (@Rohantweetss) December 4, 2022
KL Rahul is single handedly becoming a Villain in lives of different players across formats now 😅 #INDvsBAN https://t.co/FUyBATNpGj

— Shambhu Nath Pradip (@2shambhunath) December 4, 2022
It's not about blaming KL. He was placed as a keeper suddenly by BCCI, which raises lot of questions, especially when guys like Sanju/Kishan are craving for an opportunity.

— Thejus (@ts_thejus) December 4, 2022
KL should be dropped to play domestic cricket. He is mediocre batsman and I do not know who is thinking him as keeper. There are better keeper batsmen in team

— Vivek Verma (@VivekVerma2305) December 4, 2022
What is Ishan Kishan doing in team if you are not giving him https://t.co/GzsMYN4hr3's Tata bye bye time for K L Rahul & https://t.co/lMN1oaqtpa's not community team that you keep a particular Community players despite failing again and againba.

— Mentally Harrassed Banker (@arifmunnaRaza2) December 4, 2022
So they are ready to drop pant after 2 ODI's failure. Nice

— Batman (@andherekabaaap) December 4, 2022
Sanju with his fans crying in corner 😭🤣😭🤣

— Shashank ❁ (@incognito83b) December 4, 2022
How many people have RD and @ImRo45 have told this to…Sanju was also asked to do the same…utter nonsense

— Deepak Kumar (@DKMR1) December 4, 2022