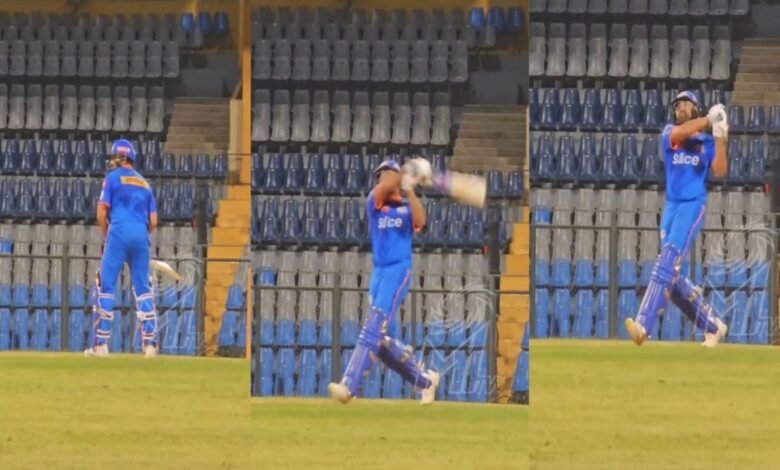 Fans on Twitter reacted after Mumbai Indians skipper Rohit Sharma smashes a huge pull shot in the practice session ahead of the Indian Premier League (IPL) 2023. They said that every time netizens ask him to restrict the pull shot he plays it even more.
Rohit Sharma smashes huge six on pull shot in a practice session ahead of IPL 2023
The preparations for the Indian Premier League (IPL) 2023 are in full flow. The league will kick start from 31st March and all the teams are leaving no stone unturned in their net sessions in the build-up to the event. Like all the seasons it's expected that it'll be another blockbuster season.
If we talk about Mumbai Indians, the five-time champions will open their campaign against Royal Challengers Bangalore (RCB) on 2nd April in Chinnaswamy stadium. The Rohit Sharma-led side outfit is sweating hard in the nets as every player is putting extra effort to get ready for the league.
Their skipper Rohit Sharma too has looked impressed in the net session. Recently a video of him smashing a huge six on a pull shot in nets went viral. In the clip, the right-hander can be seen timing the ball to perfection and hitting it out of the park.
Here's the video:
Rohit Sharma in the practice session. pic.twitter.com/Eah1ftfOBq

— Mufaddal Vohra (@mufaddal_vohra) March 30, 2023
This'll be an important season for both Rohit and Mumbai Indians. While the skipper hasn't found his mojo in the league, the franchise had a horrendous campaign last year as they were the owners of the wooden spoon and lost 8 consecutive games.
Fans on Twitter react as Rohit Sharma smashes huge six on pull shot in a practice session ahead of IPL 2023
As Rohit Sharma smashes a huge six on a pull shot in a practice session ahead of IPL 2023, fans on Twitter reacted to it. They lauded the batter for his effortless six but also said that whenever he needs to restrict his pull shot, he hits it even further. Here are some of the reactions:
Not lying vibes are good this year…. Expecting blockbuster season with the bat. https://t.co/RSGZbAMFvQ

— 🧌. (@deadIine_dork) March 30, 2023
Arey Mori maiyaa Bhukamp Aa Giyo https://t.co/P5EWuFRLbd

— Soorma रजवाड़ी (@soormawoorma) March 30, 2023
— WildSaala💥💥 (@DNKWrites) March 30, 2023
— Harshal (@Harshal54p) March 30, 2023
— Mr. Riser 🦅 (@Dexmamaa) March 30, 2023
💙Mrng bliss!! https://t.co/oyN7ZU5mxI

— ⁴⁵𝙿𝚞𝚐𝚊𝚣𝚑 ᴹᴵ 💙 (@Pugazh_Under25) March 30, 2023
I guess he will play as impact player

— NainaSingh 🇮🇳 (@NainaS771) March 30, 2023
Bro every time i see a clip of him,i bee like not pull shot please and he does it💀

— Koushik Reddy (@Kowshik04616113) March 30, 2023
Small doubt will he score at least one half century in this ipl season
Last time ended up without scoring half century

— Venkatesh Raj (@VenkyVKPK_) March 30, 2023
Bowlers while bowling to Rohit Sharma 🙂 pic.twitter.com/LiZq93pAG4

— Tanmoy (@Tanmoyy) March 30, 2023
Lazy attitude and effortless hitting speciality of rohit sharma 🥰😍

— GOATROHIT45 (@sachinq518) March 30, 2023
When time will come, he will throw his wicket away

— ▄︻̷̿┻̿═━一 (@NO_VIS0R) March 30, 2023
Still owns shortball

— ᴛʜᴏᴍᴀs sʜᴇʟʙʏ ᴏʙᴇ ❁ (@peakyBrother) March 30, 2023
Nyc shot hitman 🔥🔥

— Sahil Shaw (@iam__sahil_17) March 30, 2023
B-Ro ka shott… Ekdm HIT……..

— Rishabh Dadhich 🦁 (@Rishabhdadhic18) March 30, 2023
It's like cracker

— jagadeesh (@Imjagadeesh14) March 30, 2023