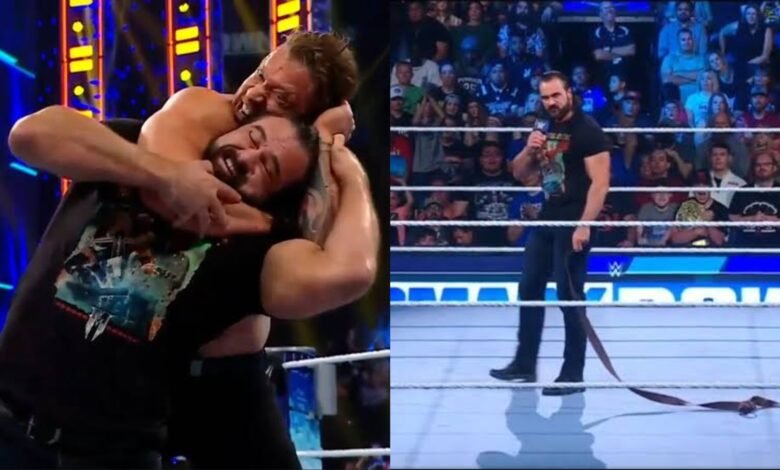 A botch or a mistake during performance has happened during SmackDown today, involving Drew McIntyre, Scarlett and fireball.  According to Fightful Select's backstage source, the in ring spot where the arousing lady of Karrion Kross was supposed to shoot the fireball on McIntyre's head didn't go as planned.
There was a flash paper which Scarlett was using for theatrics and she threw it at McIntyre but it ignited behind him only after passing his head altogether. WWE's very competent cameramen tried to hide the botch by cutting away to a different angle but it was too late, as the viewers had already noticed it.
Remember folks:

Scarlett misses the fireball: Botch 😡😡😡

Jericho misses the fireball: Not a botch. He's a wizard! 🥰🥰🥰 pic.twitter.com/AbRaziW0np

— CJ Miranda (@cm_carlito) September 24, 2022
When is Drew McIntyre vs Karrion Kross match?
The source also stated that the flash paper was clearly not ready to be used on live TV but was used anyway. Drew did however try to sell the move but it was a little late for that. But all three of them saved the segment by getting involved in an in ring brawl that saw Scarlett low blowing McIntyre and Kross locking the "Krossjacket" submission on him while screaming about their encounter on Extreme Rules.
The two long feuding big bulls will lock horns in a "Strap Match" on October 8th at the Extreme Rules pay per view.
@DMcIntyreWWE vs @realKILLERkross is Confirmed for a Strap Match at @WWE Extreme Rules. pic.twitter.com/oCjHtqSwZs

— WrestlingNerd (@wrestlingisluv) September 24, 2022
Karrion Kross had returned in early August, after being released with his wife last year, and had immediately attacked Drew McIntyre brutally from behind. He continued this pattern many times until McIntyre accepted his challenge. This week, the Scottish warrior revealed that he will face him in a strap match on the Extreme ppv and went on to return the favour to Kross, while tying themselves to a leather strap. With Scarlett's fireball and punch to the balls interference, The Doomwalker still got the upper hand at the end and accepted the match.
History has shown that spots with fireballs often don't work, and this week was no different. Maybe this is a stunt, Triple H should finally retire for good.