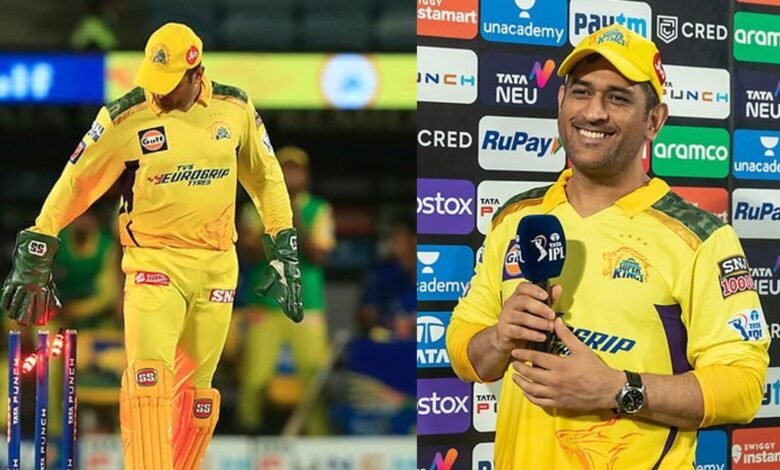 The entire nation was left in awe as MS Dhoni resumed the CSK captaincy and led the Super Kings to their third win of the season. More importantly, CSK opener, Ruturaj Gaikwad would find his form back, smashing a blistering 99 before finally getting out for 99.
Gaikwad and Devon Conway stitched together the highest opening partnership of IPL 2022 as they posted 182 runs before Natarajan would beat Gaikwad for pace. It was the same Natarajan who would also get the better of MS Dhoni as Chennai would pile up 202.
Here is what MS Dhoni had to say after the game
The Sunrisers would bring out the heavy artillery a bit too late in the innings that would witness Pooran's big guns threatening to take away the game from the Chennai Super Kings only to fall short by 13 runs in a high-scoring encounter.
It felt like poetry in motion to witness Dhoni talk at the post-match presentations. He would say, "It was a good score to start off. When you put a score like that, it is slightly easy for the bowlers to defend. I did nothing different, when you're in the same dressing room, you keep saying the same things. it's not like much changes with the change of captain. The target we got was a good one, dew comes in so the bowling needed to be good."
He would further add, "It's just that we got a good start and made the most of the early overs with the bat. We needed good bowling after that. The spinners did well after the sixth over when it starting holding a bit, build the required rate in that period. That was key to the win and gave a surplus of runs which we could fall back on. The opposition can get back after a good start even with a chase of 200 but our spinners ensured that was not the case."
He was also vocal about how Chennai's spinners will be doing the trick for them, citing, "We have had quite a few good performances with the bat, but we gave 25 off 2 overs and their like with the ball, so the bowlers have to try something different. I have told my bowlers that if bowlers get hit for 4 sixes off the over, two balls are left and something can be done. Not sure everyone buys in with such theories but I think it works. I think Jadeja knew last season he'd be captaining this year. For the first two games, I oversaw his work and let him be later. I insisted he'd take his own decisions and responsibility for them."
He would finally conclude saying, "You cannot spoon-feed everything to them. Once you become captain, it means a lot of demands come in and can affect the player's performance and occupy their mind which I think was the case with him. I think captaincy burdened his prep and performances, it meant he could not go with the bat and ball with the same intensity, we had a deep-midwicket fielder. We have had a lot of drops which we need to improve on. We do not want bowlers to be lost, with the younger bowlers, you need to be with them and tell them about the fields. It's good to see Mukesh come up, you can't get away with things at this level. You need to accept shortcoming too which is key."
Dhoni has always been an eloquent captain and he ensures to praise his players' efforts to the world. He would also sum up the game perfectly and drop hints about the forthcoming adventures. Twitter was in absolute awe to see Mahi take the podium once again and conjure a terrific post-match conference.
Somebody record or document today's post match interview of MS Dhoni, last was a diamond suits for everyone like a philosophy.

Accept your shortcomings etc.,
Greatest mind, captain ever played this game.
Legend #CSK #WhistlePodu #IPL2022 pic.twitter.com/YwwAJJmzby

— Bowya Madhi (@bowya8) May 1, 2022
So good to hear MS Dhoni's post-match presentation interview after a long time. Explained stuffs so beautifully 👌❤️

— 🏏 (@keeper_batsman) May 1, 2022
What makes #Dhoni the greatest from India, after #KapilDev ?
The understanding of the game.
Understanding of the players.
Has specific plans.
A 360 degree thinking ability.
Just amazing.
Watched his interview post match, an inspirational leader.
One & only #MSDhoni #MSDhoni𓃵 pic.twitter.com/QFGRZ3W1AI

— dev shak (@devashak) May 1, 2022
And Our Captain Is Back For Post Match Interview 😍😩😩#MSDhoni #MSDhoni𓃵 #Dhoni pic.twitter.com/Wxr0r0C174

— Feminist Ladka (@Vishal26704) May 1, 2022
This is not a post match interview. Pommie and Dhoni doing a captaincy masterclass. IPL needs Professor Dhoni's help with the TV ratings.

— cricBC (@cricBC) May 1, 2022
MS Dhoni's post match interviews >>>>>> pic.twitter.com/CwgfDGpsJi

— Ankit Kumar (@ankitkumar_31) May 1, 2022
Man I missed this.
Someone should make a book out of the post match interviews of Dhoni…the clarity of thought, the deep wisdom of the game, the awareness of flaws and the acceptance of it all to take it forward. #Dhoni #CSKvsSRH pic.twitter.com/Iz4lIau5Wy

— Aniket Pathak (@StoneSoupWager) May 1, 2022
The greatest post match interview ever. This was masterclass on captaincy by Professor MS Dhoni. All the coaches till date have not been able to teach as much about captaincy as Dhoni taught in five minutes.
This was pure gold. #CSKvsSRH pic.twitter.com/KcGdHQD5db

— Rohit.Bishnoi (@The_kafir_boy_2) May 1, 2022
Everything now feels normal. How can Dhoni be in the team and not be the captain. Welcome back captain cool ✌🏽Also such a beautifully detailed post match interview!#CSKvsSRH #MSDhoni𓃵 pic.twitter.com/pUoj2thUuQ

— Saiyami Kher (@SaiyamiKher) May 1, 2022
Dhoni's post match interviews are a form of therapy.

— ` (@FourOverthrows) May 1, 2022