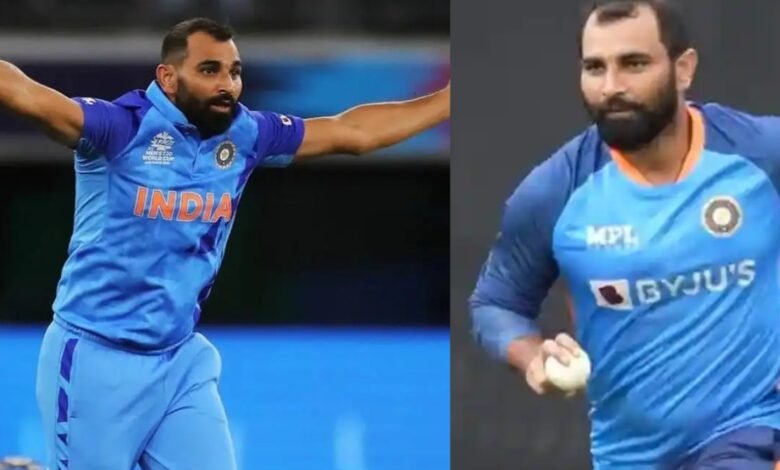 The coach, who was working with him during the time the fast bowler was out of India's T20I set-up, has revealed that Shami never gave up on his T20I chances and kept practicing in the toughest of conditions to make sure if the opportunity comes, he is ready.
According to the coach of Mohammed Shami, the veteran, in the last year, used to train himself under lights with a wet ball because he knew in the IPL and even in the World Cup, he might have to bowl in wet conditions and he would be expected to execute the yorkers even when it would be tough to grip the ball. He was preparing himself for that.
When the Indian coaching staff was changed after the T20 World Cup last year, the new coaching staff kept Mohammed Shami in the scheme of things for test and ODI cricket, but Shami wasn't selected for any T20I series after that, which led to the suggestion that his T20 international career might be over.
However, when Jasprit Bumrah got injured and got ruled out of the T20 World Cup 2022, India had to call back Shami because they needed a bit more experience in their squad for an event as big as World Cup.
Mohammed Shami has not disappointed the Indian management after being brought back
Shami has not disappointed the Indian management, as he has lived up to the expectations in almost every game that he has played in the World Cup so far and that's probably because of the way he was training when he was out of the T20I set-up.
The Indian fans are very impressed with Shami's performances in the World Cup and when the statement of his coach came yesterday, Shami earned a lot of accolades from the fans on twitter.
Here are some of the twitter reactions on the statement of Shami's coach –
Yorkers + Speed 🔥🔥 https://t.co/jK9F3wzlld

— Chandra Jack Sparrow 🤠🤠 (@Chandraa5183) November 4, 2022
Wow! This is dedication. 😮👏🏼 https://t.co/dpKjVTiek3

— Sejal 🏏 (@sejal_mokal) November 3, 2022
This Type Of Players We Need Not The Insta Story Merchants. https://t.co/r8Xi0CQC03

— Shahid🇮🇳 (@Shaikh1845) November 3, 2022
I need this kind of motivation. https://t.co/9HfGLjjh22

— Ritesh Mahato 🚵‍♂️ (@Ritesh_7l) November 3, 2022
Dedication is the other word for Shami bhai. https://t.co/F8mQz9vojg

— F í z í x 🦜 (@Supernatent) November 3, 2022
Wowww https://t.co/MHnE3t0gaG

— _Bobbaboiii_ (@IMNamanYadav9) November 3, 2022