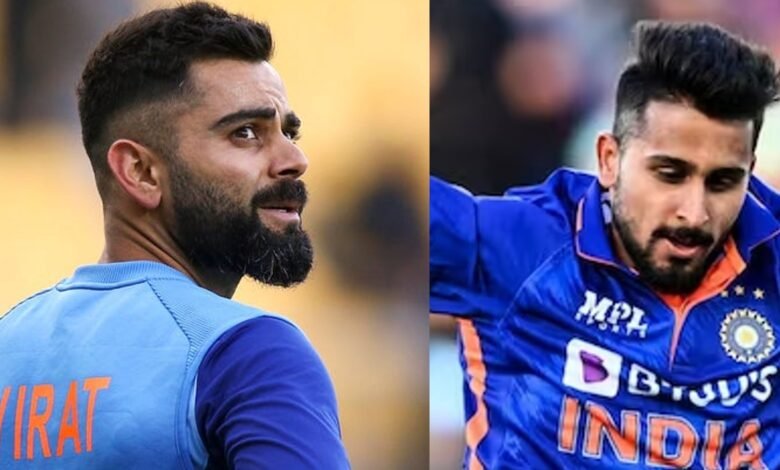 Fans on Twitter were jubilant after Umran Malik replaced Mohammad Shami in the ODI squad for the upcoming series against Bangladesh. They expressed their happiness in seeing Virat Kohli and Umran together as they feel that both are very aggressive and it'll be a treat to watch them together.
Mohammad Shami ruled out of the ODI series against Bangladesh; Umran Malik named replacement 
India is all set to lock horns with Bangladesh in the three-match ODI series. The first two games of the series will be played in Dhaka on 4th December and 7th December respectively. Whereas third game is scheduled to take place in Chattogram on 10th December.
Ahead of the first game, the visitors have suffered a massive blow as senior pacer Mohammad Shami has been ruled out of the series. The fast bowler sustained a shoulder injury during a training session ahead of the opening game, following which he was deemed unfit to play.
Umran Malik has replaced Mohammad Shami for the ODI series against Bangladesh.

— Mufaddal Vohra (@mufaddal_vohra) December 3, 2022
With him not being available, BCCI has named Umran Malik as his replacement for the ODI series. The fast bowler impressed many with his heroics in his debut series against New Zealand last month. It is likely that the pacer will play all the three games alongside Mohammed Siraj.
Releasing the official statement, BCCI stated: "Fast bowler Mohd. Shami sustained a shoulder injury during a training session in the lead up to the ODI series against Bangladesh. He is currently under the supervision of the BCCI Medical Team at the NCA, Bengaluru and will not be able to take part in the three-match series. The All-India Senior Selection Committee has named Umran Malik as Shami's replacement." 
Fans on Twitter react as Umran Malik replaces injured Mohammad Shami for ODI series against Bangladesh 
As Umran Malik replaces the injured Mohammad Shami for the ODI series against Bangladesh, fans on Twitter reacted to it. They were happy with the development and said that they are eager to see Virat Kohli and Umran together as they both are aggressive. They also expressed their disappointment with Shami getting injured. Here are some of the reactions:
Can't wait more to see Virat & Umran together
Real aggression 🔥🔥 https://t.co/FR7Pq1UzKu

— Chirag Goyal (@chiraggoyal2734) December 3, 2022
Time for experiment🙏 https://t.co/p65KaoNF8I

— Deva (@way2sdeva) December 3, 2022
Let's fuckinnn goooooo https://t.co/LUZ3ZNEMpY

— Sir Yonko (@Yonko_Red) December 3, 2022
Right Any day he is better than shami, umran and siraj

— Mahipal Nahata (@MahipalNahata1) December 3, 2022
Give Umran a long run ffs and let him go for runs he will learn.

— IsLameBored (@islamebored) December 3, 2022
This is great news. It seemed unfair that he was not included in the first list

— param822 (@param822) December 3, 2022
Unfortunate thing for Shami but at the same time an excellent opportunity for Umran to make his case in ODIS.

— Subhendu Kumar Sahoo (@Subhendu0772) December 3, 2022
Nice replacement, he must get more chance to be best with line & length

— Jeet अभी (@virtuoushuman) December 3, 2022
Right move

— Arka (@ARKA0432) December 3, 2022
Good decision, So happy for Umran❤️

— The Boy From Mars (@TheBoyFromMars2) December 3, 2022
Ab maja aayega re bidu 💙😍

— Sumit cricketer (@Sumitcricketer8) December 3, 2022
I like that the younger will get some valuable experience.

— Girish Shukla (@ShuklaG2020) December 3, 2022
Shami has no replacement 🤌♥️

— Dikshay Jain (@DikshayJain) December 3, 2022
Best news of the day !!!!🙂🙂

— Cricket TROLLS (@CricketLIVE____) December 3, 2022