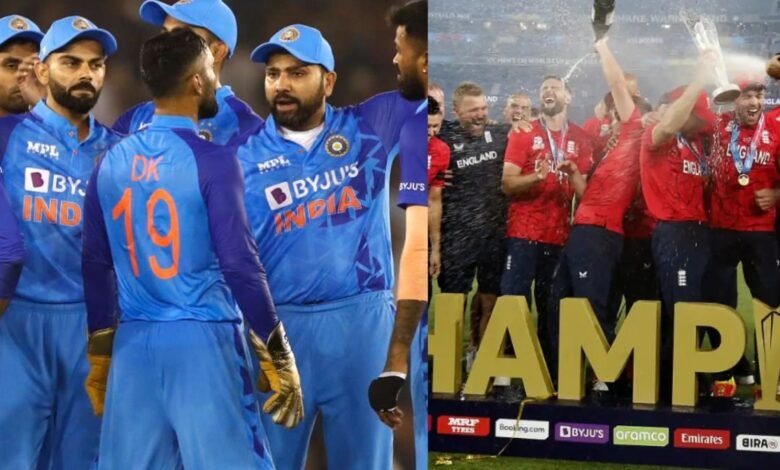 India didn't look the best team in the recently finished T20 World Cup by any stretch of the imagination, as not only did they lose a match in the group round of the tournament, but they lost the semi-final match against England totally one-sided too, and couldn't qualify to the finals.
But, on the aggregate, 2022 was one of the best years for the Indian team in the T20 format of the game. India has had the most no. of victories to their name in T20 cricket in 2022, Indian batsmen have scored the most fours and sixes, they have also scored the most the 50s and 100s, and India is currently the no. 1 T20I team in the world in the ICC rankings as well.
But, what has been missing from India's performance is the fact that they failed in two multi-nation tournaments in which they went in as favorites. In the Asia Cup 2022, which was played in UAE, India lost two games against Pakistan and Sri Lanka respectively in the Super 4 round after having a good start and couldn't qualify for the finals there either.
India had a great start in T20 World Cup as well, just like the Asia Cup
The same happened to the men in blue in the T20 World Cup in 2022. They had a great start with a thrilling victory against Pakistan in the first game they played at MCG, but then they lost against South Africa in Perth. Although they still topped their group by winning 4 out of 5 games, the way India played in the semis, it became very clear that they were not the best team in the tournament.
Some of the Indian fans reacted to India's overall T20I record during the ongoing calendar year and although the overall record looks great, the fans were quick to point out that despite having such a great overall record in the shortest format, India didn't win the World Cup.
Here are the Twitter reactions of the fans –
But no world cup. 🤦

Enni wins annadi important kadu, eliminators win ayama leda, cup gelichama leda annadi important. https://t.co/VyX5KMQrzs

— SasidhaR (@sasisai) November 21, 2022
But still lose both Asia Cup and World Cup 🤧 https://t.co/4mR92JhRDj

— Soopmen Bill 77 (@SoopmenBill) November 22, 2022
but didn't win asia cup neither wt20, such a team🙄 https://t.co/kgvMLE1AJf

— aish (@aishyouknow) November 22, 2022
World champion England that's what matters https://t.co/lbjuDYqWHz

— SM (@mahajansid) November 22, 2022
2022 T20 WC Winner ENGLAND ! https://t.co/I1fRs1JZPZ

— 𝘿𝙚𝙚𝙥 𝙍𝙚𝙝𝙖𝙡 (@MomLilPrince) November 22, 2022
But unfortunately worst performance in #T20WorldCup2022 goes to India, they defeated only one big team and that too by difficulty and due to one man https://t.co/LlpeGAYpR6

— Simple guy (@Mega123f) November 22, 2022
Yet they struggled their way through the WC and lost by 10 wickets in the semis 😂 https://t.co/cklShG7mrG

— TakeADeepBreath (@DeepTake) November 21, 2022
But guess who did not win the WC? 🤠 https://t.co/NOEBmY9DD2

— Ishika (@IPLhatebot) November 21, 2022