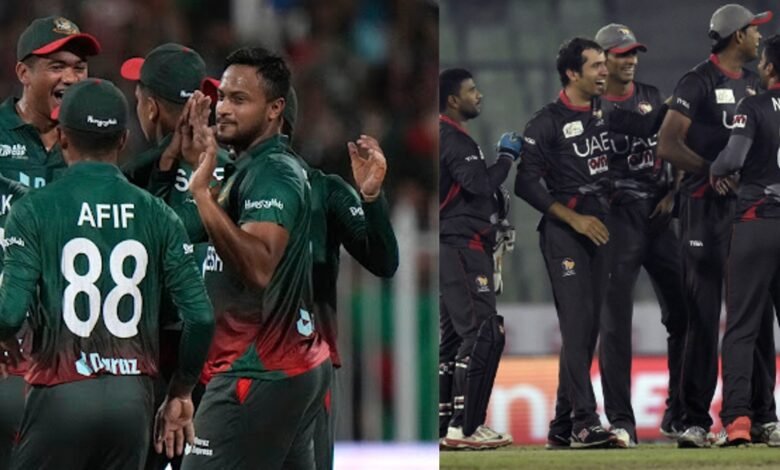 Bangladesh and UAE will be involved in two T20I encounters on 25th September and 27th September. Both these matches will happen in Dubai. Here, we take a look at the pitch report of the Dubai International Cricket Stadium and the weather conditions in Dubai for BAN vs UAE 2022.
Bangladesh is not enjoying good form at the moment. A few of their key players are not stepping up. Before the 2022 T20 World Cup., this is the right time for them to find form. Shakib Al Hasan will not be a part of this series as he is playing in CPL 2022.
UAE also made a few debatable decisions with regard to their squad for the 2022 T20 World Cup. They did not do that well in Asia Cup 2022, as well. Hence, they will target a good show against their fellow Asian opponents.
Dubai International Cricket Stadium, Dubai pitch report for BAN vs UAE 2022
Bangladesh tours UAE and we bring you the action LIVE!

Watch the UAE VS Bangladesh T20 Friendship Series 2022, streaming live on 25th and 27th September, 7PM onwards.#UAEVSBangladesh #T20Series pic.twitter.com/HN0tcKcfAK

— MX Player (@MXPlayer) September 24, 2022
In recent years, we have seen too much cricket being played at this venue. While a lot of IPL cricket has happened, the 2021 T20 World Cup and Asia Cup 2022 also happened in this stadium. Overall, this venue has seen 84 T20I encounters. 53% of these games have been won by the chasing side. Therefore, captains winning the toss have a fairly easy decision to make.
Dubai usually offers a good contest between the bat and the ball. The average batting score of 145 in the first inning proves the same. Virat Kohli's recent 122* is the best batting display in Dubai while Bhuvneshwar Kumar's 5/4 in the same game is the best bowling performance.
Dubai weather conditions for BAN vs UAE 2022
As usual, in Dubai, we can expect hot conditions for the game. The temperatures could range between 37 Degrees Celsius and 28 Degrees Celsius for the match. Rains usually do not hamper proceedings in the Middle East and it is likely to remain the same for the two games between Bangladesh and UAE.