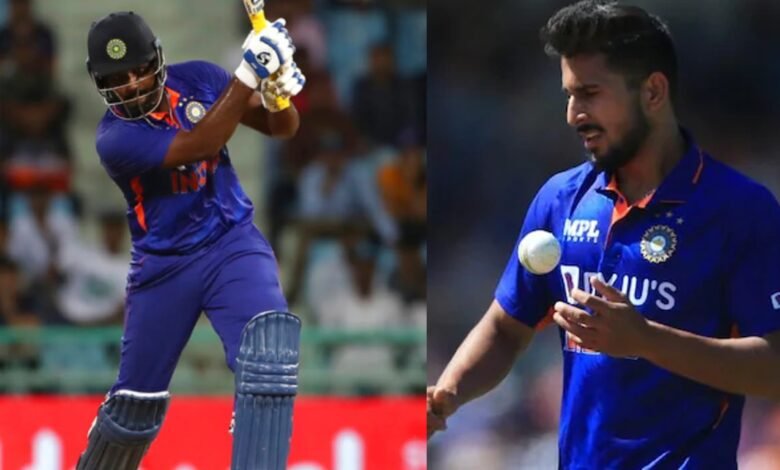 Fans on Twitter expressed their anger with Indian team management for the team selection in the ongoing third T20I against New Zealand. They criticised them for not giving an opportunity to Sanju Samson and Umran Malik and questioned them for their preparations for the next T20 World Cup.
Sanju Samson and Umran Malik yet again fail to make cut into the Indian XI 
India is currently playing the T20I series against New Zealand. The first game of the series got washed out due to rain and then the visitors displayed a staggering performance in the second game and thumped the hosts by 65 runs to take a 1-0 lead in the series.
India rested Sanju Samson and Umran Malik for the first game and many criticised them for not playing them. They lashed out at the management and said that they should give opportunities to youngsters and prepare them for the next edition of the T20 World Cup.
With nothing to lose, many expected India to give chance to Sanju Samson and Umran Malik for the third game. But this wasn't the case as they made only one change and brought in Harshal Patel in place of Washington Sundar for the final game.
Both Samson and Malik are also part of the ODI side and it is now expected that they'll get the opportunity in the fifty-over game. The ODI series between the teams be played from 25th November to 30th November.
Fans on Twitter react as Sanju Samson and Umran Malik fail to make cut into the Indian XI for third T20I 
As Sanju Samson and Umran Malik fail to make the cut into the Indian XI for third T20I against New Zealand, fans on Twitter reacted disappointingly to it. They lashed out at the team management and questioned them about their preparations for the next T20 World Cup. Here are some of the reactions:
Still no Sanju Samson and Umran Malik. Are we really preparing for next T20 World Cup?

— R A T N I S H (@LoyalSachinFan) November 22, 2022
I just now hope that he gets full chance in the odi squad, he can fix his spot permanently for the world cup in that squad

— Manish🇮🇳 (@manibhaii16) November 22, 2022
We are preparing the wrong way and will continue to do so. More knockout heartbreaks on the way. Unbelievable!! #NZvIND #INDvNZ https://t.co/s9qlPIYOnj

— Jyothis Philip (@IamJyothis) November 22, 2022
Next world cup knock out hone ke baad new era 😂😂 https://t.co/viIApcjaGA

— beingsanjay1069 (@beingsanjay1069) November 22, 2022
still playing Bhuvi over Umran 😬😬 https://t.co/MmsoOuZpkW

— Ayush (@SRT10_RO45) November 22, 2022
Last T20 game of this series but still
Slow clap for Biased Cricket Council India @BCCI@JayShah ka hi sab kia karaya hota hai ab pakka yakin ho gaya https://t.co/ASckfOJEdE

— 🌙 (@ChandniGovind) November 22, 2022
Even if you play Sanju and Umran Or anyone…. Rahul Rohit Kohli Bhuvi Ashwin will walk in directly…. Team has full confidence on them… One day they will bring cup… But which year don't know 😄😄😄

— Colt (@Colt26787607) November 22, 2022
Captains may change.
Selectors may come & go.
One thing is Constant.

Sorry #SanjuSamson pic.twitter.com/mDLp9lfwwt

— SR Cricket Fantasy (@CricketFantasyS) November 22, 2022
Team india to samson😭😭 pic.twitter.com/vyETGaNfn1

— Stranger (@Nikzs18) November 22, 2022
Samson will get chance when he lose his confidence and form 😊

— SuryaVirat (@Sudhir44612324) November 22, 2022
Hardik doesnt want to tie the series .. so not taking risks ..
everyone wants there own records lol bcci .. india needs a captain who take risks and test new players

— Not a NOOB (@Noobie_86) November 22, 2022
No Samson,no Umran,no Sundar too ..Bhuvi,Pant and Harshal are the sons in law of BCCI…..Hardik is captain so he will bring Harshal as he is from the same state …We just simply blamed Dravid..But the main thing is that team selection is fully controlled by Jay Shah and BCCI

— Pritam Pallav Bharadwaj (@pritampallav) November 22, 2022
ICT management literally sucks…..!!! Playing Pant continuously despite regular poor performances just on the basis of his test performances….. Now going to give chance to SKY in tests (if true) on the basis of his t20 performances………. They are going no where

— Arpit Tiwari (@ArpitTi99169603) November 22, 2022
Doesn't look like we're learning much from this T20 WC

— DJ CSK (Tamil Paiyyan) (@djcskchan420) November 22, 2022
Everyone is crying for only Sanju & Malik there are plenty also.Strong contenders likes of ravi bishnoi,shahbaz,Prithivi also

— Biswajit Samanta (@Biswaji92032147) November 22, 2022
#SanjuSamson justice for sanju samson 💔🥺

— shaanu (@shaanu62) November 22, 2022
No sign of Sanju , Umran.
Still Motu fraud Pant, Ishaan & Bhuvi playing.

Hardik is not any better than Rohit with these Blunders in Playing XI.

We are going backwards

— Shivanand (@ShivasRegal007) November 22, 2022
Even though I am not a Sanju fan but I feel for him. He so good but unfortunately not getting opportunity.

— LazyLoki 🇮🇳 (@Aditya66026572) November 22, 2022