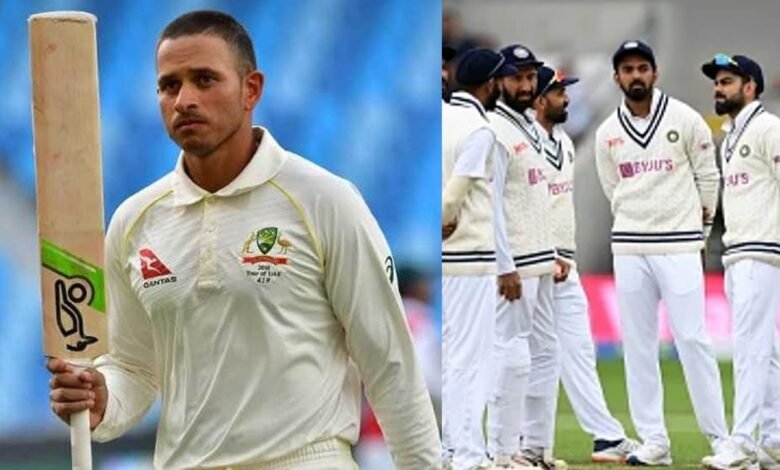 Fans on Twitter reacted after Australian batter Usman Khawaja misses his flight to India due to a visa delay. They came up with a hilarious reaction and related this to West Indies batter Shimron Hetymer missing the flight during the T20 World Cup 2022 and then getting ruled out of the event.
Usman Khawaja misses his flight to India due to a visa delay
India is all set to host Australia for the four-match Test series. The first game between the nations will be played on February 9th in Nagpur followed by the second Test to be played on 17th February in Delhi. The third game between India and Australia is slated to take place on 1st March in Dharamshala whereas the last game will be played on 9th March in Ahmedabad.
While India is unbeaten at home since last decade, Australia under Pat Cummins is an extremely dangerous side to face as they are yet to lose a series, winning both at home as well as overseas. If the Rohit Sharma-led side wins the series then it is likely that both sides will face in the final of the World Test Championship as well.
With just a few days remaining before the start of the series, Australia is leaving no stone unturned in its preparations for the series. They prepared in Sydney as they prepared a rank tuner like Indian pitches and are getting used to the conditions there.
The Pat Cummins-led side has now reached India. They will get their preparations underway in India. While all the players have safely landed in the country, opening batter Usman Khawaja missed the flight to India.
The opening batter didn't board the plane due to his visa issues. His visa has been issued. But he wasn't allowed to travel because a physical copy of the same was unavailable by the time a second set of squad members left Australia on Tuesday. It's not learned that Khawaja will now fly out to Bengaluru on Thursday (2nd February).
Fans on Twitter react as Usman Khawaja misses flight to India due to a visa delay
As Usman Khawaja misses his flight to India due to a visa delay, fans on Twitter reacted to it. They came up with a hilarious reaction and related this to West Indies batter Shimron Hetymer missing the flight during the T20 World Cup 2022 and then getting ruled out of the event. Here are some of them:
Gosh! Another Shimron Hetmyer moment! https://t.co/N2hiwR0wmz

— Sharon Solomon (@BSharan_6) February 1, 2023
kahi dekha dekha lagta ha #Cricket https://t.co/VGnYf64DSy

— Sudip Karmakar (@extrasmooth007) February 1, 2023
Why not another flight?🤷 https://t.co/xbEiJzAI4I

— Aditya Medavaram (@Adityamedavaram) February 1, 2023
#teamindia to #visa team https://t.co/TucSGV1PIL pic.twitter.com/MQcRG4w8Pj

— official account of Mr. 𝕧𝕚𝕟𝕒𝕪𝕒𝕜 (@vinayak_live) February 1, 2023
🤣 lazy guy https://t.co/jgDuOLnEgw

— Deshmukh DD [Cricket fanatic] (@DattaD19) February 1, 2023
Hettie says hi https://t.co/G887YVBsLh

— Lazy Guy (@kuzhi__madiyan) February 1, 2023
Shimron hetmyer: pic.twitter.com/wQSO4BLfWJ

— Yash (@lmaoyash) February 1, 2023