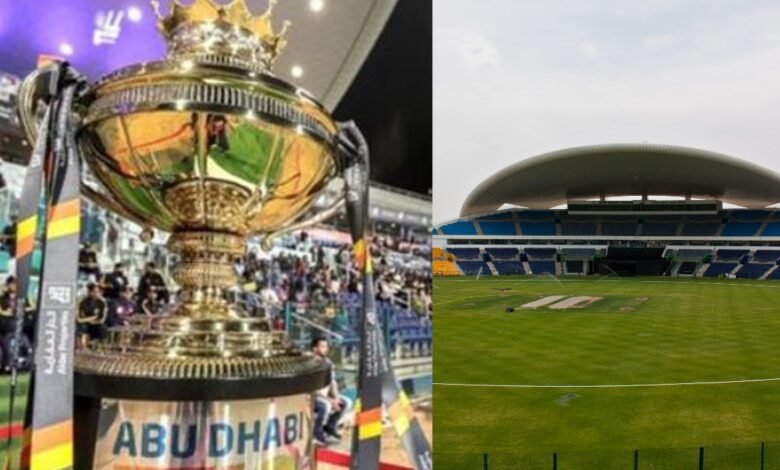 Cricket is evolving quickly to become a more consumable sport for fans. As part of this initiative, the T10 format is gaining popularity. The Abu Dhabi T10 League completed five seasons and the sixth edition will happen soon. It will start on November 23rd and all the matches will happen in Abu Dhabi. On that note, here, we take a look at the weather conditions in Abu Dhabi and the pitch report of the Sheikh Zayed Stadium in the city.
Popularity was the main issue for the league and it seems the stakeholders are trying to get it addressed. The league has hired recently retired Indian cricketer Suresh Raina, who will play for the Deccan Gladiators. His arrival will draw a lot of Indian fans towards the tournament. It needs to be seen if this would help the competition gain ground in India.
Sheikh Zayed Stadium, Abu Dhabi pitch report for Abu Dhabi T10 League 2022
Tickets for Season 6️⃣ are NOW available! 🔥

Cricket's Fastest Format is BACK at the Zayed Cricket Stadium 👊

Don't miss any of action! Click the link in our bio and buy your ticket's NOW!! 📲🎟#AbuDhabiT10 #InAbuDhabi #CricketsFastestFormat pic.twitter.com/P6TVzSAX3A

— T10 League (@T10League) November 15, 2022
In recent times, we have seen a lot of T20 games happen in Dubai. When it comes to T20Is, so far, we have seen 63 of them at this venue. Out of this, the team batting second has won 35 matches.
In the T10 format, it is necessary to have a target in mind. Hence, most captains will opt to field first after winning the toss. The average runs per over in Abu Dhabi is around 7, although, that would definitely change in the T10 League.
Abu Dhabi weather conditions for Abu Dhabi T10 League 2022
1️⃣ DAY TO GO!! 🙌

Can the @TeamDGladiators defend their title? Or will we have a new winner this season? 🤔

Let us know how you think will be lifting the trophy on 4th December? 🏆#AbuDhabiT10 #InAbuDhabi #CricketsFastestFormat pic.twitter.com/kyuKyTNRc2

— T10 League (@T10League) November 22, 2022
Compared to the other months, November is a slightly cooler month in the UAE. While the maximum temperature could hit 30 degrees Celsius, the lowest temperature could be around 21 degrees Celsius.
The weather prediction shows a bit of cloud towards the end of the month but it is unlikely to have any impact on the fixtures.