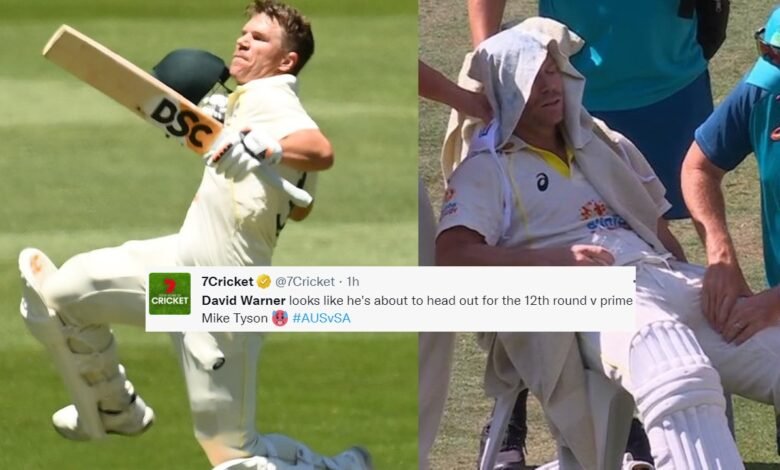 Fans on Twitter were elated in joy after veteran Australian opener David Warner smashes a double century in his 100th Test. They lauded the batter for his staggering effort and silenced all the critics, saying never to write him off.
David Warner scores double century in his 100th Test 
In what has been his 100th Test, Australia opener David Warner has made the most of it. The southpaw scored a double century in 254 balls against South Africa in the second Test of the series at the iconic Melbourne Cricket Ground (MCG).
Coming to the match, Warner was under a lot of heat for his poor performances. But he silenced all his critics and played one of his best innings. He was down with the cramps in Australia's heat but he didn't stop as he batted brilliantly to reach the milestone.
Warner first reached his century in 144 balls and then paved his way into his third double hundred. The southpaw looked classy to the eyes and found gaps on every corner of the G. He batted in the usual aggressive way and also smashed 16 fours and 2 sixes.
Warner retired hurt on 200 runs as badly as he cramped up and was helped away off the field. His double ton will now answer all the questions regarding his captaincy, his place in the team and his waning form.
A historic moment in Australian cricket – Take a bow, Warner. pic.twitter.com/GeoBaArBj7

— Johns. (@CricCrazyJohns) December 27, 2022
Fans on Twitter react as David Warner smashes double ton in his 100th Test 
As David Warner smashes double ton in his 100th Test, fans on Twitter reacted to it. They were all praise for the Australian opener and give a befitting reply to all the critics. Here are some of the reactions:
2nd most hundreds among active players now 🤩 https://t.co/bV1NCcA8kK

— #72 (@blackcoffeeszn) December 27, 2022
never write david warner off !

— . (@sohailsome) December 27, 2022
Well played @davidwarner31 👏👏 https://t.co/P8tOnWJr8w

— Kshitiz Kumar Rai (@ImKshitizRai) December 27, 2022
Missed by a whisker
That Iconic Jump 🤩 https://t.co/7QtBFFP2GA

— ViBE (@JamaicanAccent) December 27, 2022
Warner!! Best 3 format opener of the decade 🔥🔥🔥 https://t.co/xQN1tMc6JQ

— Dr. Extra2ab Ø (@SaffronSalim) December 27, 2022
Warrior 💥 https://t.co/TTh5inYXwB

— Arun Arjun (@arunarjun23) December 27, 2022
If he returns, Warner needs 18 to equal Root, 19 to go past him.

— Abhishek Mukherjee (@ovshake42) December 27, 2022
What a man , what a calibre!👏👏 https://t.co/AHOajPymDv

— Shubham Yadav (@shubhamyadav01_) December 27, 2022
Oh Warney! 🙌🏻😍 https://t.co/JS6eGnTA6U

— Magdhi (@Being_Kuffar_) December 27, 2022
David Warner 200* (254) at 78.74 SR

Unmatched resolve, excellent strike rate #AUSvsSA https://t.co/Nh08zVSOkH

— Susanta Sahoo (@ugosus) December 27, 2022
what a man!! https://t.co/yU0DhfZ7IR

— srishti🧃 (@godsfavvchild) December 27, 2022
Players with a double hundred in hundredth Test:

Joe Root🏴󠁧󠁢󠁥󠁮󠁧󠁿 v IND at Chennai, 2021
David Warner🇦🇺 v SA at MCG, 2022#AUSvSA

— Kausthub Gudipati (@kaustats) December 27, 2022
Don't ever write this man off! David Warner brings up 100 in his 100th Test. What a moment! A brilliant innings thus far. 🔥 #AUSvSA @davidwarner31 pic.twitter.com/uzpvWOfZjr

— Chloe-Amanda Bailey (@ChloeAmandaB) December 27, 2022
Poor form, lots of talk about his place in Test setup, heat at MCG, cramps – David Warner has overcome everything and scored 200* from 254 balls at a strike rate of 78.74 against Rabada, Nortje, Ngidi. pic.twitter.com/msC6xibVeD

— Johns. (@CricCrazyJohns) December 27, 2022
What a moment for David Warner – a double hundred in his 100th Test!

The celebration says it all. pic.twitter.com/TDwar24VML

— Mufaddal Vohra (@mufaddal_vohra) December 27, 2022
If he wasn't already there, David Warner has just etched himself into all time greatness not just in Australian cricket but in world cricket #AusvSA pic.twitter.com/QaTbBW6xj5

— Bharat Sundaresan (@beastieboy07) December 27, 2022
History: David Warner becomes the first Australian to score double hundred on 100th Test.

— Johns. (@CricCrazyJohns) December 27, 2022
🐂David Warner is back… https://t.co/ru49x2omEE

— Vinay𓃓 (@Viinay24) December 27, 2022
Wowwww https://t.co/bBXKcmjS2H

— Silam SS (@silam_ss) December 27, 2022