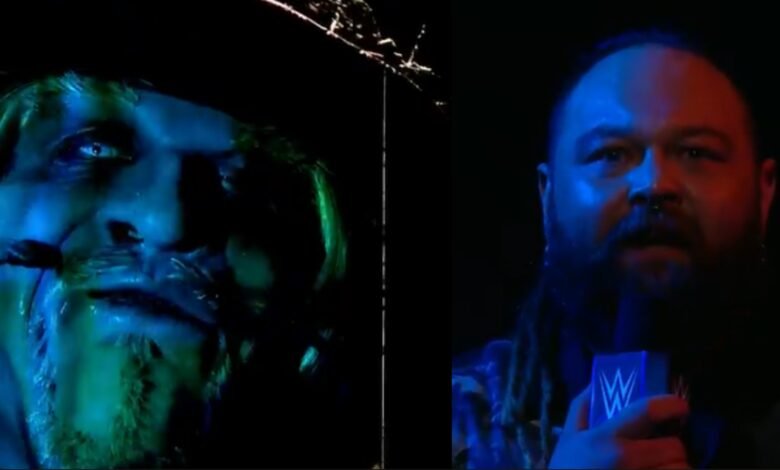 Uncle Howdy appeared on this week's WWE SmackDown episode. He interrupted Bray Wyatt in the main event segment of the night and spoke about the lies that the former WWE Universal Champion said to his fans.
During his recent appearance on SmackDown, Wyatt affirmed the fans that this time they will see his true abilities without any masks, smoke or mirrors. However, soon, a mysterious character named Uncle Howdy interrupted him and said:
"You are a liar. You claim you don't wear a mask and we both know that's not true, don't we? I can see you. You'll never be able to hide from me, Uncle Howdy."
A QR code also appeared at the start of Howdy's clip. Upon scanning it, one can see this image, where Bray Wyatt is called a liar.
This is what the QR code shows pic.twitter.com/jNYWUpLhFy

— EB Henriquez (@ASAP_ANXIETY_) October 29, 2022
Bo Dallas is probably returning as Uncle Howdy in WWE
It looks like Howdy is linked with former WWE Superstar Bo Dallas, who is the brother of Bray Wyatt in real life. Sean Ross Sapp of Fightful first pointed out that Howdy looks very similar to Bray's uncle Barry Windham.
Uncle Howdy looks an awful lot like Bray's uncle Barry Windham pic.twitter.com/ZypUyBviBm

— Sean Ross Sapp of Fightful.com (@SeanRossSapp) October 29, 2022
Another Twitter user shared a solid proof, claiming that it could be a coincidence between Howdy wore a similar earring as Bo Dallas did during his WWE days. You can see the two photos here:
Might be a coincidence. #WWESMACKDOWN #UncleHowdy #BoDallas ⭕️🐇 pic.twitter.com/wGP6rzo0TC

— Saturday Night Drive Podcast (@satnytdrv) October 29, 2022
After WrestleMania 37, where Bray Wyatt wrestled his last match against Randy Orton, many fans assumed that it was not Bray who came out as The Fiend that night. They felt that it was Bo Dallas, who was wrestling as The Fiend.
During the recent segment on SmackDown, there was a subtle reference to The Fiend as well. It looks like the truth will be out in the coming weeks. We already had a look at the five potential names who could be behind Uncle Howdy. It will be interesting to see how the story plays out.