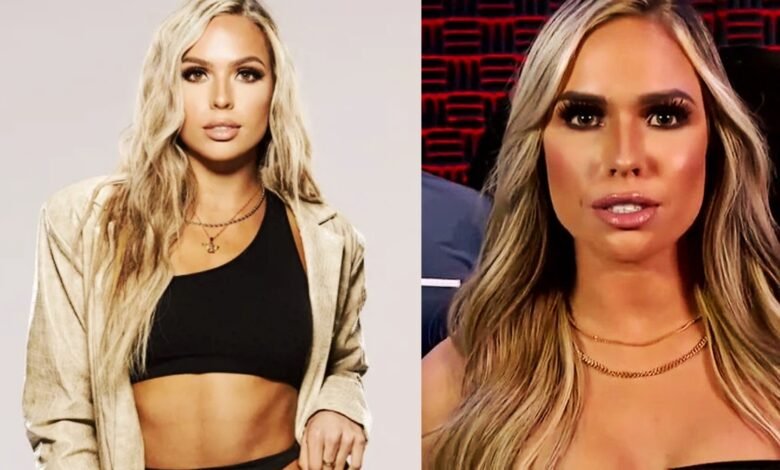 WWE fans were taken aback by the sudden entrance of Maxxine Dupri and the firestorm she has created with her appearance has sent the world spinning around in anticipation of the same. Wrestling Inc had a few words to share about Dupri, quoting that she has left the storyline of the model powerhouse fighting group and is leading a solo show.
This came after Max Dupri was ousted by Vince McMahon, a final decision of WWE's long-standing boss before stepping down from the mantle. As the world wants more of Maxxine, we thought it would be wise to bring forth to you a string of important facts that you should know about Maxxine Dupri.
Background:
Her real name is Sydney Jeannine Zmrzel and she has arrived in NXT with the ring name Sofia Cromwell and made her WWE debut with the pseudonym of Maxxine Dupri.
She also owns a clothing line called Jaunty. She is a fashion designer behind the scenes and was just 21 years old when she launched the brand in 2019.
The objective of joining WWE:
Maxxine participated in a WWE tryout last year in Las Vegas and was handed over the contract soon after. She has joined WWE with the objective of getting a belt around her waist and not just making money.
She would quote how the journey from being a cheerleader to being a wrestler has been for her, stating, "I cheered for the Los Angeles Rams and went all the way to the Super Bowl and our team lost. I then cheered for the Phoenix Suns and went all the way to the NBA Finals and our team lost. I'm at this point in my life where I'm sick and tired of my championships being left in the hands of men who can't finish the job. That's why I'm here in the WWE; to take my championship into my own hands."
Worked with Robert Stone in NXT
After being handed over the contract, she was given the ring name of Sofia Cromwell and that is when she stepped foot in the NXT universe. On screens, she was doubled with Robert Stone who was also managing Von Wagner back then.
Maxxine played an elemental role in shaping Stone's rivalry with Solo Sikoa. However, working with Stone will be going a long way in preparing to take the reins of Maximum Male Models, especially after the wonderful job of Maxx Dupri.
Worked with major sporting contingencies
Maxxine has already started her WWE career on a boom with the Universe still hoping for a string of firebombs from her. However, this is not her first rodeo with fame.
She has previously been a part of a string of professional sporting teams that include the likes of the Los Angeles Rams and Phoenix Suns. Her inspiration was none other than another femme fatale namely Carmella. She quoted, "I admire her so much. I know she took a similar path to the one I am on," Dupri said. "Now I need to finish the job like she did and win that championship."