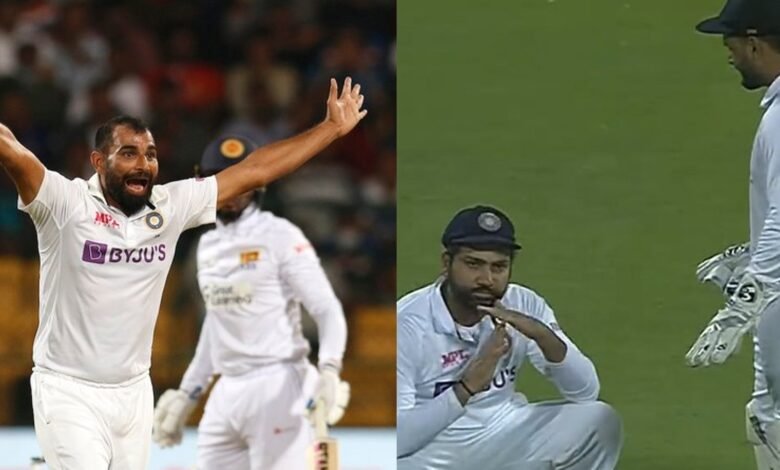 The second match of the ICC World Test Championship series between the Indian cricket team and the Sri Lankan cricket team is currently happening at the M Chinnaswamy Stadium in Bengaluru. Rishabh Pant won every cricket fan's hearts with his half-century in the previous match of this series, and now he has impressed everyone again with his smartness.
The Decision Review System (DRS) has become an integral part of the sport in the last few years. Initially, the Indian cricket team was reluctant to accept the DRS system, but now, they have accepted it. In every match now, including the IPL matches, there is DRS facility available.
However, fans should note that taking the DRS correctly is not everyone's cup of tea. MS Dhoni has mastered the art like no one else. The other captains have also admitted that the bowlers always try to convince them for DRS, but they have to make the decision considering the opinions of other players as well.
The wicket-keeper has a good view of what happens in front of him. Whether it is LBW or caught behind, he can give a good opinion related to the DRS. Rishabh Pant is keeping the wickets for India in this match, and he gave a good suggestion to Rohit Sharma and convinced him to take DRS.
Mohammed Shami bowled a length delivery to Dhananjaya de Silva which hit him on the pads. At first, it looked like the ball hit too high and it would miss the stumps. However, Pant convinced for a review and the decision was overturned with wickets hitting.
Fans on Twitter laud Rishabh Pant for his great suggestion to Rohit Sharma
The cricket universe noticed how Rishabh Pant convinced Rohit Sharma to take a review and then ultimately de Silva was dismissed. Here are some of the top Twitter reactions to it:
Pant Has Turning A Mastermind Reader Of The Game At Such Tender Age Already! Wkt No.4! #INDvSL

— Aabirbhav Basu (@aabirbhav54) March 12, 2022
Pant convinced Rohit for this brilliant review 👏👏 pic.twitter.com/n7VSPjTI1J

— Rocky (@5ninety3) March 12, 2022
A successful review from India 👍
This time @RishabhPant17 convinced @ImRo45 for the REVIEW! #INDvsSL pic.twitter.com/3O8M8wCd1b

— Chandrashekar Reddy (@Chandrasheker9) March 12, 2022
Rishabh pant getting so many reviews right and doing a fantastic stuff as a Wicketkeeper as well👏👏👏#indvsl

— vk18 (@Abc78134968) March 12, 2022
#RishabhPant convinced #RohitSharma𓃟 for a very good REVIEW!
Come on #TeamIndia 👏👏👏👏#SLvIND #SLvsIND #INDvSL #INDvsSL #TestCricket pic.twitter.com/JF22XqPBKo

— BlueCap 🇮🇳 (@IndianzCricket) March 12, 2022
Rohit Sharma while Virat & Rishabh Pant convincing him to take review!!#INDvsSL #srhfangirl pic.twitter.com/Quw37QSlDx

— SRH Fan Girl (@srhfangirl) March 12, 2022
"Main bol raha hoon, DRS le le bhai"

Rishabh Pant overriding Rohit's gut feel and getting it right with Dhananjaya's dismissal!

LIVE COMMS:
👉 https://t.co/YV0ANllXfs 👈#INDvsSL | #INDvSL pic.twitter.com/45VWHnaZ9m

— 🏏Flashscore Cricket Commentators (@FlashCric) March 12, 2022
courtesy: Rishabh Pant for convincing Rohit at the last second! He was literally begging him!😂🙏

— I_love_u_3000 (@Iloveu361317988) March 12, 2022
This is really the wicket of @MdShami11 and @RishabhPant17 …..great review…..both insisted @ImRo45 to go for it 👏👏 #INDvsSL

— Bhanuchander Reddy (@BhanuKallu) March 12, 2022
Rishabh Pant suggesting to go for review is just like the story of 'Bagh Aaya, Bagh Aaya'

— STAR GARAAJ (@saumil_vachheta) March 12, 2022
Amazing DRS review #INDvsSL test
Kudos to #RohitSharma𓃟 #RishabhPant getting bigger and bigger fan of yours

— Hemant Sharma (@sinistersharma) March 12, 2022
This is not the first time rishabh pant rightly convinced the captain for DRS, it's just that his batting overshadows his decision making and wicketkeeping

— A (@Hahahaitsokay) March 12, 2022