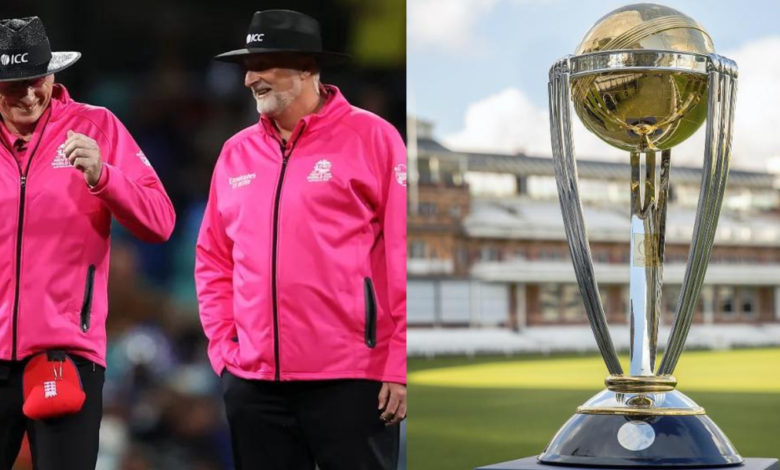 The umpires will play a crucial role in the upcoming World Cup. These days, fans are very much involved in the game and even a slight mistake will make most of them going through the rules books. In this context, it is important for umpires to make the correct decisions at the event. Here, we take a look at the list of umpires for the 2023 ODI World Cup.
Umpires for the 2023 ODI World Cup
With ten teams participating in the tournament, ICC will need a lot of umpires to be a part of the event. Hence, we have a huge list, with representation from various countries. From India, Nitin Menon will be the only umpire who will officiate during the World Cup. On that note, here is a look at the umpires and the match referees for the event:
Umpires: Chris Brown (New Zealand), Kumar Dharmasena (Sri Lanka), Marais Erasmus (South Africa), Christopher Gaffaney (New Zealand), Michael Gough (England), Adrian Holdstock (South Africa), Richard Illingworth (England), Richard Kettleborough (England), Nitin Menon (India), Ahsan Raza (Pakistan), Paul Reiffel (Australia), Sharfuddoula Ibne Shahid (Bangladesh), Rodney Tucker (Australia), Alex Wharf (England), Joel Wilson (West Indies) and Paul Wilson (Australia).
Match Referees: Jeff Crowe (New Zealand), Andy Pycroft (Zimbabwe), Richie Richardson (West Indies) and Javagal Srinath (India).
The umpires will also be under pressure
As mentioned earlier, a slight mistake will warrant tremendous arguments on social media. The umpires need to be consistent and it is important that they stay on the same page.
More than the on-field umpires, pressure will also be high on the TV umpires. Decisions these days are very marginal, especially the ones reviewed on DRS. This could change the game towards either of the teams. Hence, the umpires need to be careful in conducting the game during the upcoming World Cup in India.