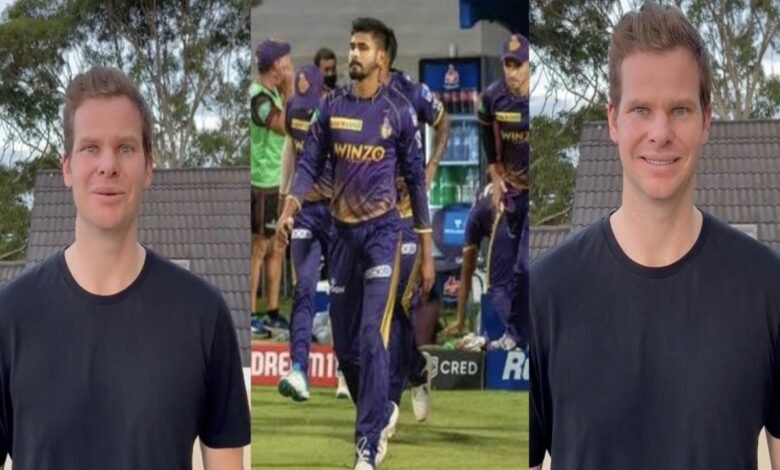 Fans on Twitter reacted after Australian batter Steve Smith posts a video of himself saying that has joined a passionate team for the IPL 2023. They speculated that the batter has joined Kolkata Knight Riders and will be their skipper in absence of Shreyas Iyer.
Steve Smith to be part of the IPL 2023
In what has been the latest development, Australian batter Steve Smith will be part of the upcoming Indian Premier League (IPL) 2023. Although, there's no official confirmation of which team batter has joined, but there have been many speculations about it.
Smith posted a video on his social media handles, in which he revealed that he will be part of the league and has joined an exceptional and passionate team. Here's the video:
— Steve Smith (@stevesmith49) March 27, 2023
Steve Smith didn't enter his name in the IPL 2023 auction after he went unsold in 2022. The Australian batter was part of Delhi Capitals in 2021 and before representing Rajasthan Royals in the league. He has been decent in the league as he has scored runs consistently.
In 103 games in IPL, Smith has scored 2485 runs at an average and strike rate of 34.51 and 128.09. Apart from this he also has scored 11 fifties and 1 century in his career. It remains to be seen which team Steve joined for the 16th edition of the league.
Fans on Twitter react as Steve Smith posts a video saying that has joined a passionate team for the IPL 2023
As Steve Smith posts a video saying that has joined a passionate team for the IPL 2023, fans on Twitter reacted to it. They speculated that the batter has joined Kolkata Knight Riders and will captain them too in the league. Here are some of the reactions:
Whoa, @stevesmith49 you didn't blink in whole video 🤯😂. https://t.co/mkAtoBZsJA

— Abdul Wassay (@AbdulWa45879542) March 27, 2023
Kane and Root from bench, Smith from comms, Kohli on the field. FAB FOUR has united🔥 https://t.co/al8Iuj2wvQ

— Whe Woker (Perry's version) (@Jokeresque_) March 27, 2023
🐐 captain https://t.co/8GARunFCIp

— Bagavathy Bhargav (@JaiAkas55055242) March 27, 2023
RCB Or KKR https://t.co/lsJ9pIrh4p

— ᦓꪖꪀᦔꪗ (@imDarkRanger) March 27, 2023
He's coming 🥹 https://t.co/rY8Zdt3okf

— STAN (@stanEdwa) March 27, 2023
KKR amma https://t.co/snHJZSPRh2

— 𓄂Harry77࿐🔥ᵛᵃˢᵗᵘⁿⁿᵃ (@HarryMSD7777) March 27, 2023
KKR captain ?? https://t.co/z4gmOB388O

— NTR MANIA (@tarakStan999) March 27, 2023
Its commentary . Jio might have hired him https://t.co/enx5K3bqUq

— Aditya (@Aditya73927510) March 27, 2023
Leading kkr this season? https://t.co/8WW0QWEKoI

— Mohit (@MohitRR19) March 27, 2023
Kkr captain? https://t.co/wlNFV5x4nL

— @45 (@chillax88) March 27, 2023
Finally all Fab-4 in IPL😍 https://t.co/bSZCUq9jl8

— tauseef🦇 (@pascal_ak_) March 27, 2023
It makes my day…👏❤️ https://t.co/OnhSDN144q

— Shamim Arshad Aloktogin (@shamimArshad15) March 27, 2023
happy for him.. KKR ? https://t.co/a25eRzI75F

— Vaathi 🛠️ (@batspeed145kph) March 27, 2023
— 🅶🅷🅸🅻🅻🅸 🆁🅰🅹 (@Raj__Ghilli) March 27, 2023
My Smithy is back in IPL 🥳 https://t.co/2zxz6gxtGC

— Sheffali (@Sheffalee) March 27, 2023
first time ever the Fab 4 will play together in IPL 🥵😍

— TANMAY (@spear_93) March 27, 2023
Join KKR and be our captain. Please.

— Prantik (@Pran__07) March 27, 2023
@itzzRashmi KKR i guess

— yasha (@krishna_yash13) March 27, 2023
mostly kkr captain

— ♱ (@anoopsssssx) March 27, 2023