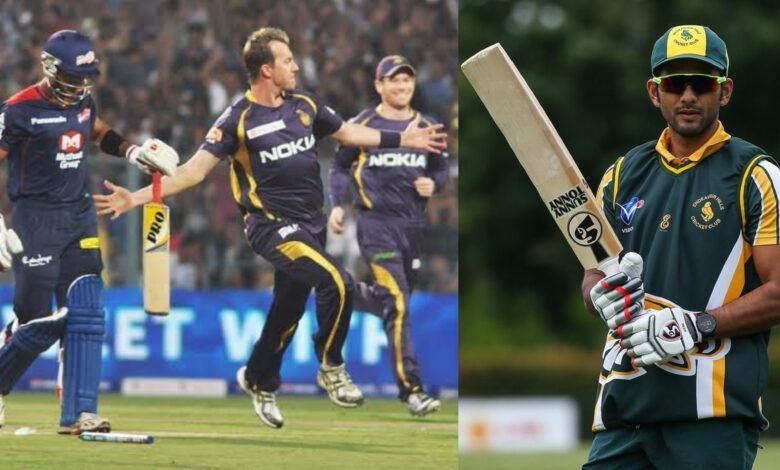 Unmukt Chand is a former India U-19 captain who led the nation to the ICC U-19 World Cup win in the year 2012. Chand played for multiple teams in the IPL as well. He started with his home team Delhi Daredevils and then moved to the Rajasthan Royals and the Mumbai Indians.
While Unmukt Chand played a few decent knocks in his IPL career, a majority of the fans remember him because he faced the first ball of IPL 2013. Defending champions Kolkata Knight Riders were up against the Delhi Daredevils at the Eden Gardens.
Brett Lee opened the bowling for the Kolkata Knight Riders, and he dismissed Unmukt Chand clean bowled on the first ball of that match. Chand never recovered after that dismissal as it was a grand stage, and he could not deliver the goods.
A few years later, Chand remained unsold at the auction and even became a commentator at a young age. He then retired from all formats of Indian cricket and joined the United States of America. Chand will make his debut for USA soon, but before that, he will be in action, playing for the Los Angeles Knight Riders in the Major League Cricket.
Chand has been playing in tournaments after moving to the USA, but MLC 2023 will be the biggest one where he plays. Several IPL franchises have a team in the competition. The Draft for the inaugural MLC season happened earlier today, where KKR-owned Los Angeles Knight Riders drafted Chand in their squad.
"Round 2: Look who we've got here! @UnmuktChand9 is a Knight  Welcome to the family," Los Angeles Knight Riders wrote on Twitter. 
Twitterverse and Unmukt Chand react to Los Angeles Knight Riders signing him at the MLC Draft
The former India U-19 player was delighted to join the Knight Riders. Here's how he and the rest of the fans on Twitter reacted:
Round 2: Look who we've got here! @UnmuktChand9 is a Knight 🔥🔥

Welcome to the family 💪 #MLC2023 pic.twitter.com/LSF2NABMqq

— Los Angeles Knight Riders (@LA_KnightRiders) March 20, 2023
So delighted to be a part of this great franchisee. Excited for the inaugral season of @MLCricket @KKRiders https://t.co/kWmQI5ihFN

— Unmukt Chand (@UnmuktChand9) March 20, 2023
Unmukt and KKR remind me of this legendary first ball of the season from @BrettLee_58

Sure Unmukt, is about to change the memories and aura now 😍🔥 pic.twitter.com/vsjWGj1IPB

— Fantasy Cricket Pro 🏏 (Viren Hemrajani) (@FantasycricPro) March 20, 2023
KKR's Brett Lee ended his IPL career, now LAKR giving him new chance

— Sports Lover (@vlovecric8) March 20, 2023
Great pick

— Priyanka 👑 (@iPriiyanka) March 20, 2023
That was a sweet pick 👍

— Cricket Huddle (@CricketHuddle) March 20, 2023
So, he's your? pic.twitter.com/lnUXjuXKkG

— Marvel_v_DC (@Cricket_fan_101) March 20, 2023
Ali Khan and Unmukt Chand are knights. 💜

Ali Sheikh, Jaskaran Malhotra, Nitish Kumar, Corne Dry are the other picks of LAKR so far

— Rᴀɪᴋᴀᴛ  (@OverMidWicket) March 20, 2023
When Brett Lee ended Unmukt Chand's international career before it even started pic.twitter.com/kbvodjKAzQ

— Ritvik (@kohli_fanatic) March 19, 2023
IPL teams investing on Unmukt Chand, when was the last time you saw that? 🤔#Cricket #KKR #KolkataKnightRiders #BCCI #cricketnews #IPL2023 #CricketTwitter pic.twitter.com/v49yTJ7MaP

— Dil Hai Cricket – Subrata Biswas (@dilhaicricket) March 20, 2023
UNMUKT CHAND IS A KNIGHT. 🇺🇸#MLC

— KnightRidersXtra (@KRxtra) March 20, 2023
From getting his career ended by knight riders to playing for knight riders Unmukt Chand has come a long way .

— Abdullah Masroor (@Abdullaahhhh13) March 20, 2023