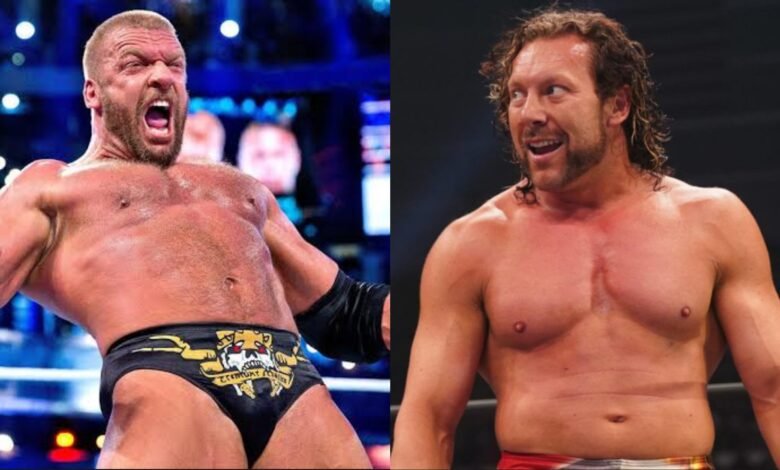 If you are a wrestling fan, rather to be precise, a pro-wrestling fan, throughout your life, you must have heard about Kenny Omega for once. The ones who know Kenny for a while now also knows the kind of carnage that he would leave in his wake when he takes the ring.
Omega has terrorized almost every single wrestling brand with the kind of ruthless aggression that he stitches and this what makes him one of the most brutal grapplers to take the ring. No matter the opposition, he would take them out and not just through a pinfall or submission but will tear them apart in the word's literal sense.
From being a part of DDT Pro-Wrestling, he continued his glory days to Pro Wrestling Guerrilla. He grabbed fame by the scruff of its neck as he got into New Japan Pro Wrestling and Ring of Honour that unlocked the true potential in The Cleaner.
During his tenure with the various wrestling brands, he was actively a part of several championship reigns and also joined the Bullet Club briefly, creating a reign of terror in his trail. When the famous brands came knocking, it was eventually Tony Khan who managed to land his signature on the paper and then came the multi-million-dollar battle with Jon Moxley that shot the audience into a frenzy unparalleled.
After some terrific ball-swinging contests in AEW and Impact Wrestling, he chose to feature on the brands of Lucha Libre AAA Worldwide, showcasing his high-flying flair, putting other monsters to waste. Just in case if you are only a follower of WWE, here is a heads up. The Vince-led company stepped forth thrice to rope in Omega but failed to do so as the latter was mostly into independent wrestling.
However, a new knock on the doors have arrived and the rumours have once again started taking shape that states WWE is once again in pursuit of the Cleaner and if this move materializes, well, the rest they would say is enhanced history. Twitter had their own opinion on this exact incident and here is what they had to say.
Here is what Twitter had to say about the rumours racing around Kenny Omega:
-Kenny Omega has a friendly relationship with WWE.

-Kota Ibushi would be interested in working for WWE if they also let him work at the PC.

-Tama Tonga says WWE is knocking at his door.

-WWE is asking creative to come up with ideas for Jay White.

WTF IS GOING ON??????? 😂 https://t.co/AI3GkRpXq2

— Jay (@CreatureLives) February 17, 2023
AEW fans watching the Kenny Omega vs Jay White Universal Title match at Summerslam pic.twitter.com/zzNYoEmElT

— SolarElysium (@Jacobsealock) February 17, 2023
Kenny Omega walking into the RAW Locker Room after signing with WWE: pic.twitter.com/FJoyt8OzCY

— Wrestling SUCKS and Then YOU DIE Podcast (@WresSuxThenUDie) February 17, 2023
if kenny omega goes to wwe … pic.twitter.com/miPgRZkyNN

— corinne Ω 🌸 (@whirlingcandy) February 17, 2023
Whatever happens in the future, just remember Kenny Omega and rest of The Elite's mission statement.

They built a great thing for this industry.pic.twitter.com/JV056hERv9

— Drainmaker 🌧️ 💵 (@DrainBamager) February 17, 2023
So y'all like Kenny omega now? After calling him a groomer, a doll fucker, a charisma vacuum, and a Seth Rollins wannabe?

— MK🍀 (@Kamiorra) February 17, 2023
Per Fightful: There is a belief within WWE that the option to sign Kenny Omega when his contract with AEW expires is real and true.

There is no clarification about when his contract ends, but it to be believed that he is not as close to ending as he seemed. #WWE pic.twitter.com/dxtBO1yKAy

— CrispyWrestling 🎮 (@DakotaKaiEra) February 17, 2023
Triple H wants Kenny Omega in WWE at the end of his current AEW contract. Kenny Omega jumping ship to WWE could be the blow AEW won't get up from. They can't lose any of those guys. THEY ARE AEW…

— JDfromNY (@JDfromNY206) February 17, 2023
Several in WWE believe they have a chance to land Kenny Omega.

– @FightfulSelect pic.twitter.com/CufrfxIYfY

— WrestlePurists (@WrestlePurists) February 17, 2023
Seth Rollins when he realizes he has to lose to Logan Paul, Jay White, Kenny Omega, Kota Ibushi, and Tama Tonga. pic.twitter.com/XnYC1tCAyc

— Sgtviper-X ⌬ (@Sgtviper_Gaming) February 17, 2023