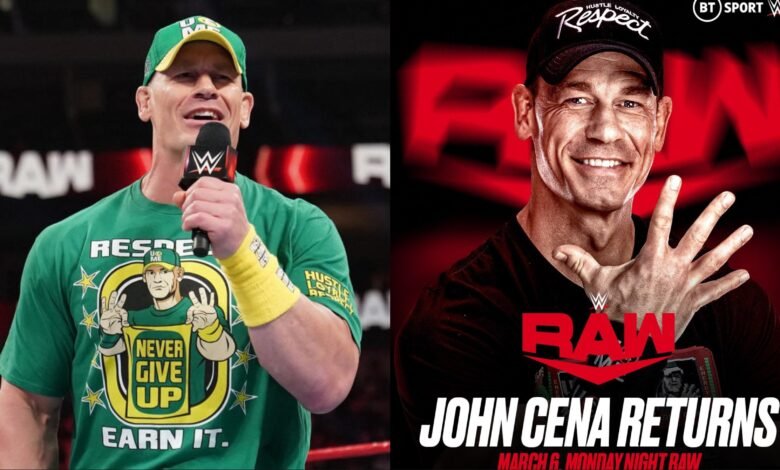 WrestleMania is around the corner and like it or not, there have been a few names who have been extremely consistent about the biggest event in entertainment wrestling. The most common name to grace the ring when the WrestleMania theme hits is the Phenom. Known for his remarkable streak that was eventually broken by Brock Lesnar, Taker's presence in WrestleMania has always been an obvious one. John Cena can very well be the next one.
Similarly, another big name that has missed just one WrestleMania since his inception in the ring is the vanguard of Cenation, John Cena. The man who probably got the better of legends and contemporaries alike in clinical fashion inside the ring, has been a force to reckon with.
And as things stand, now that we are headed to Hollywood on the road to WrestleMania as the rumors would have it, the big man is on his way to make an appearance on the 6th March episode of WWE Raw.
This is a clear indicator of the fact that Cena will be heading to WrestleMania and will be picking up a rivalry along the way but again if you believe that this is an indicator of the man returning full time to the ring, maybe that is just living in a fool's paradise.
Here is what Twitter had to say about John Cena returning to RAW
He has a packed Hollywood schedule and the kind of business that he has done on the silver screens, on an honest note, that is what will keep him busy for most of the year. But when it comes to the wrestling circuit, he has been a force for sure but now that age is slowly catching up with him and the kind of wrestling that he brings to platter challenging the norms, that can be a possible challenge.
Twitter was elated about the fact that he was back in the circuit but also had a mixed bag of opinions about was it really worth it.
Wish he would pop up on the 3rd for smackdown in DC lol

— _Sonozaki (@Kieran_sonozaki) February 20, 2023
— 𝕾𝕺 (@3lvr_galarga) February 20, 2023
HOLY W! pic.twitter.com/NaKma2IcKs

— Gabriele (@Gabriele_02ITA) February 20, 2023
👀👀👀 pic.twitter.com/ddY3gMgZFF

— Wissem (@wissemlzz) February 20, 2023
Is he coming back full time or is this just a one time thing

— 💜 (@SafetynetBillie) February 20, 2023
Oh we know what's coming pic.twitter.com/zlNvU3qgzF

— Jordy P (@xcv_paul) February 20, 2023
— 🏴󠁧󠁢󠁥󠁮󠁧󠁿 Glowoh 🇬🇧 (@_gl0w0_) February 20, 2023
Payoff time for Theory & Cena pic.twitter.com/zFVJOFPzaS

— That's Freakin' Wrestling Podcast (@ThatsFNW) February 20, 2023
MY GOAT always makes time for WWE, unlike some people. pic.twitter.com/s45WaN6qFj

— King Jon 👑 (@KingJon__) February 20, 2023