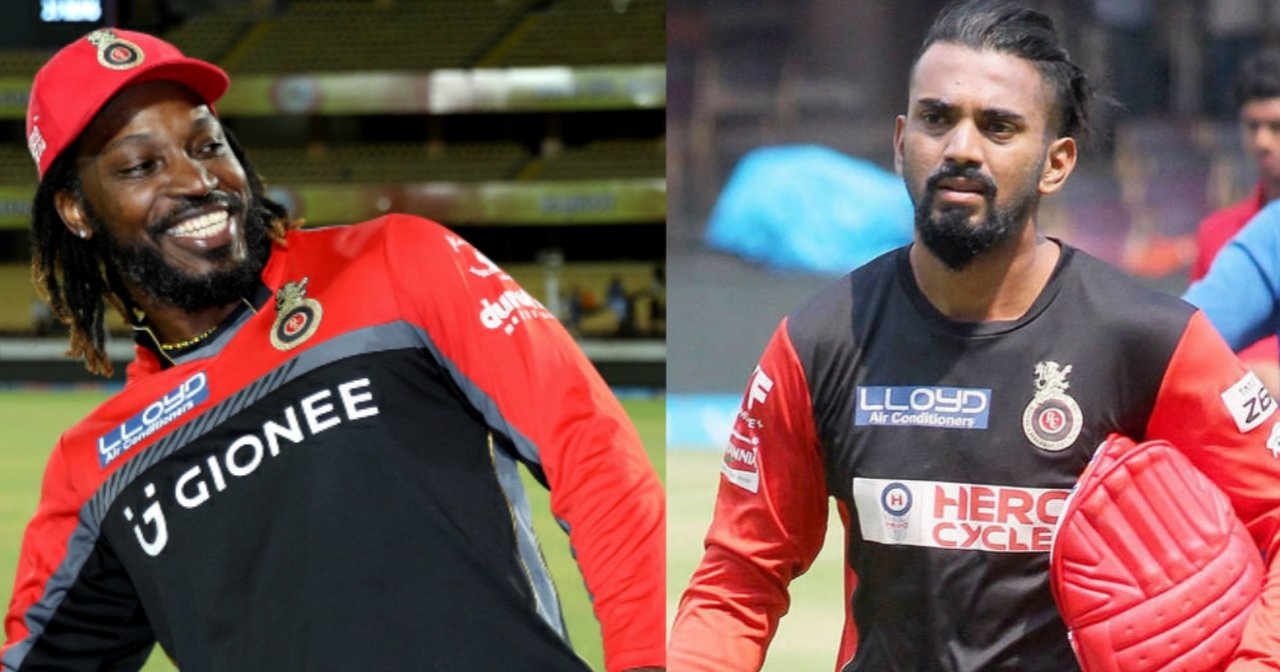 Royal Challengers Bangalore is one of the three teams who have not won the IPL even once. Over the year's RCB has this trend of releasing a lot of players before any Auction. Even if there is a Mini Auction RCB tends to release a lot of players. The prime example being this year's Mini Auction. RCB had a good season last year as they reached the playoffs but still, they have released some of the star overseas players.
Over the years, most of these released players have gone to different franchises and done well for them. RCB has released so many players that a playing XI can be formed with those players. So, let's have a look at the strongest playing XI from the list of players released by RCB.
Openers – KL Rahul and Chris Gayle
Royal Challengers Bangalore released KL Rahul and Chris Gayle ahead of the IPL 2018 Mega Auction and didn't even use the RTM card for them in the Auction. Both these players went to Kings XI Punjab and are doing wonders for them. KL Rahul has gone to another level with his T20 batting as he scored more than 500 runs in each of the last three IPL seasons.
Chris Gayle, at the age of 40 was still winning games for KXIP by smashing sixes deep in the stands. KL Rahul and Chris Gayle is a great combination to have because you get the right-left combination and one of them can take on the bowling from the start whereas the other can take his time to settle down. RCB missed a great opportunity to retain both these players.
Middle-order – Jacques Kallis, Manish Pandey, Marcus Stoinis
Jacques Kallis was part of the RCB team in the first three seasons but RCB didn't retain him and he went to KKR where he was an integral part of two champions in 2012 and 2014. Kallis was brilliant in the middle-order and did a great job for KKR. Manish Pandey played for KKR and SRH after being released from RCB and he has done fairly well for both franchises.
He played a crucial knock in the 2014 IPL Final which helped KKR win the trophy. RCB released Marcus Stoinis before the last Auction and Stoinis played a blinder against his ex-team in the last IPL. He was a part of the Delhi Capitals franchise and he was exceptional in the last IPL. These three would form a good middle-order for any team.
Wicket-keeper & All-rounder – Dinesh Karthik & Shivam Dube
Dinesh Karthik was a part of the RCB team in 2015. Karthik has been brilliant in the IPL since 2017 except 2020 where he struggled to score any runs. He has become the perfect finisher where he can score quick runs at the end of an innings. He is the perfect No.5 or No.6 for any T20 team.
RCB has released Shivam Dube ahead of this year's auction and it is surprising because he hadn't done much wrong for them. Dube has the potential and it is difficult to get an Indian player with the same skill set. RCB would be hoping that the releasing of Shivam Dube doesn't hurt them.
Bowlers – Murali Karthik, Anil Kumble, Mitchell Starc and Zaheer Khan
Anil Kumble who led the RCB team till the Final in IPL 2009 was released after the 2010 season and he went unsold in the 2011 Auction. Kumble had done a great job for RCB, not only as a captain but also as a bowler. Mitchell Starc is one of the most dangerous bowlers in this format.
Zaheer Khan has a great IPL record, and he can swing the ball upfront which is always a bonus for any team. Murali Karthik would be a great addition to this strong bowling line-up as he would bring variety to this bowling attack. RCB should have retained at least a couple of these bowlers who would have performed well for them.