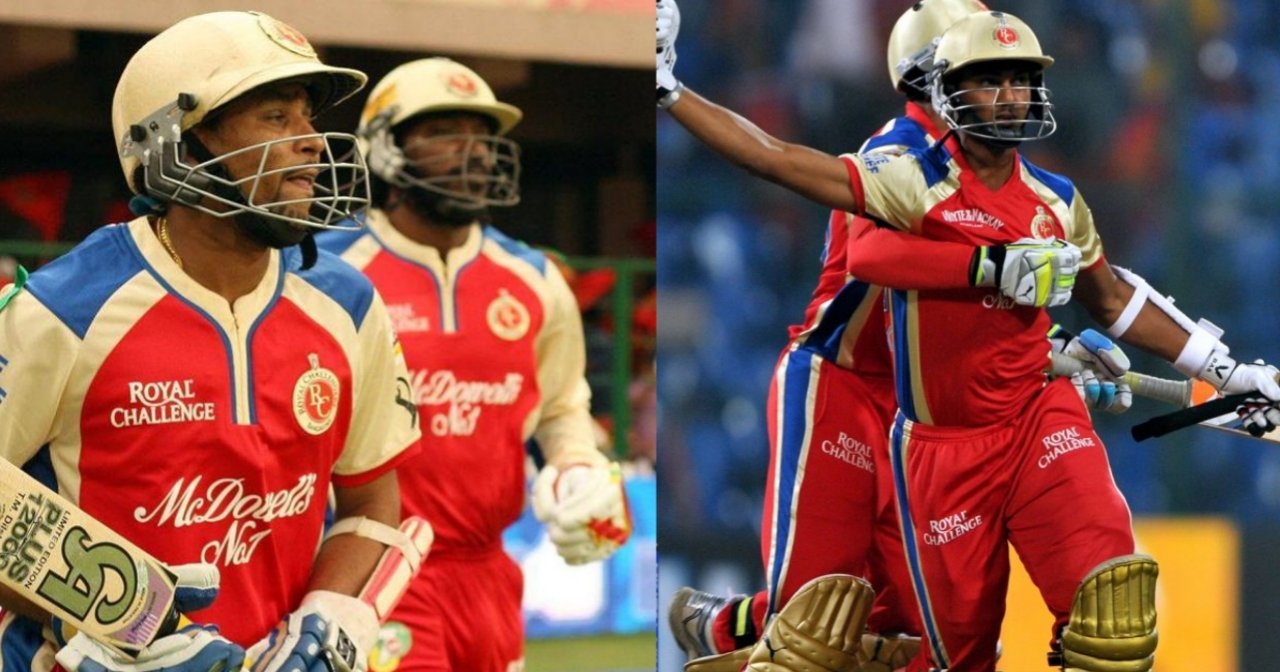 Virat Kohli has been with the Royal Challengers Bangalore throughout his IPL career. He entered the team as a rookie, and slowly ranked up to the position of vice-captain. In the 2013 season of the IPL, Kohli was appointed as the captain for RCB. Thus, the RCB playing XI for the first match under his captaincy holds a bit of significance in history. In his first match of the IPL as a captain, Kohli faced the challenge of a dominant Mumbai Indians. Kohli led a star-studded team to victory over MI by two runs.
Let's take a look at the RCB playing XI in the very first match that Virat Kohli played as a captain.
RCB Playing XI (Batsmen):
Openers: Chris Gayle and Tillakaratne Dilshan
RCB had a phenomenal opening pair in the form of the 'Universe Boss' Chris Gayle and Sri Lankan great Tillakaratne Dilshan. Both were very capable batsmen who could give a great start to the Bangalore outfit.
Gayle blasted the Mumbai bowling lineup, scoring 92 runs from just 58 balls. Dilshan, however, couldn't get a start as Mitchell Johnson rattled his stumps for a duck.
Middle order: Virat Kohli (c), Mayank Agarwal, Arun Karthik (wk), Karun Nair
The middle order of RCB was full of talented players. Virat Kohli, Mayank Agarwal, Arun Karthik and Karun Nair. However, RCB suffered a batting collapse and no one could score big.
Virat Kohli top-scored with 24, but was picked off by Bumrah. Bumrah wrecked the RCB middle order with ease. He got Mayank Agarwal caught by Tendulkar, and Karun Nair LBW for a duck.
The scores read as Virat Kohli (24 runs from 14 balls), Mayank Agarwal (1 run from 5 balls), Arun Karthik (19 runs from 19 balls) and Karun Nair (0 runs from 3 balls).
Kohli has since then gone on to become the leading run scorer in the IPL with more than 6000 runs.
RCB Playing XI (All-Rounders):
Daniel Christian
Daniel Christian is an exciting cricketer who has been playing and in demand in T20 tournaments all over the world. The Aussie all-rounder was the sole all-rounder in the RCB setup. However, he failed to make an impact with the bat and the ball. Christian scored 4 runs from 13 balls before getting caught by Mitchell Johnson off Harbhajan Singh.
He didn't fare well with the ball too, as he gave away the most runs for RCB. Christian bowled 4 overs and was hit for 42 runs. Thus, he became the costliest bowler for Bangalore in the second innings.
RCB Playing XI (Bowlers):
Spinners: Murali Kartik and Muttiah Muralitharan
RCB had one of the best spinners of all time, Muttiah Muralitharan, with them in the 2013 season of the IPL. Murali Karthik was also a seasoned international bowler at the time.
Muralitharan wasn't able to get any wickets, while Kartik struck twice. Murali got Mumbai captain Ricky Ponting, and then affected the run-out of the legendary Sachin Tendulkar, thus removing the top 2 of the Mumbai lineup.
Fast bowlers: Jaydev Unadkat and Vinay Kumar
Jaydev Unadkat and Vinay Kumar were the two pure fast bowlers for the team. Unadkat has since gone on to become a regular fixture in the IPL, while Vinay Kumar's career has winded down since.
However, on that day, it was Vinay Kumar who shined the brightest for RCB in the bowling department. He removed dangerous batsmen like Rohit Sharma, Ambati Rayudu and Dinesh Karthik. Vinay had an economy of 6.75 and took 3 wickets. Thus, Kumar became the most successful bowler on that day for both sides.