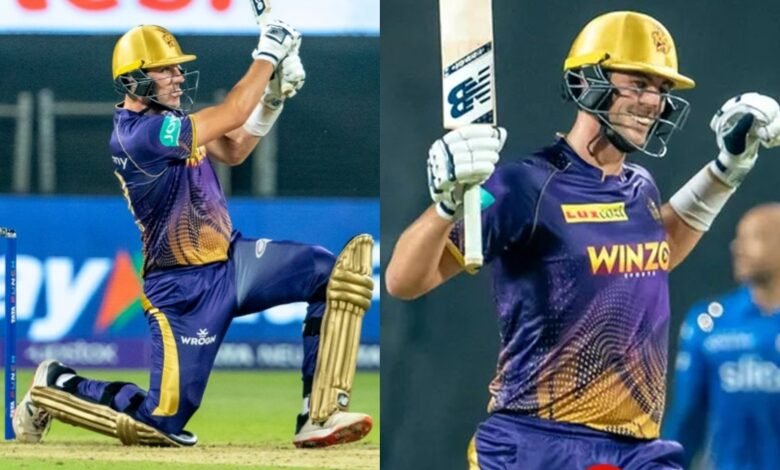 In a game that witnessed the best of the sport struggling to come to terms with a dicey surface, trying to figure out the dynamics of the track, a completely unexpected moniker of Pat Cummins changed the course of the game with the joint-fastest fifty in the history of the IPL.
Chasing a decent total of 162, Pat Cummins conjured an unbelievable blitzkrieg that saw him hammer home an unbeaten 15-ball-56, handing the most successful team in the history of the tournament their third consecutive defeat of the season.
It was Tymal Mills who was first shown the ropes as Cummins smashed a length ball beyond the stipulated boundaries, making his intentions absolutely clear. The following delivery raced through the backward point region as the Australian played a late stroke, simply gliding the ball using the pace of Mills.
Just when Mumbai thought that their strike bowler, Jasprit Bumrah was reeling things back in with just a single for the first three balls, Pat Cummins launched him too beyond the ropes as he middle Bumrah's fourth ball of the over and all it needed for the Australian to do was connect.
The Indian fast bowler wanted to respond with a yorker but ended up bowling full that was comfortably reached by Cummins as he has a towering stature and was sliced to the boundary again.
If these two overs set the tone for the absolute obliteration of Mumbai, Daniel Sams would probably think twice before holding the cherry again whenever he would see Cummins at the other end.
The first ball from Cummins' Australian counterpart was clobbered over the long-on as he greeted Daniel Sams with another maximum. Trying for a yorker, Sams would end up bowling his next ball as a full-toss and Cummins knew exactly where to put it.
Daniel Sams totally lost the plot as he bowled two back-to-back full-tosses and Cummins was just in no mood to relent. Both the following deliveries were in his striking arc and he gave them the right fate as he secured 12 runs from them.
An excellent effort from Suryakumar Yadav made people believe that maybe Cummins would not be finishing the chase but much to his dismay, Daniel Sams had overstepped.
The Australian all-rounder brought his half-century with a fine swing of his blade as Sams tried to drag him back with a shorter delivery and the former was just too good to be daunted today. In what you can call poetic justice for Cummins, as he finished the game in style as he whipped Sams straight down the ground to rack up the total with 24 balls to spare.
It was difficult for Twitter to make peace with the fact that on a surface where the stalwarts of the batting art found it hard to just get going, Cummins pulled off the unthinkable.
Highest Strike Rate an Innings in IPL:- (min 30 runs)

•Chris Morris – 38*(9) (422.22).
•Ab De Villiers – 31(8) (385.71).
•Pat Cummins – 56*(15) (373.33).

UNBELIEVABLE Pat Cummins. pic.twitter.com/cMATQ9Fbpk

— CricketMAN2 (@ImTanujSingh) April 6, 2022
We just witnessed one of the greatest T20 knocks ever💥 My word,Pat Cummins came on and absolutely tonked the ball all over the stadium🔥
It was special.The game was finely balanced and could've gone either way until Pat went crazy! Last game Russell,this game Cummins💜#IPL2022

— Aritravo🔴🏆🙌 (@aritravo_auddy) April 6, 2022
Pat Cummins in yellow to Mumbai Indians 🤣🤣🤣🤣 today #MIvsKKR pic.twitter.com/aUiS01DI9C

— Gumnaam Yadav (@_HitmanYadav) April 6, 2022
@patcummins30 hit his fifty faster than 'Mutual Fund investments are subject to market risks, read all scheme related documents carefully.' #IPL2022 #KKRvMI

— Ap Saggu (@ap_saggu) April 6, 2022
Pat Cummins …WoW …What an Innings ..Congratss KKR for the 8th Win against MI…. Brilliant Batting.

— Arunava Nandi (@ArunavaNandi8) April 6, 2022
Pat Cummins comes out of syllabus 🙃 https://t.co/YNAKfo1aJS

— Ashwini/ಅಶ್ವಿನಿ🇮🇳 (@AshuCric07) April 6, 2022
When Pat Cummins came in today , KKR were in need of 61 from 41 balls . (He came in at 13.2)

Pat Cummins then
56*(15) 4×4 6×6 (52 runs in boundaries )

(1) pic.twitter.com/C0SBANsLMY

— Kumaran Kumanan (@KumaranKumanan) April 6, 2022