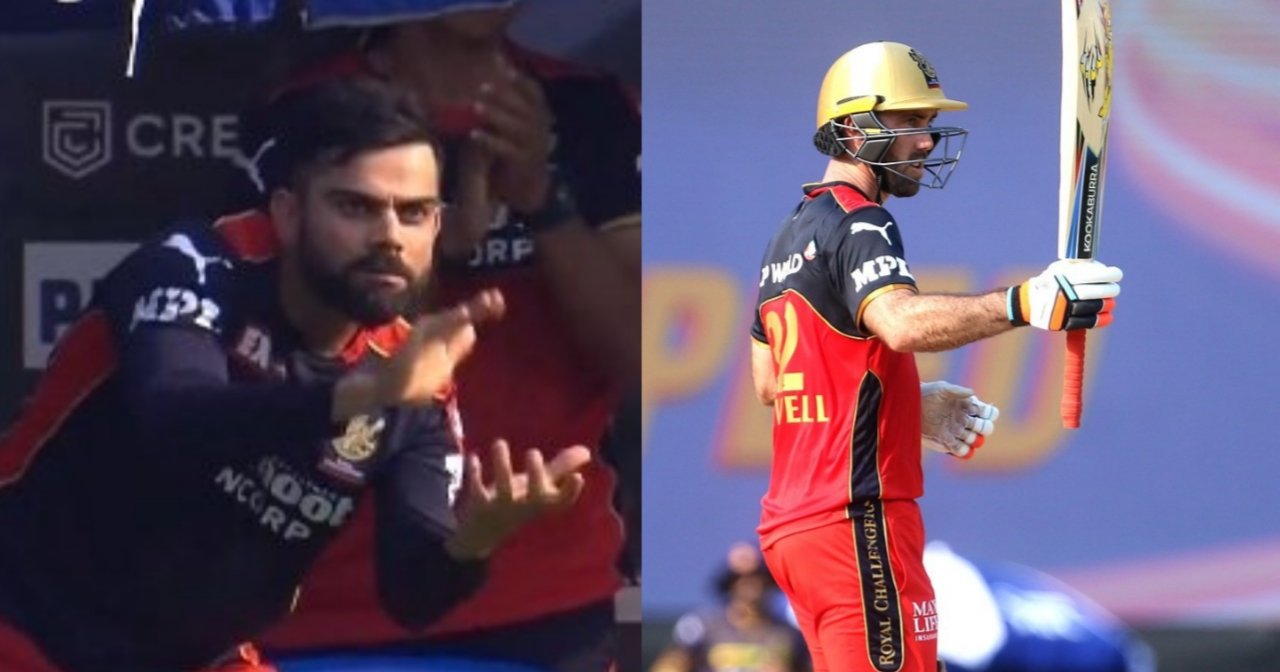 The captain of the Royal Challengers Bangalore, Virat Kohli is known, not only for his phenomenal batting, but the celebrations that he indulges in, after a moment of success, be it of his own, or of any of his other team members. This was seen in the best ways ever, when Virat, during RCB's batting inning, took time to applaud a half-century scored by his teammate, Glenn Maxwell in an animated way.
The Royal Challengers Bangalore have been on a roll in the Indian Premier League so far, winning all of the matches that they have played in. And, much to the delight of the team's captain and management, one of their biggest bests, buying Glenn Maxwell for a record amount of over Rs. 14 crores has paid off. The Australian all-rounder has been firing with the bat and has shown why RCB paid so much for him in the auction. During one of his such displays, in the team's match against the Kolkata Knight Riders, Maxwell scored well and Virat Kohli took no time in expressing his happiness for the same.
Glenn Maxwell has become an important weapon for Virat Kohli
It was on the last ball of the 9th over of the first inning of the match, that Maxwell nudged a ball towards long-on and got to his half-century. And, when the camera panned towards the Royal Challengers Bangalore dugout, there was Virat Kohli, with his animated celebrations, clapping for Maxwell who had gotten to his half-century. Virat could be seen half bent, clapping and bobbing his head while praising his teammate's invaluable efforts.
Thanks to this valiant effort by Maxwell, complemented by an equally important effort by the team's wicket-keeper, AB de Villiers, the Royal Challengers Bangalore got to an impressive total of 204 runs for the loss of 4 wickets.
Already on a two-match winning spree, the Royal Challengers Bangalore would be eyeing another win, romping past the Kolkata Knight Riders, who have not been in the best of forms in this tournament so far. The team has played 2 matches so far, out of which they have won one game and lost one, with the latter one coming in their game prior to this one. A victory in this game would be a very helpful addition to the tally of both these teams as they go ahead in the tournament.