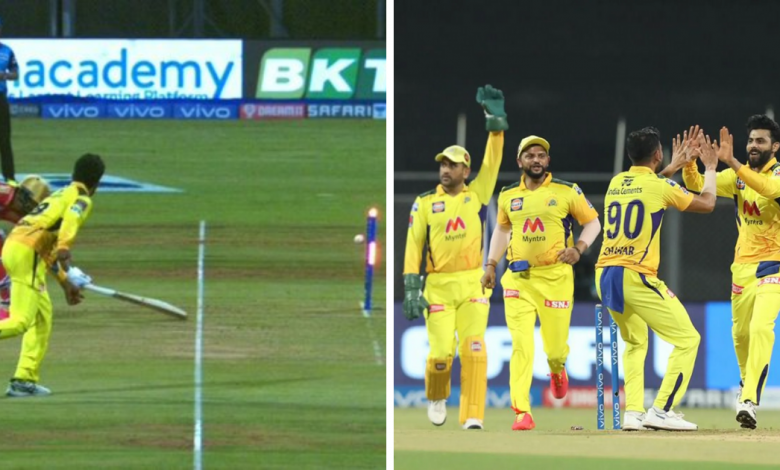 It has been proven over the years that Ravindra Jadeja is currently one of the finest fielders in the world who has pulled off countless antics in any jersey that he has donned on. Spanning from that exquisite catch in the deep to those direct hits that rattle the timbre even before the fastest batsmen could make it to the crease rekindles those glory days of Indian fielding which was sparked by Yuvraj Singh and Mohammad Kaif.
He is like a live wire on the field, always famished for anything that comes his way. He is also one of the most agile and fittest fielders in the cricketing circuit that makes the fastest runners between the wickets think twice before leaving the crease to complete a run.
Watch how Jadeja pulls off the one-hand wonder
In such a wondrous spectacle, Jadeja complete a stunning run-out that saw the Punjab skipper, KL Rahul taking a long walk back to the pavilion despite being one of the fastest runners on the pitch.
Punjab was already wobbling at 14 for 1 when Rahul wanted to speed things up in the powerplay. Given the fact, that Chris Gayle doesn't really like running between the wickets much, it had to be the skipper to find his way home to the danger end.
Chahar who is already bowling a dream spell at the moment that saw him claiming four wickets already, leaving Punjab crippled from the neck down, belted out an absolute peach to Chris gayle. Barely able to react to the speed of the delivery, Gayle's cumbersome movement saw the ball clattering onto his pads and the Chennai players went up in a loud appeal in unison.
While the Chennai players were busy appealing for the big wicket of the Universe Boss, Rahul and gayle wanted to embezzle a quick single, Jadeja set his eyes upon the ball and like the way a tiger or a cheetah pounces upon his prey, he claimed the cherry with a single hand, positioned himself for a rocket throw and rattled the stumps with a theatrical flourish that left Rahul wobbling inches short of the crease.
You talk about cricketing spectacles and you won't find one better than what Jadeja pulled off on the field today to get rid of the last year's Orange Cap holder. You can watch the video here.