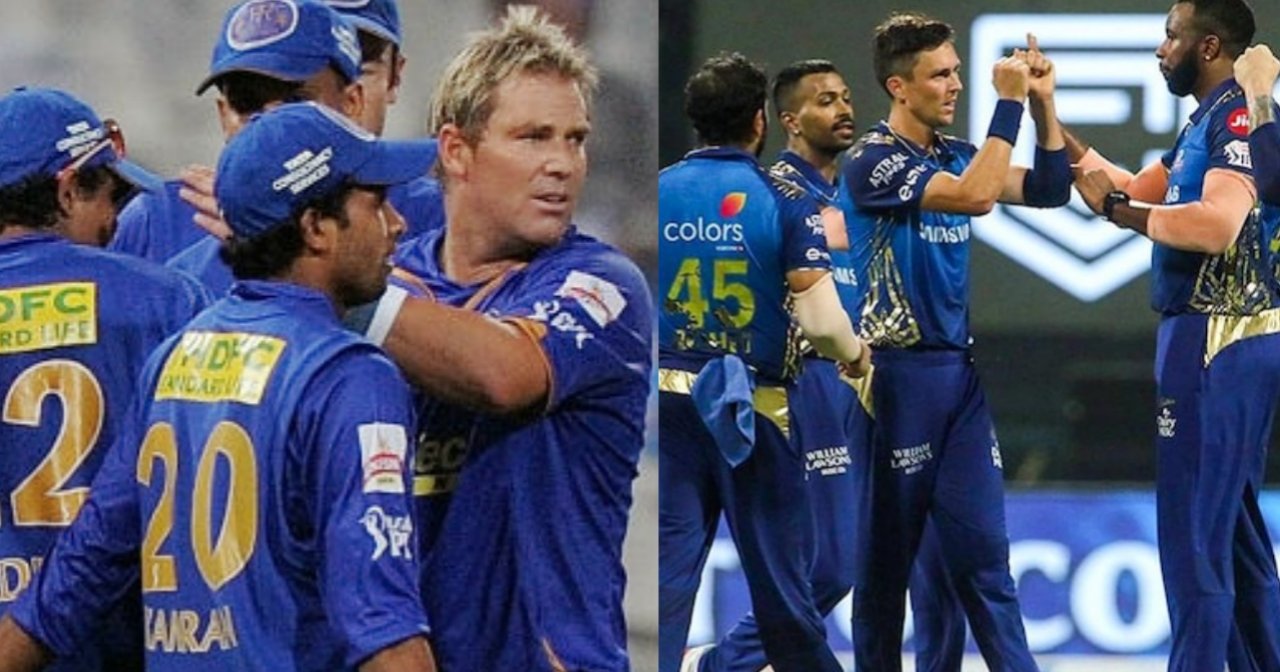 The rules of the IPL state that only 4 overseas players can play in a team at the most. This means that a squad could be full of Indian players, but it cannot be the opposite. There have been teams who use this limit the most, while some play more Indian players.
This practise hasn't been too common though, as there have been only 9 instances where there were less than 4 overseas players in a team. Let's take a look at those 8 instances.
#1. Rajasthan Royals (3 overseas players)- 2008
Rajasthan Royals, under the captaincy of Shane Warne won the inaugural IPL. The incident in question took place when RR played against the Delhi Daredevils. The 3 overseas players were Shane Watson, Darren Lehmann and the captain himself, Shane Warne. Rajasthan couldn't muster up a big score and managed to score only 129/8 in their 20 overs. Delhi won the match comfortably with 9 wickets to spare. This was the very first instance of a team playing less than 4 overseas players in a match.
#2. Rajasthan Royals (3 overseas players)- 2008
Rajasthan Royals make it to the list again, with this instance belonging to the same 2008 season. RR was playing an inconsequential match against Kings XI Punjab. Thus they decided to try out new combinations. Shane Watson captained the team, while Warne didn't get featured in the playing XI. The other two overseas players were Younis Khan and Kamran Akmal. This was before there was a ban on Pakistani players playing in the IPL.
Luck didn't favour the Royals this time too, as they lost resoundingly to KXIP. Shaun Marsh of the Punjab team hit a brilliant century to propel the total to a commanding 221/3. Rajasthan managed to make 180/7 in their 20 overs.
#3. Mumbai Indians (3 overseas players)- 2010
Mumbai Indians have been heavy favourites since the very beginning of the IPL. They played 3 overseas players in the 2010 season of the IPL. This was in a match against Rajasthan Royals. MI played Sanath Jayasuriya, Ryan McLaren, and Lasith Malinga as their 3 foreign players.
Mumbai set a mammoth target of 213 for the visiting team. Yusuf Pathan managed to make the MI bowlers sweat, hitting a whirlwind 37-ball century. However, RR fell short 5 runs of the target and lost the match.
#4. Kolkata Knight Riders (2 overseas players)- 2011
Kolkata Knight Riders were playing the inaugural match of the 2011 IPL against Chennai Super Kings. KKR shocked experts when they played only two overseas players. The two foreign players were Jacques Kallis and Eoin Morgan. CSK batted first and scored 153/4 in their 20 overs. Kolkata however narrowly missed out on the win, as they were able to score 151/7.
#5. Kolkata Knight Riders (3 overseas players)- 2011
This instance came in the very next match. KKR added Ryan ten Doeschate to the team. Thus the addition of Doeschate increased the count of overseas players to 3. KKR were playing against Deccan Chargers at Kolkata and batted first. They scored 163/4 thanks to Kallis' 53 from 45 balls.
KKR won the match this time, as Deccan Chargers fell short 9 runs of victory. Kallis was rightly declared the Man of the Match.
#6. Mumbai Indians (3 players)- 2012
Mumbai Indians played 3 overseas players against Kings XI Punjab in the 2012 season of the IPL. The three players were Thisara Perera, James Franklin, and Kieron Pollard. However, they lost the match due to poor bowling. Mumbai set up a competitive total of 163/6 thanks to Franklin's 51-ball 79. But Punjab refused to bow down and managed to reach the total with 6 wickets to spare. Shaun Marsh was the wrecker-in-chief, scoring 68* from just 40 balls. He was thus awarded the Man of the Match award.
#7. Kings XI Punjab (3 players)- 2016
Kings XI Punjab were playing against Kolkata Knight Riders when they took the decision to play only 3 overseas players. The three foreign players were David Miller, Glenn Maxwell, and Marcus Stoinis. Batting first, KKR scored 164 runs in the first innings. Punjab failed to reach the target, as they lost the match by 7 runs.
#8. Royal Challengers Bangalore (3 players)- 2021
RCB played only 3 overseas players in their match against Kolkata Knight Riders. While they played only 3 foreign players, their gamble paid off. Batting first, RCB unleashed hell on the KKR bowlers, piling 204 runs in the first innings. Glenn Maxwell, AB de Villiers and Kyle Jamieson were enough to demolish the Kolkata franchise while batting as well as bowling. KKR stood no chance as they got bundled out for 166/8 in their 20 overs. Thus RCB won the match by 38 runs.
#9. Mumbai Indians (3 overseas players)- 2021
Mumbai Indians is playing against the Delhi Capitals as of writing this article. The playing XI boasts of only 3 overseas players. These foreign players include Quinton de Kock, Kieron Pollard, and Trent Boult. This is the latest entry in the list.