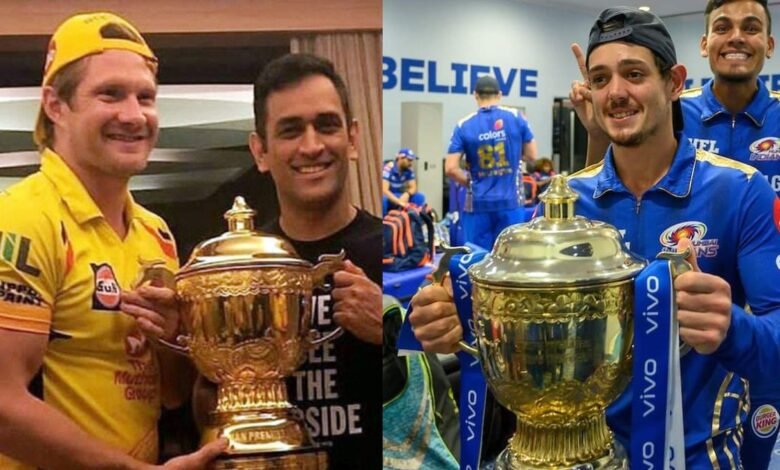 Royal Challengers Bangalore is known for its infamous record of releasing players who later go on and do well at other franchises. In fact, after leaving the Bengaluru-based outfit, a few players have even won the trophy more than once. However, RCB is yet to lift the trophy. In this article, we take a look at the list of seven popular players who won the IPL after leaving RCB.
1) Shane Watson (IPL 2018)
Seasons in which Shane Watson was part of RCB – IPL 2016 to IPL 2017
Amidst much fanfare, RCB secured the services of Shane Watson at the 2016 auctions. However, the Aussie failed to set the stage on fire as he could score just 250 and picked 250 wickets in two seasons. However, on moving to CSK, Watson turned up as a different cricketer. He was given the favoured opening position and across three seasons, Watto scored more than 1200 runs for the franchise. He was also played an influential role in CSK winning the competition in 2018.
2) Jacques Kallis (IPL 2012 and IPL 2014)
Seasons in which Jacques Kallis was part of RCB – IPL 2008 to IPL 2010
After serving RCB for the first three seasons, Jacques Kallis made the move to KKR. He had a stunning stay at the franchise, scoring 1603 runs apart from collecting 48 wickets between 2011 and 2014. Importantly, the South African legend won two trophies during the stint. Kallis also later coached the franchise for a while.
3) Yuvraj Singh (IPL 2016 and IPL 2019)
Seasons in which Yuvraj Singh was part of RCB – IPL 2014
Yuvraj Singh is one of the popular players who won the IPL after leaving RCB. In 2014, Yuvi was signed for a big amount by the franchise. The southpaw was decent as he could score 376 runs and pick five wickets. However, it was on being released by RCB that Yuvi attained success in the competition. While he won IPL 2016 along with Sunrisers Hyderabad, in 2019, he won it again as a Mumbai Indians player. Yuvraj had an impact in 2016, but when he played for Mumbai, he did not get a lot of opportunities.
4) Manish Pandey (IPL 2014)
Seasons in which Manish Pandey was part of RCB – IPL 2009 to IPL 2010
While Manish Pandey was part of Mumbai Indians in IPL 2008, he arrived at RCB for the next two editions. He impressed all as a batsman but could not get his hands on the trophy. In 2014, he won the trophy with KKR. In fact, at the final in Bengaluru, Manish Pandey played a match-winning knock to help KKR cross the line.
5) Robin Uthappa (IPL 2014 and IPL 2021)
Seasons in which Robin Uthappa was part of RCB – IPL 2009 to IPL 2010
Robin Uthappa last played for RCB in 2010. After leaving the franchise, Uthappa won the trophy in 2014 with KKR. He also won the Orange Cap that season. The batsman recently won the championship again, although, it was with a different team. Before IPL 2021, CSK traded Uthappa from Rajasthan Royals and the player made good contributions in the knockout games to justify his selection.
6) Quinton de Kock (IPL 2019 and IPL 2020)
Seasons in which Quinton de Kock was part of RCB – IPL 2018
It was actually Quinton de Kock who replaced Chris Gayle at RCB. He was underwhelming, though, and RCB surprisingly made a debatable decision of trading him to the Mumbai Indians. At MI, QDK prospered and helped the side to win back-to-back trophies. Hence, the South African is also a part of this list.
7) Moeen Ali (IPL 2021)
Seasons in which Moeen Ali was part of RCB – IPL 2018 to IPL 2020
English all-rounder Moeen Ali is the latest entrant to this list of popular players who won the IPL after leaving RCB. Although he was decent in the first two seasons, Moeen struggled to get opportunities in IPL 2020. He was later released, and CSK hired him at the 2021 Auctions. They gave him the No.3 role along with the license to be fearless. Hence, Ali succeeded and helped CSK lift the title.