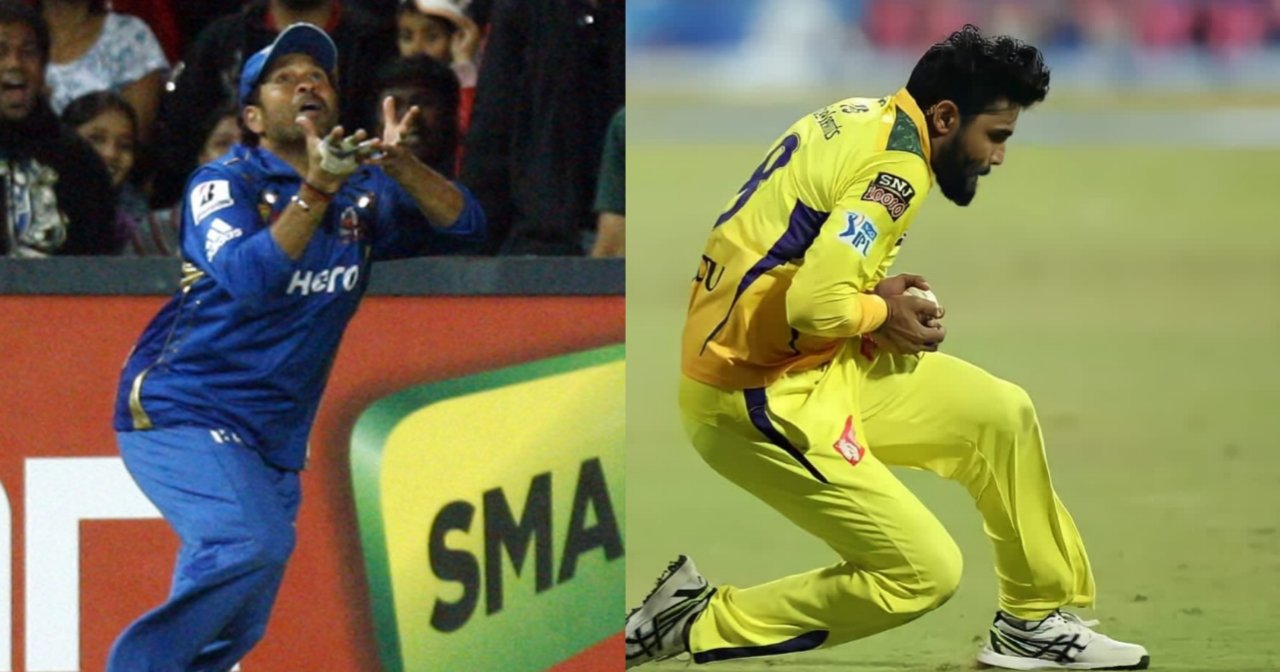 Someone has rightly said that "Catches win matches", as some spectacular catches have proven to be the game-changing moments in every IPL season. Good fielders can change the course of the game just by their sticky hands and agility in a matter of few balls. One good catch or run-out and an in-form or set batter can be on his way to his team's dugout. So, has there been any such instance in IPL where the velcro hands of one good fielder changed the course of the entire game? Absolutely yes. There have been several instances where a player has taken up to four catches in a single inning of an IPL match. Don't worry! I am not going to leave you in suspense about who these players are. So, here are seven such players to take four catches in an IPL inning:
#1 Sachin Tendulkar v Kolkata Knight Riders, 2008:
The Master Blaster was the first player to take four catches in an IPL inning in the 38th match of the first edition of IPL in 2008. Sachin Tendulkar took three out of his four catches at first slip. He first caught Salman Butt at first slip off Shaun Pollock's delivery. Sachin then took Wriddhiman Saha and Ajit Agarkars' catches at first slip on Dwayne Bravo's deliveries. To wrap things up, he caught Shoaib Akhtar at mid-wicket off Rohan Raje's delivery. With this, KKR's innings wrapped at a low total of 67, which MI comfortably chased with eight wickets in hand.
#2 David Warner v Rajasthan Royals, 2010:
David Warner was the second man to pull it off in the 29th match of IPL 2010 between Delhi Daredevils (now Delhi Capitals) and Rajasthan Royals. Warner caught all four of his catches down the ground. He was fielding on long on and long off for most of the game. Apart from his four catches, Warner also helped his team with a direct hit run-out. Warner's efforts in the field helped DD register a 67 run win over Rajasthan Royals.
#3 Jacques Kallis v Deccan Chargers, 2011:
It was a day when Deccan Chargers batters were, kind of, helping Jacques Kallis with his fielding practice. Kallis grabbed four easy catches to become the third player to take four catches in a single IPL inning. He grabbed one at deep square leg to send Sangakkara back and three more at deep mid-wicket. All of them went straight into his safe hands. But thanks to this catch practice session by Deccan Chargers batters, Kolkata Knight Riders defended an average target of 164.
#4 Rahul Tewatia v Mumbai Indians, 2019:
In the third match of IPL 2019, Rahul Tewatia became the fourth man to take four catches in a single IPL inning in a high-scoring game between Mumbai Indians and Delhi Capitals. Playing for DC while defending a massive total, Tewatia took Rohit Sharma's catch at deep square leg, Pollard's catch at sweeper cover, and Krunal Pandya and Yuvraj Singh's catch at deep mid-wicket. DC won this match by 37 runs.
#5 David Miller v Mumbai Indians, 2019:
David Miller caught four out of the total five catches taken in the second innings in the 24th match of IPL 2019 between Mumbai Indians and Kings XI Punjab (now Punjab Kings). Miller caught Quinton de Kock at long-off, Hardik Pandya at long-on, Krunal Pandya at extra cover, and Pollard at deep mid-wicket. Unfortunately, despite Miller's four catches, KXIP lost this last-ball thriller by three wickets.
#6 Faf du Plessis v Kolkata Knight Riders, 2019:
The sixth time in IPL and the third time in IPL 2019, Faf du Plessis took four catches for Chennai Super Kings in the 29th match against Kolkata Knight Riders. Faf caught Narine and Nitish Rana at long-on. Then he took an athletic diving catch of Uthappa running from long-off to almost the edge of the 30-yard circle. Finally, he caught Dinesh Karthik at long-off. CSK won this match by five wickets with two balls to spare.
#7 Ravindra Jadeja v Rajasthan Royals, 2021:
Recently Ravindra Jadeja became the seventh player to pull this off. In the 12th match of IPL 2021 between Chennai Super Kings and Rajasthan Royals, RR encountered a batting collapse chasing 189. Jadeja first caught Manan Vohra at deep mid-wicket. Then he caught Riyan Parag and Chris Morris at the deep mid-wicket as well. Finally, for his fourth catch, he caught Unadkat at sweeper position. Apart from his four catches, Jadeja also picked two wickets in this RR batting collapse. CSK won this match by 45 runs.