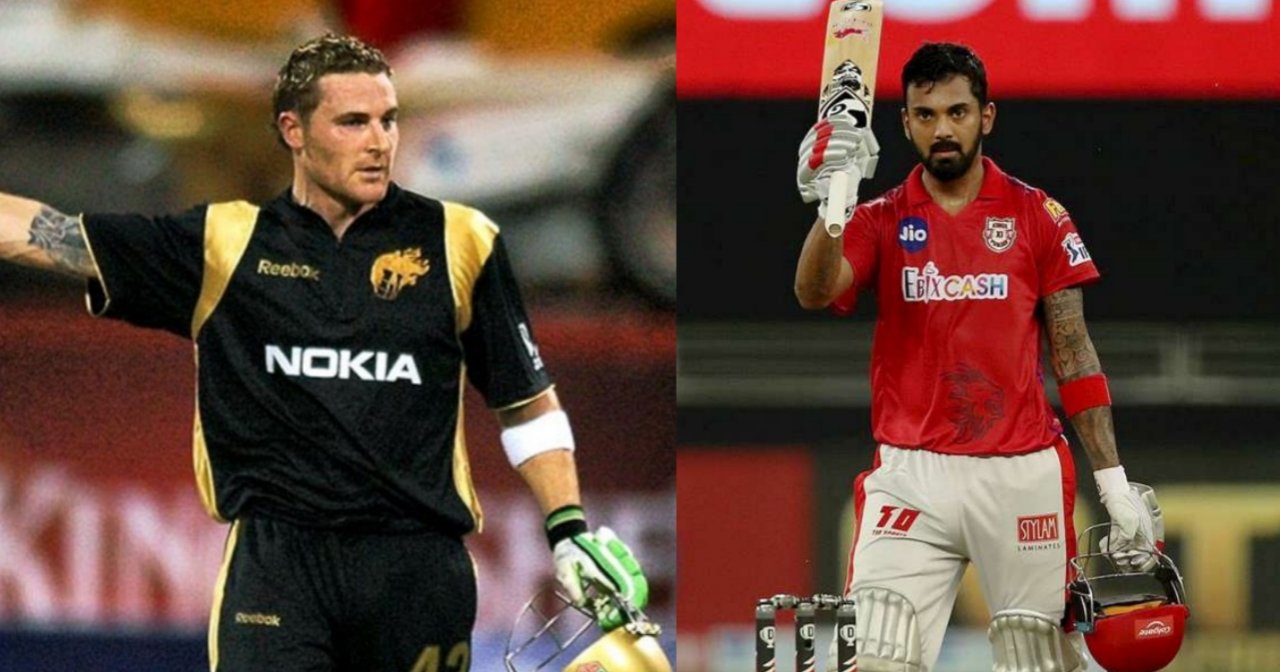 Royal Challengers Bangalore is among the most entertaining franchises in the IPL. They have had one of the most ruthless batting lineups in the history of the tournament. However, their bowlers have performed miserably at times. The pinch of inexperience in their bowling has cost them games and titles too. This article looks at some batsmen who have scored a century against the RCB bowling line-up.
#1 Historic inaugural knock by Brendon McCullum
The IPL announced itself to the world through Brendon McCullum. He made a 150+ score in the first-ever match of the T20 tournament. While setting the target at the Chinnaswamy, KKR made a solid start. Credit to McCullum's firepower knock, of 158* off just 73 deliveries, KKR set a whopping total of 222/3. No matter how old IPL gets, this knock will be remembered for its peculiarity.
#2 David Miller, Punjab Da Puttar!
While chasing a huge total of 191, Punjab seemed to struggle. Losing quick wickets, coupled with a slow start, Punjab found themselves in a mess. Clearly, they needed a messiah to rescue themselves. And boy, Miller did that job single-handedly! He scored a century against RCB (101 off 38 balls). To put things into perspective, the strike rate of this innings by David Miller was more than the 175 (66) scored by Chris Gayle.
#3 Bairstow goes all out aggressive and displays his class
The English wicketkeeper-batsman scored a speedy 113 off just 66 deliveries. Setting an opening partnership of 185 runs, he and David Warner set the record of the highest opening wicket partnership in IPL History. The RCB Bowlers had nothing going their way that night. RCB, in reply, got all out for 113. The same number of runs as Jonny Bairstow!
#4 Warner acts as a partner in crime of his English Counterpart
The Ashes Rivalry was let out on RCB bowlers in Hyderabad in 2019! Let's not forget this landmark innings by David Warner . He scored an unbeaten century against RCB, off 55 balls. Moreover, this was the first time in the IPL History, that two batsman scored centuries in the same innings. He helped set a solid base to an innings, that reached a score of 231. The Hyderabad crowd went berserk, on what they had just witnessed.
#5 KL Rahul scores a bittersweet century against his former side
The Pandemic edition of the IPL in the UAE saw KL Rahul come into his own while batting. One such knock came right at the start of the season, against his former outfit. Kings XI Punjab (now, Punjab Kings) scored a massive total of 206, in Dubai. Thanks to the captain's knock of 132*. The middle-order failed miserably that night. The pacers of RCB had witnessed a nightmare, just before their sleep, it seemed. Chasing 207, Virat's troops fell prey to Punjab's spin attack.
#6 QdK leads Daredevils' resurgence heroically
A more than decent batting performance from the Bangalore franchise saw a huge task ahead of the Delhi batsmen. Leading the charge, was a young batsman, in Quinton de Kock. He got limited opportunities to express himself in his first couple of seasons. This match against RCB was the perfect time, chance and the need to make a mark of his name. Anchoring the innings, he scored a 108 off just 51 deliveries. Toying with the bowlers, all round the park, de Kock showed his class and versatility when it mattered the most.