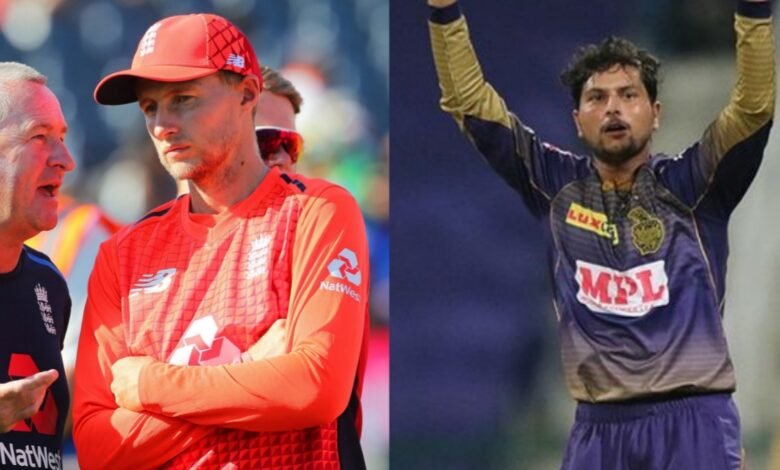 Since the IPL 2018 Mega Auction, Punjab Kings have not achieved more than six wins in a single season. Until IPL 2021 got suspended, the Kings had picked up three victories and lost five games. Before the next season, the management must look to plug the imbalance in the squad. In this article, we take a look at six players whom Punjab Kings can target in IPL 2022 Mega Auction.
Irrespective of the retainment rules before the IPL 2022 Mega Auction, Punjab Kings might retain only KL Rahul and release the rest of the cricketers. Depending on the retainment cost of uncapped players, the Kings could ponder about keeping hold of Ravi Bishnoi, if of course, the youngster is still an uncapped player as of the deadline date.
1. Joe Root (If He Registers For IPL 2022 Mega Auction)
If Punjab Kings must succeed in future editions, they must invest in a reliable batting line-up. Considering KL Rahul would be retained, the management should target to hire an experienced batsman who can be consistent and play the anchor role. This will free KL to play his natural game.
Joe Root has featured in multiple IPL auctions in the past but was unsold every single time. Although he does not feature often for his country in T20Is, the English Test captain is the perfect kind of cricketer whom the Punjab outfit could be looking for. The right-hander has a strike rate of 126.30 and an average of 35.72 in T20Is. Although this may not be a worthy stat for an IPL overseas player, Root brings stability to the table, which the Kings are in desperate need of. Captaincy skills and a few overs of right-arm off-spin are the bonuses in the package that Root offers.
2. Marcus Stoinis
With other priorities in the franchise, Delhi Capitals may not retain Marcus Stoinis. Punjab Kings could target the Aussie, who featured for them between 2016 and 2018 before he was traded to RCB.
IPL 2020 was the best season for Stoinis in the competition. He scored 352 runs and took 13 wickets to help DC reach the final. Punjab Kings need a player to provide balance to the XI. Stoinis is experienced in the tournament and strengthen Kings on all fronts. Hence, the franchise can target Stoinis at IPL 2022 Mega Auction.
3. Kuldeep Yadav
After Ravichandran Ashwin was traded to Delhi Capitals, Punjab Kings have run their spin attack using uncapped players Ravi Bishnoi and Murugan Ashwin. However, for the team to prosper, there sure has to be more variety in this unit.
While he played no games in the first phase of IPL 2021, Kuldeep played a total of only 14 encounters in the last two seasons combined although he took 17 wickets in IPL 2018. For a young cricketer who aspires to be in the Indian Team, this is a poor situation to be in. The UP spinner most importantly needs confidence, game-time and a strong challenge. Under the guidance of Anil Kumble, Kuldeep can become the player he once was. For the Kings too, a capped cricketer at the centre of the spin-attack will be advantageous. Even better for them if this player is adding variety in the form of a left-arm wrist spin.
4. Krunal Pandya – Should be one of the main targets at the IPL 2022 Mega Auction
Mumbai Indians used an RTM card to hire Krunal Pandya in IPL 2018 Auctions. However, he was an uncapped player then. Hence, MI may now struggle to retain the capped Krunal Pandya next season. Therefore, franchises like Punjab Kings can have a go at the elder Pandya.
The 'Player of the Match' in the 2017 IPL final, Krunal Pandya adds terrific balance to the XI. At No.7, the Baroda all-rounder could become an important player in the XI. Kings can have a reliable batsman who could step up if there are an early fall of wickets, and of course, Krunal is always there with a few overs of off-spin.
5. Kane Richardson
Kane Richardson can be a very good addition to the Punjab Kings pace attack. The current RCB pacer is an efficient death bowler and has got a fiery yorker in his armoury.
PBKS' strategy to overspend on overseas pacers did not work in IPL 2021. They might now look for players, who might come cheap and will also add value to the unit. Kane, a player who once took an ODI five-wicket haul against India in 2016, would be a realistic choice for the outfit.
6. Rahul Chahar
Punjab Kings will need to invest in cricketers, who they can trust for three years. With Mumbai Indians unlikely to retain Rahul Chahar before the auctions, the Kings will have an opportunity to sign the cricketer.
A leg-spinner, who is known for his deceptive googlies, Rahul made his IPL debut in 2017. However, it is in IPL 2019 and IPL 2020 that the youngster truly showcased his skills in the tournament. After taking a combined total of 28 wickets in these two seasons, Chahar is in fine form and looks to be India's No.1 leg-spin option for the 2021 T20 World Cup. Kings will surely benefit from him in the squad, and hence, could target him in IPL 2022 Mega Auction.