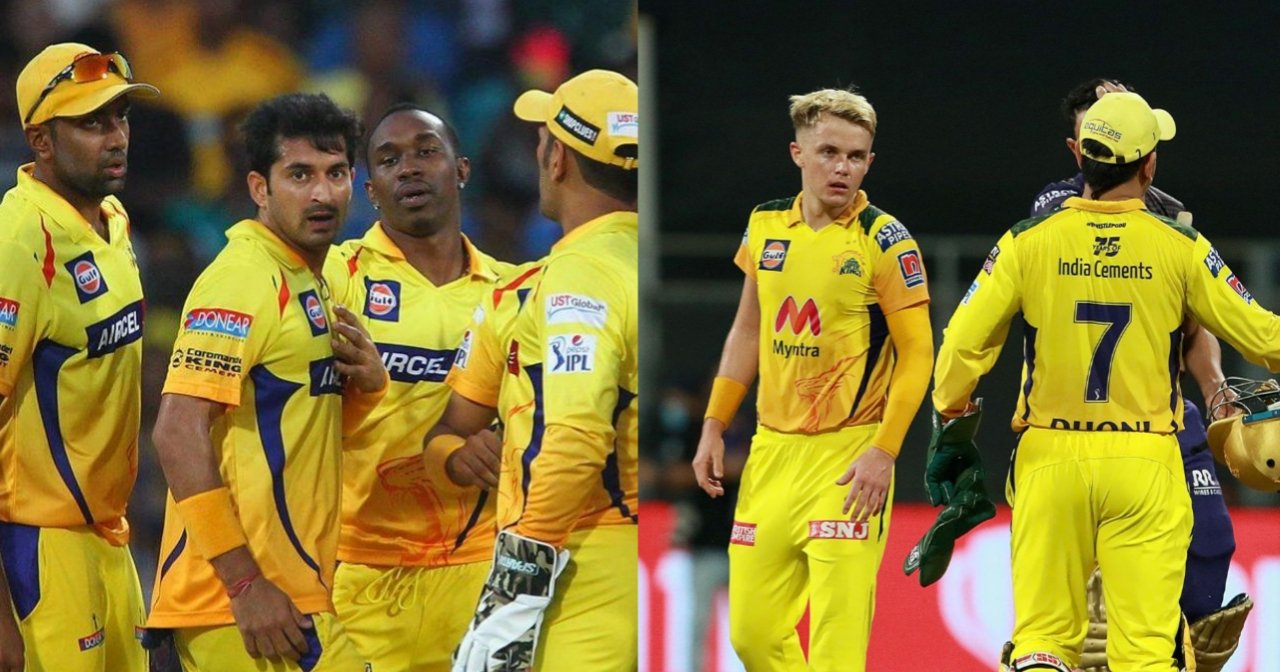 Chennai Super Kings may have a good track record in IPL, but that doesn't mean that they have never had bad days on the field. CSK has been at the receiving end of some thrashing time and again and most recently against Kolkata Knight Riders, where their bowlers bowled some of the most expensive bowling spells. Today we are going to revisit four of such expensive bowling spells for Chennai Super Kings.
Here are the four most expensive bowling spells for CSK:
#4 Harbhajan Singh – 3/57 vs KXIP, 2019
These figures of Harbhajan Singh was an unpleasant gift from one of the best Indian striker of the cricket ball KL Rahul. Rahul and Gayle both attacked him from the first ball as Gayle welcomed him with a four towards long leg. Rahul didn't spare him as well. He hit two back-to-back sixes to add 17 runs to Bhajji's bowling figures at the end of his first over. Harbhajan's second over was the worst as KL Rahul hit him four three fours and two sixes, further extending his bowling figure count to 0/41 from just two over. Rahul also got to his half-century from just 19 balls with a six off the final delivery of this over.
However, Harbhajan got his redemption by getting both Rahul and Gayle out on back-to-back deliveries in his third over at the expense of only seven runs. He ended his spell with another wicket in his final over. But the initial thrashing he got was enough for Kings XI Punjab (now Punjab Kings) to win the match by six wickets with 12 balls to spare.
#3 Palani Amarnath – 1/57 v MI, 2008
Palani Amarnath bowled well in his first two overs but got thrashed in his final two in the eighth match of the first season of IPL between Chennai Super Kings and Mumbai Indians. Amarnath gave only seven runs in his first over. In his second over, he even picked a wicket at the expense of just nine runs. But his figures went from 1/16 in the first two to 1/57 in his next two overs.
Palani Amarnath gave away 20 runs in his third over courtesy three boundaries, a triple, and five overthrows. But his nightmare of a spell didn't end there. Abhishek Nayar and Harbhajan Singh thrashed him for 21 runs in his final over with two fours and two sixes. But thankfully, Amarnath's expensive spell didn't hurt CSK much, and they still won the match by six runs.
#2 Sam Curran – 1/58 v KKR, 2021:
You might not believe it, but despite bowling the second most expensive spell for Chennai Super Kings, Sam Curran bowled well and played a vital role in CSK's win. His figures of 1/58 was a result of just one bad over in which Patt Cummins destroyed him.
Sam Curran gave away only nine runs in his first over. In his second over, he bowled the dangerous-looking Andre Russell despite giving 12 runs. But, in his third over, Patt Cummins thrashed him for 30 runs. Cummins hit four sixes and a four in this over to pull KKR back in the game. However, Sam Curran made a comeback and restricted the Australian pacer to just eight runs, including a leg bye in the penultimate over. Russell's wicket and this penultimate over by Curran played a crucial role in CSK's 19 run victory.
#1 Mohit Sharma – 0/58 v SRH, 2015:
It was a day to forget for Mohit Sharma as he gave away 58 runs in his quota of four overs without taking a single wicket against Sunrisers Hyderabad in the 34th match of IPL 2015. Mohit gave away at least two boundaries in each of his overs. He was so out of luck that Brendon McCullum, who is known to be a good fielder, dropped a catch on his delivery.
Mohit Sharma began his spell by bowling the first over of the innings against Sunrisers Hyderabad. Warner hit two fours in this first over, which went for ten runs. His second over was his worst as Warner destroyed him by hitting three fours and a six off a no-ball. This trashing from Warner added 22 more runs to Mohit's figures. In his final two overs, Mohit went for 11 and 15 runs respectively and got hit for three fours and a six. Mohit Sharma's poor bowling led to SRH posting a massive total which CSK failed to chase.