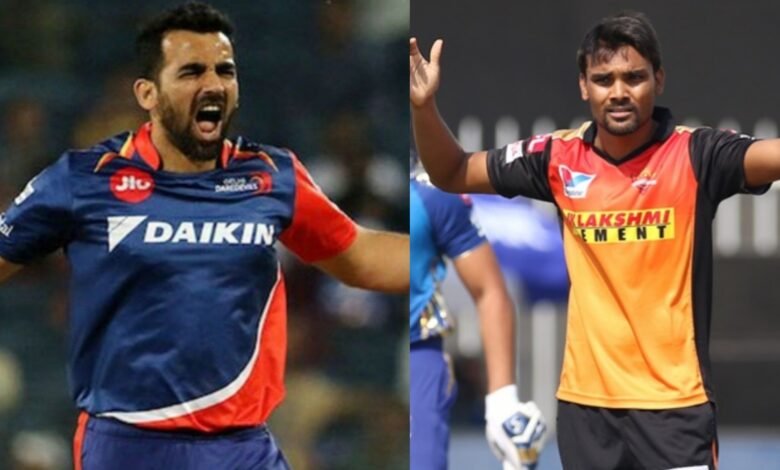 In T-20s, picking wickets in the powerplay is of great importance. A slew of early wickets can unsettle any batting unit and gives a mental advantage to the bowling team. Wickets in the powerplay also helps in mitigating the effects of having only two fielders outside the circle. In the IPL, a few bowlers have carved a niche for themselves as powerplay specialists. In this article, we will look at the five most prolific wicket-takers in the powerplay in the history of IPL [Stats credit – ESPN cricinfo].
#5 Dhawal Kulkarni – 44
Kulkarni has represented three IPL franchises and has been a reliable new ball bowler for all of them. His economy rate in the powerplay is 7.49, which is a solid figure considering the fielding restrictions. Kulkarni has a very good outswinger up his sleeve and loves bowling the traditional fourth stump line to right-handers.
He has bowled 1018 balls in the powerplay, of which 510 have been dot balls. Overall, in his IPL career, Kulkarni has 86 wickets at an economy of 8.31. Kulkarni's best spell with the new ball came in 2016 when he picked up 4 for 8 in 3 overs against RCB. In this spell, he dismissed Gayle, Kohli, Rahul and Sachin Baby.
#4 Umesh Yadav – 45
Yadav has been ridiculed by many for his expensive bowling at the death, which has overshadowed his exploits in the powerplay. Yadav has bowled 1074 balls in the powerplay, of which 542 have been dot balls. He has an economy of 7.72 in the powerplay, thanks in no small part to the 98 extras he has conceded. Yadav has a lethal in-swinger, which when delivered at a high pace can be near unplayable.
#3 Bhuvneshwar Kumar – 49
Bhuvneshwar Kumar broke into the IPL scene as a proper swing bowler capable of moving the ball both ways. He has evolved a lot since then, but his new ball skills still prove to be deadly. His 49 wickets in the powerplay have come at an outstanding economy of 5.93.
Kumar has bowled 871 dot balls in the powerplay, more than any other bowler. With time, batsmen have become conscious of his swing bowling and have started playing him with great caution. Overall, Bhuvneshwar has 139 wickets in the IPL at an economy of 7.31.
#2 Sandeep Sharma – 52
Sandeep Sharma lacks the pace that others in this list possess, but he more than makes up for it with his accuracy and swing. Sharma remains one of Punjab Kings' best ever bowler with 71 wickets at an economy of 7.77. One of the most consistent wicket-takers in the powerplay, Sandeep Sharma's 52 scalps have come at an economy of just 6.97. He has bowled 642 dot balls inside the powerplay in the IPL.
One of Sandeep's best powerplay spells came against Delhi Capitals in 2017. He dismissed Sanju Samson, Sam Billings and Shreyas Iyer as DC were all out for just 67. He currently plays for Sunrisers Hyderabad.
#1 Zaheer Khan – 52
Topping the list of best wicket-takers in the powerplay in IPL history is the wily old fox, Zaheer Khan. Khan had lost his pace by the time he started playing for Delhi Capitals, but he retained his ability to swing the ball into the right-hander. He has delivered 1292 balls in the powerplay and has conceded 1452 runs.
Khan also had a very deceiving slower ball up his sleeve and used it to good effect. Overall in his IPL career, Khan has 102 wickets at an economy of 7.59. Unfortunately, the injuries he suffered meant that he rarely ever bowled at full throttle.