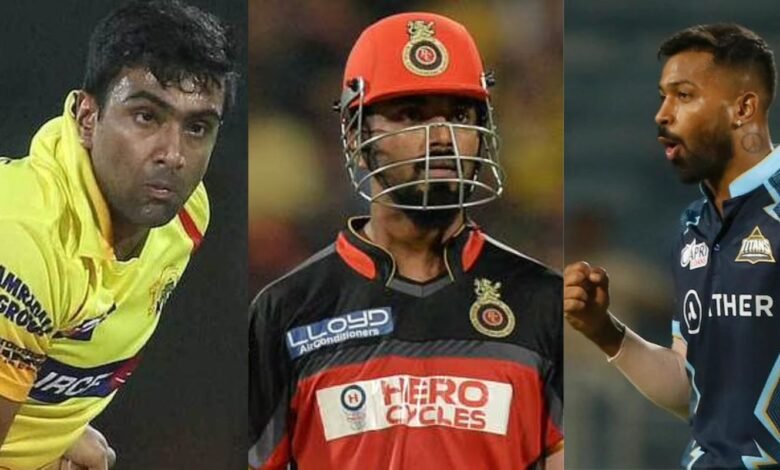 There was a concept called the 'Icon Player' before IPL started. Each team could pick a player from their home state. It is in this way that the likes of Sachin Tendulkar, Sourav Ganguly and Rahul Dravid ended up at their home state-based franchises. All teams would have their options if a similar thing happens now. On that note, here, we take a look at the IPL Captains if teams had to appoint captains from the home state of the franchise.
Chennai Super Kings – R Ashwin
R Ashwin has been captain before in IPL and so has Dinesh Karthik. However, based on their current form and with the future in sight, Ashwin would be a better pick for the four-time champions.
Delhi Capitals – Shikhar Dhawan
Delhi has given a lot of IPL captains in the past and there are many now, as well. While we have the options of Virat Kohli, Nitish Rana and Rishabh Pant, since Dhawan is the appointed current skipper of an IPL franchise, he would be preferred for this list.
Gujarat Titans – Hardik Pandya
Gujarat Titans would continue to have Hardik Pandya at the helm when it comes to IPL captains if teams had to appoint captains from the home state of the franchise. Gujarat would also have some fine alternatives in the form of Ravindra Jadeja.
Lucknow Super Giants – Bhuvneshwar Kumar
Bhuvneshwar Kumar has never been the permanent skipper of SRH. However, whenever the foreign captain of the unit is unavailable, it is Bhuvi who has been given the responsibility. In this regard, he has plenty of experience and would be an easy choice for LSG.
Kolkata Knight Riders – Wriddhiman Saha
The biggest players to come out from West Bengal in recent times have been Mohammed Shami and Saha. Since Shami does not have captaincy experience, Saha would be the best choice for KKR in this scenario.
Punjab Kings – Shubman Gill
Punjab Kings could opt for Shubman Gill when it comes to IPL Captains if teams had to appoint captains from the home state of the franchise. Currently operating for Gujarat Titans, Shubman Gill is not only seen as a future IPL skipper but also the future captain of Team India. Hence, he is a good option here for PBKS.
Mumbai Indians – Rohit Sharma
Rohit Sharma is the most successful captain in the history of IPL. He belongs to Mumbai and he is the current captain of Mumbai Indians. While he is the first choice, Suryakumar Yadav would also be an option in the future. Shreyas Iyer could also throw his hat in this regard.
Rajasthan Royals – Deepak Chahar
Rajasthan has not given a lot of popular players to Team India recently. Deepak Chahar would be the best possible option for the franchise. Deepak Hooda, who recently moved from Baroda to Rajasthan, would also be an option if he qualifies.
Royal Challengers Bangalore – KL Rahul
KL Rahul has skippered Punjab Kings and LSG, till now. He made his debut at RCB and many fans of the franchise still look forward to his return. He would be the best option for RCB as the skipper.
Sunrisers Hyderabad – Ambati Rayudu
Rayudu, despite the wealth of his experience, has not been an IPL captain. He has also not played for SRH. The franchise can consider the veteran as the skipper in this scenario.