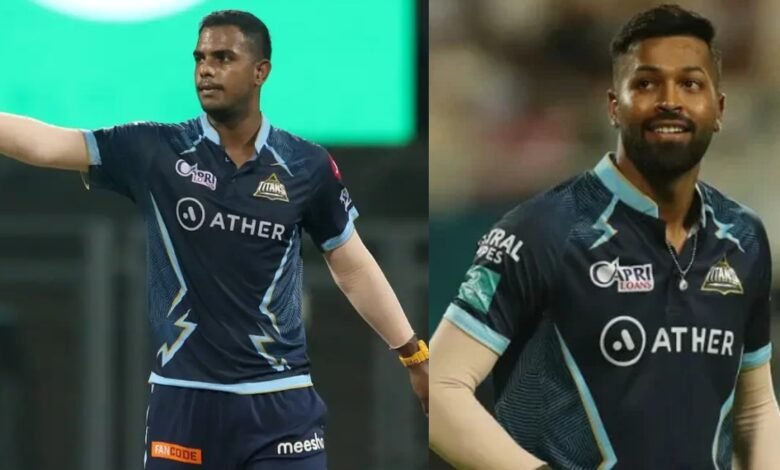 IPL 2022: Yash Dayal has praised Hardik Pandya for his willingness to assist him whenever it was needed during his time with the Gujarat Titans (GT) in the Indian Premier League 2022.
Dayal was an essential cog in the Titans' championship-winning machine in the most recent iteration of the Indian Premier League, which just came to a close. Although he was injured and had to miss the opening few rounds of the competition, the left-arm bowler ended up taking 11 wickets throughout the nine games he participated in.
IPL 2022: What did Yash Dayal say about Hardik Pandya?
Dayal was questioned about the manner in which Hardik prepared him for the IPL 2022 during a session that took place on India News. In response, he said:
"Hardik Pandya is an excellent captain because he is very calm and collected. He is a bowler's captain. When you approach him with a problem, he is always willing to assist. this trait is mirrored in the way he captains the team."
The pacer for the GT team stated that Hardik made effective use of the knowledge and expertise he obtained while playing for teams captained by the likes of MS Dhoni and Virat Kohli. Dayal elaborated as follows:
"Because he has played under both Mahi bhaiya (MS Dhoni) and Virat Kohli, he has gained a lot of knowledge from those experiences. He has a lot of experience himself. He is an outstanding leader of the team. A wonderful buddy off the field, kind personality, totally different from what he is on the screen, and incredibly cool when he is not performing."
When the Gujarat Titans announced that Hardik Pandya will be leading the team into the next season of the Indian Premier League (IPL), several cricket analysts expressed their doubts. However, the all-rounder disproved their assumptions and led the IPL newbies to victory, proving them wrong.
Yash Dayal, reflecting on his chats with Hardik Pandya, said that "a captain's trust is really crucial."
Dayal also emphasized the trust that Hardik and the rest of the coaching staff, especially Ashish Nehra, had placed in him. He went on to explain:
"The faith of a captain is critical to the success of the ship. You, the captain, and the management should all have a very clear understanding of what is being said in the dialogue. Before each game, I would meet with the coach and Hardik bhaiya to discuss our game strategy."
The conclusion that the 24-year-old offered was that the preparation that took place off the field made his job easier on the field of play. Dayal noticed that:
"I used to have a lot of clarity about what ball I needed to bowl to which batter while I was out on the ground."
On the ground, the Gujarat Titans gave off the impression of being a composed and collected team. They were unfazed by any circumstance, which contributed to their success in several nail-biting contests.