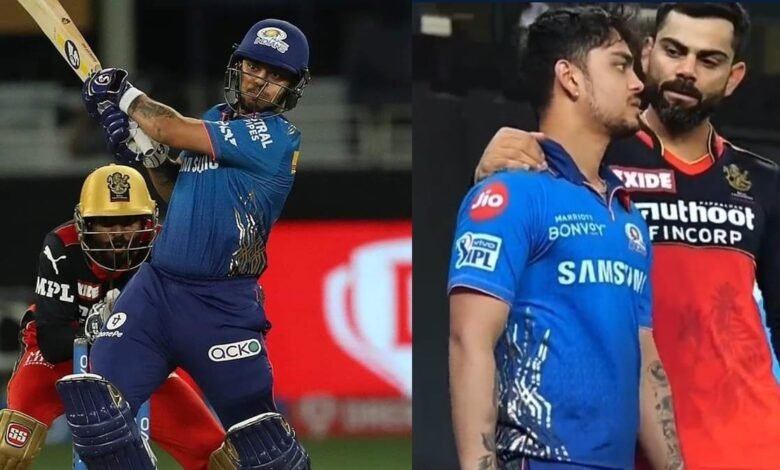 Mumbai Indians have dropped out of form cricketer Ishan Kishan for the all-important game against Punjab Kings. Ishan Kishan loses out despite being a part of Team India that will play at the upcoming T20 World Cup. In this article, we take a look at the mixed reactions on Twitter as Mumbai Indians drop Ishan Kishan for the game against Punjab Kings.
Mumbai Indians drop Ishan Kishan
Ishan Kishan was the highest run-scorer for Mumbai Indians in IPL 2020. After the performance, the Jharkand cricketer made his way to Team India. However, IPL 2021 has not gone the desired route for the youngster. He has made just 107 runs in eight matches so far. The franchise has now decided to drop him for the game against Punjab Kings.
Interestingly, Ishan Kishan is also part of India's T20 WC squad. Being dropped from the franchise team may force the selectors to reconsider Kishan's inclusion. Saurabh Tiwary, who made a half-century against CSK, has come in place of the 23-year-old in the team. It would actually not be a surprise if Team India selectors too follow suit and move Shreyas Iyer to the main team and get Ishan to the reserve list.
Twitter has mixed reactions towards the decision
Twitter had a mixed reaction to the development. While a little felt that the decision was harsh, some users believed that it was the right move by the defending champions. From both perspectives, Mumbai Indians dropping Ishan Kishan had fair arguments.
All of this would eventually depend on how Mumbai Indians will cope up with the absence of the fearless batsmen in the XI. If MI loses the game, it could be curtains for them this season. On that note, let's take a look at the Twitter reactions to the news of Ishan Kishan getting dropped:
So #MI leave out Ishan Kishan. Sometimes it is best to get away and try and free the mind. He is a quality player and will play in the #IPL again.

— Harsha Bhogle (@bhogleharsha) September 28, 2021
Could become a blessing in disguise break for Ishan Kishan from the hustle of IPL. #MIvPBKS

— Niharika Raina (@niharika_raina) September 28, 2021
Ishan Kishan Dropped. This is how Rohit Sharma gives confidence to youngsters. That too Ishan is there in Wt20 squad. Indian Cricket team will be destroyed if he becomes Captain.

— Sai Krishna💫 (@SaiKingkohli) September 28, 2021
Ishan Kishan: Gets dropped for poor performance
Adam Milne: Gets dropped for poor performance
Krunal Pandya:#MIvPBKS pic.twitter.com/kneCbpijY5

— Not Daniel Alexander (@_UnrealDaniel) September 28, 2021
Ishan kishan dropped but still lord krunal pandya playing 🤣😂#MI high on weeds i think,they are not qualifying this time for sure with this arrogant move ✋#MIvPBKS #IPL2021

— MaayoN ᶜˢᵏ💛 😎🎩💫 (@itz_satheesh4) September 28, 2021
Can you imagine!

Ishan Kishan is getting dropped by a franchise for poor form, and he is a part of final 15 of Team India's squad for the T20 World Cup 🤦🏻‍♂️

If he is not good enough to represent the franchise, how can he represent the national team?#bizarre #IPL2021 pic.twitter.com/epFfqhUUP0

— Cricket Fanatic🏏 (@cric8fanatic) September 28, 2021
DROPPED
Yes We are talking about Ishan Kishan here#mi #ipl2021 #RohithSharma pic.twitter.com/sWHHDZZJK7

— Trollmama_ (@Rohith_Crico) September 28, 2021
No Ishan Kishan Today For #MI #IPL2021

— Rajesh Khilare (@Cricrajeshpk) September 28, 2021
So leaving out Ishan Kishan is a bad choice!
Mi management backs players in their weak time..#MIvPBKS

— Vishal Singh (@fans4AlexZverev) September 28, 2021
Good Captaincy by Rohit Sharma..
Ishan Kishan needed mental rest..#MIvPBKS https://t.co/I0Rz3dcHg7

— ◦•●❤♡ Rå§hï Vïrå†ïåñ ♡❤●•◦ (@Rashi_18V) September 28, 2021
https://twitter.com/Keshav51kesh/status/1442850234346967057
We all know Ishan Kishan has some potential in him, he just needs some time and confidence that only captain can give him. Benching him will only demotivate him.

Bad decision by MI management and captain that too when he's in T20WC squad, they shd have back him! #MIvPBKS

— Fizzzzz 💫 (@____lostsoull) September 28, 2021